Another High Point Market set the tone for design, and I'm not just talking color, fabrics and furnishings fabrications. I'm talking about what's happening in our design industry as a WHOLE. There were more events and invites, educational seminars, panels and soirees at this past Spring market than ever before. Each High Point Market has a flavor, and I dubbed this one my "narrow and deep market". Instead of trying to cover every square inch, I curated my 5 day visit to High Point with strategic showroom meetings, meaningful seminars, and purposeful networking. In speaking with friends, it was a common theme — to cut out the noise and get laser focused. We want to grow our businesses with companies that align both in aesthetics and values, are innovative thought leaders and educate, provide an easy, reliable, and elevated user experience, and make us feel valued. Sound like a familiar rubric for companies and brands you love doing business with? Here are some of my meaningful encounters:
Gretchen Jones presents Altruism by Design at Mill Collective

Where Europe Meets Modern panel at Burton James: Mark Landes, me, Todd Bowles, Jeanne Chung and Lisa Mende

Stephen Wilson's debut was a highlight of market

WithIt's President reception with Dorian Sims celebrating the Sarah Richardson launch at Palliser

Designers gather at Fabricut: Wendy Woloshchuk, Katie Baldwin, me, Jennifer Tampasis, Jessica Duce

Handcrafted wall art from French Touch in the Antique and Design Center

Inspiration from Archival Designs CEU at the Bienenstock Library

Taylor Walters at Inside Out Performance Fabrics

Demystifying Performance panel at Norwalk. Me, Jessica Duce, Denise Wenacur, Gary Inman w Norwalk president Caroline Hipple

Steelyard Trolley w mentors FZK Franziska and Katharine Lambeth
The Embelished DEETS
Embellishment was in full swing this market responding to the design trend of LAYERING – blocking w color or pattern and creating contrast and texture with unique application – giving dimension and design interest to make these pieces stand outs.
Embroidery, appliqué and quilting techniques surge with creative applications in art and accessories.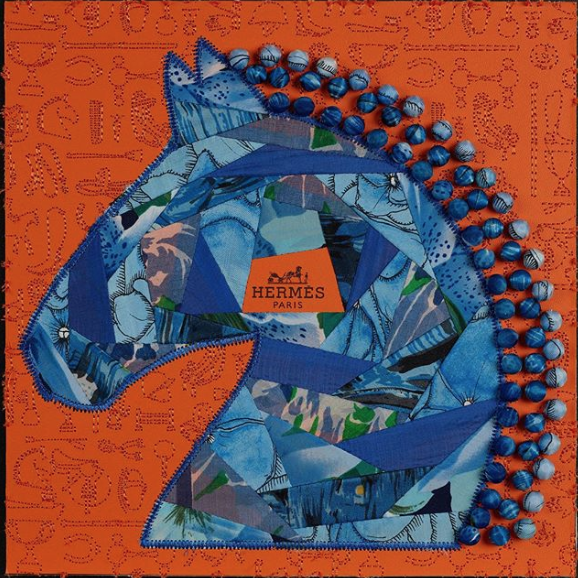 RBG as realized in embroidery and appliqué by Sarah Gibson of Huger Memories

Eric Ross styles with Thibaut exercising his love of embroidery and patern play

Jill Seale layers a coral appliqué over hand marbled fabric
Color blocking and contrast trims give dimension to luxury textiles and upholstery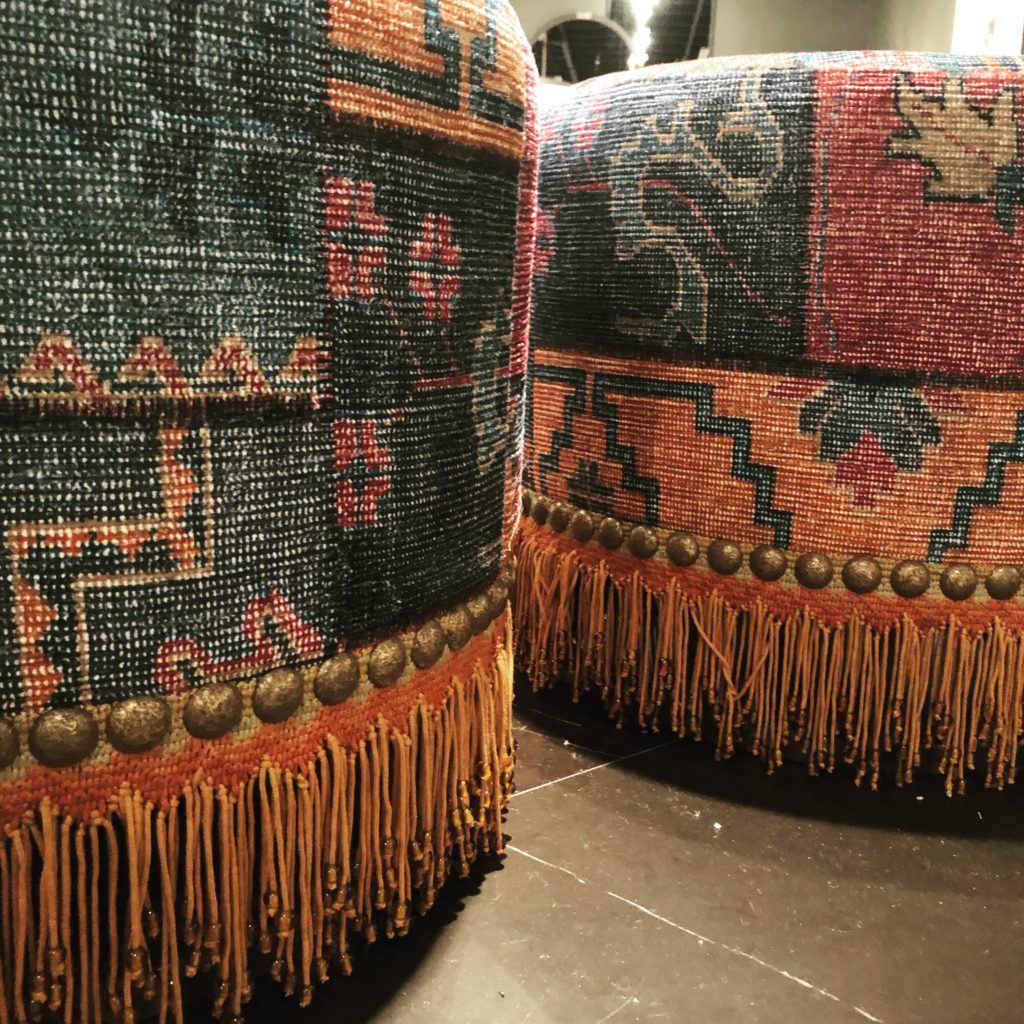 Alexa Hampton debuts her luxuriously detailed furniture collection at Theodore Alexander.
Paisley velvet contrasts with a passementerie band

A CLASSIC – royal red with matching bullion skirt fringe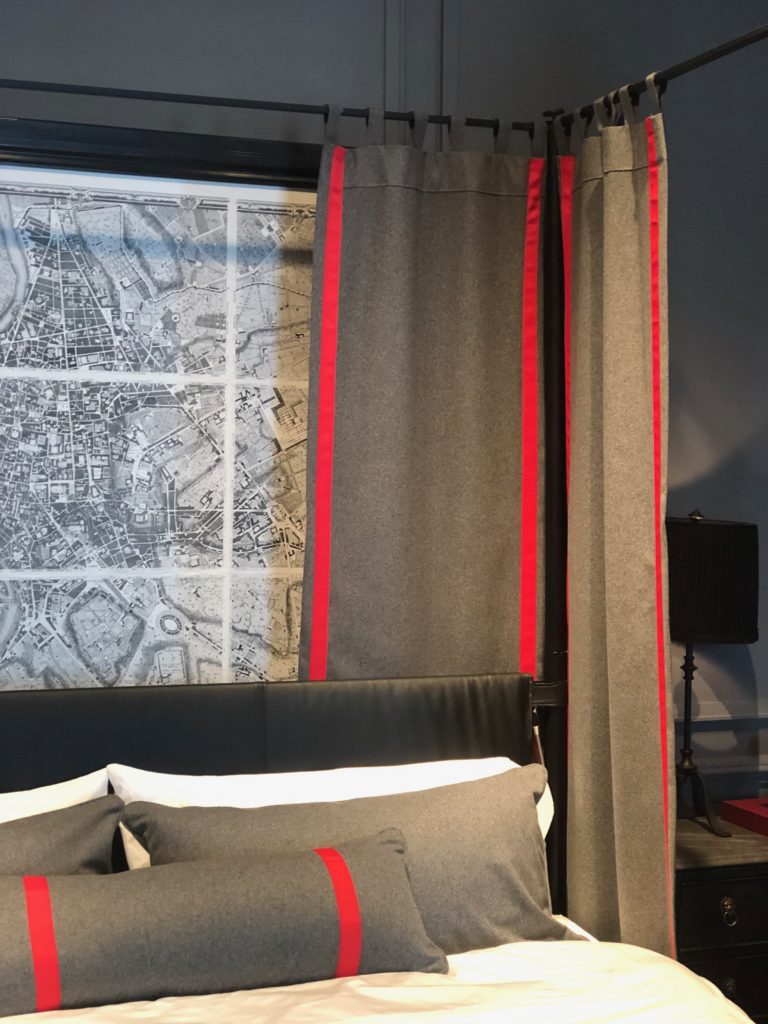 Donaella velvets styled casually w natural tassels at Moss Studio

Bunny soft & Lilly linens contrast trimmed w fringe & poms at Moss Studio

Hand illustrated fabrics as tasseliscious pillows by Cotton and Quill
Animal prints and woven design add instant glamour
Queen Anne update at Baker with a contemporary woven skin

Leopard LOVE at CR Laine

60″ long luxurious leopard bench at John Richard
Metallics continue to trend, layering in shine, sheen, and texture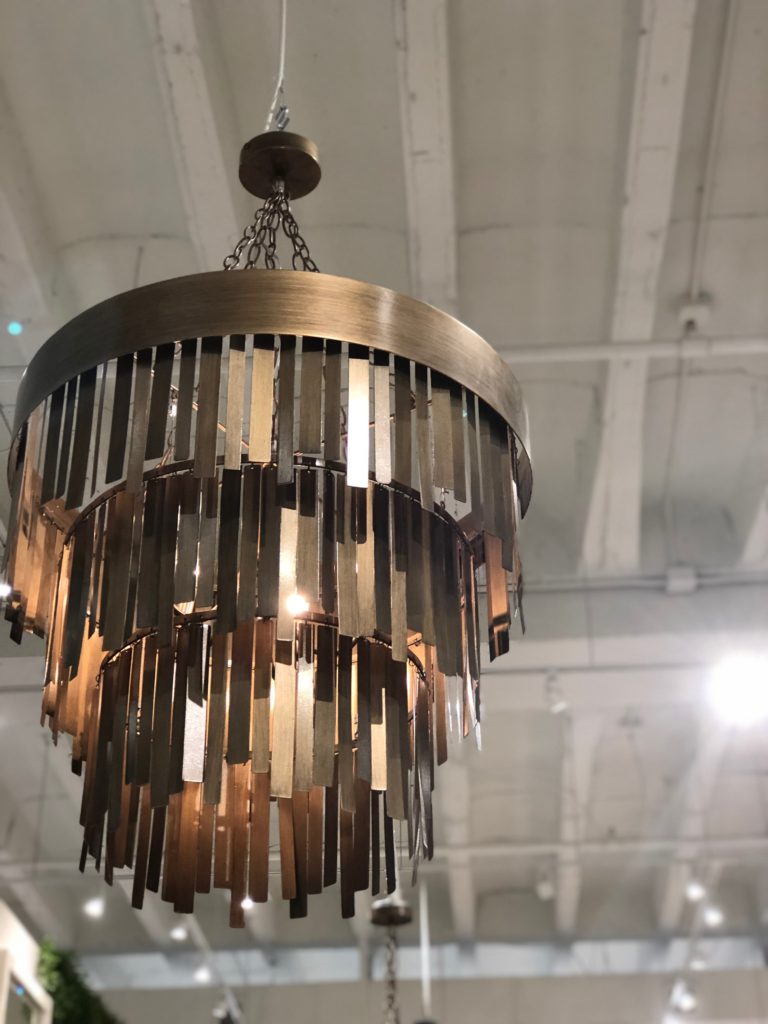 Chaddock goes glamorama with gold nail trim on this Galaxy Bar designed by Larry Lazlo
Tasseled to handmade perfection: Karges Austen twisted-back Regency armchair

Baker classic Knole Sofa w gold tassel ties
Pearlized fringe pillows at Eastern Accents with Meredith Morrison

Louise Traficanti shows off a golden modern fringe-y / feathery textile used in pillow design at Eastern Accents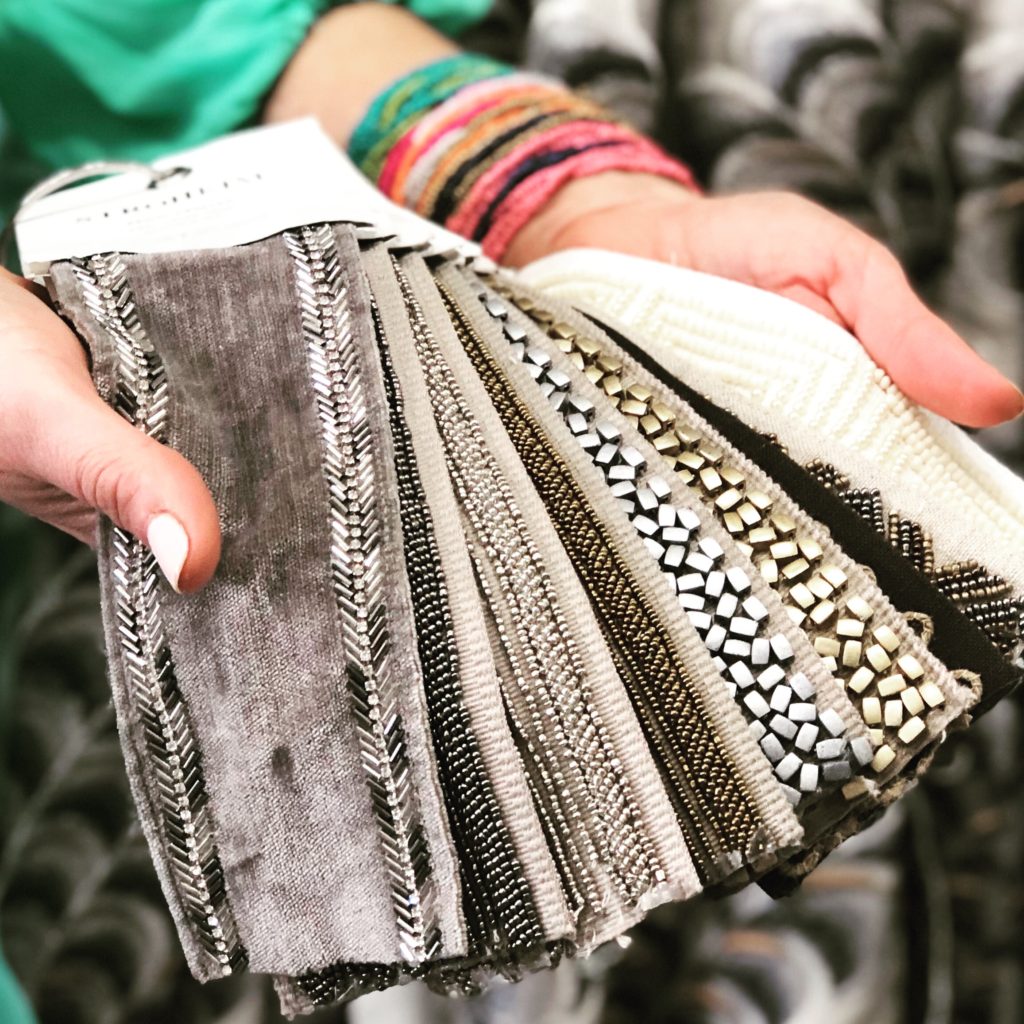 High Point Market TQ Insider's Tour
What does a day at High Point Market look like? My third #TQxHP Insider's Tour introduced new buyers to cross categories of sources with a merry blitzkrieg of 13 showroom visits, an educational seminar, and a DJ'ed trolley ride to a VIP cocktail party. Our 10 hours condensed into 1 1/2 minutes gives you the flavor of our valuable day of learning and camaraderie.
Thank you to our host showrooms:
S&D Leather, Old Hickory Furniture Co, Antique and Design Center, Jill Seale Design Studio, House of Cindy, Dana Gibson, Norwalk, Newport Cottages – Madcap Cottage, Rawan Isaac, Universal Furniture, Burton James, Wesley Hall , Steelyard Access
Another High Point Market wraps up
Five days in and I still didn't take in all I wanted to. However, I left market with new sources and relationships, intel and inspiration to move my business forward and fuel me until next October. Thanks Fringe Friends for following along and tapping me with #trimspotting, I love sharing embellishments that gives designers the tools to express creativity.