A visit to Paris ignites passion and creativity, no matter what season.  Maison Objet Winter 2014 and Deco Off certainly drew a fiery crowd that gives the show its international reputation of forward design tendencies.  Here are my top two trend picks along with a trim spotting round-up.  
Trend One – Re-Enchantment
The folks at Boboboom call the re-use of materials Re-enchantment.  I spotted upcycling up and down the exhibit halls and I agree!  I am totally enchanted all over again by the new life of old things.  These vintage needlepoints were made into furnishings, on trend in the technicolor hues that dominated this market.   
Exotic brights attracted me to this African stand, then Oumar Cisse showed me pictures of how women craft these necklaces from recycled…. drum roll please …. flip flops!  I bought a collection on the spot and it's fun to stump my friends when they try to figure out the provenance of these vibrant pieces.
Artist Veronique De Soultrait has reinvented her assemblage of crochet arts into this exquisite collection of bedding and table toppers. She explains that she is inspired by "the poetic charm of the antique object". She is also intrigued with the abandoned knowledge of the art and wants to revive lost heritage.
By overdying pieces in anthracite, ecru, navy and black, she gives the pieces new life and calls them a little "rock-n-roll".  I am definitely a groupie.
Trend Two—Global Hands
Lots more crochet, chunky yarn, knots, knits, fringe, anything with a handmade quality was de rigeur.   Here, design meets craft, often using the skills of another country's artisans. 
The three sisters form Portugal's Darono presented this seating concept based on fishing nets.  Their design philosophy is "handmade and innovative" and always eco-friendly.  I love the braided detail.
Another three-sister team, Latvian Munio Home, focuses on using local craftsmen to create a vibe of city sophistication with earthiness from the country using natural fibers.
How could I not marvel at these whimsies from Anne Claire Petit, just too cool.  Designed in Amsterdam, crocheted in organic cotton in Northern China by women living in countryside villages.
Rugs exhibited the exaggerated element of handmade. This peacock by The Rug Republic had a chunky, overscaled cross-stitched effect.
At Mahatsara there was more crochet, but in color.  This pumpkin-shaped shade is handmade by women in Khayelitsha, South Africa, promoting fair trade practices.
Here's an example of handwork on an exquisite miniature scale. Jewelry designed by Aude Tahon.
Trim Spotting
Trimmings, passementerie, passamaneria is a common design language. Click on arrow for slide show and click any pics for further product information.
And I couldn't depart without saying Au Revoir to my fellow French and Italian Trim Queens who know how to rock passementerie. Ornella Tamai wears a Luisa Spagnoli dress, Sandrine Ziegler-Munck an Akbar Delights jacket, and Michela Audisio sports a Liu Jo fringed skirt.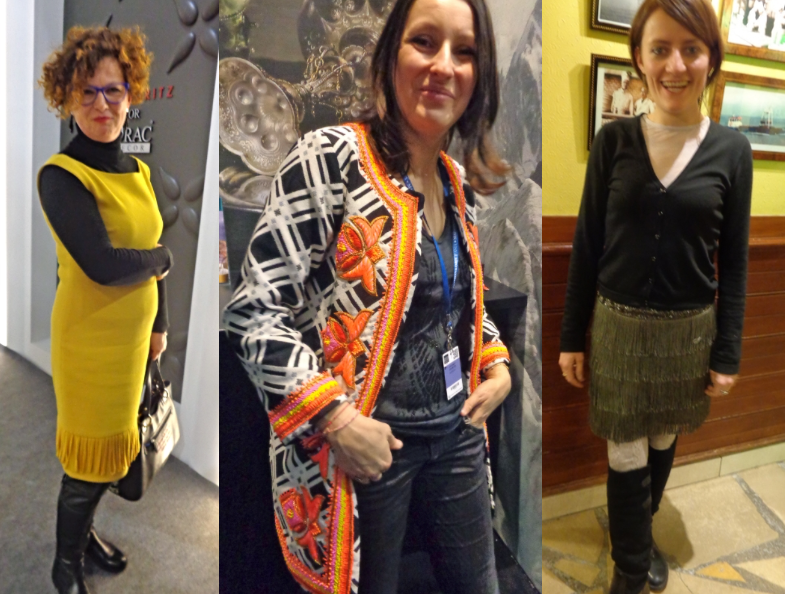 I did have the opportunity to shop the fabric district in the Montmartre which was a delight and picked up some swag (see below).  I'll share that field trip in a future post.
Don't forget to check out the gallery for some eye candy, subscribe if you'd like to receive future posts, and please share any noteworthy trim moments.
Stay inspired!