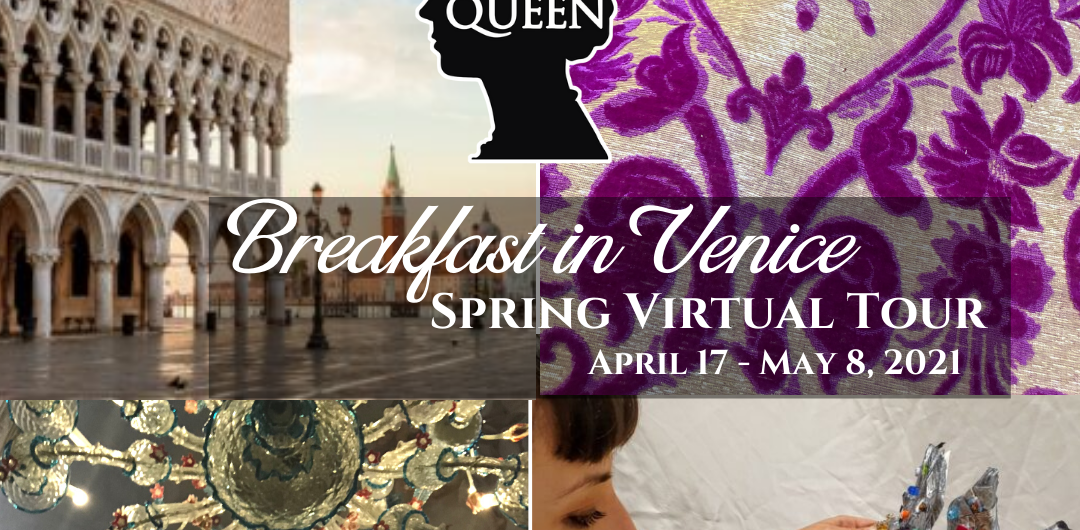 Breakfast in Venice Spring Virtual Tour
April 17 - May 8, 2021

Buon Giorno! With our Venice Edition of Maker Tourism rescheduled for 2022, we're taking our itinerary online to give all of our friends the chance of a lifetime to personally experience Venezia, nearly tourist-free. Join us for Breakfast in Venice  – a series of six virtual experiences, cultural tours of neighborhoods, museums, and artisan visits led by our renowned local expert guide Luisella Romeo and our resident Murano specialist Valerio Coppo. Settle in with a cappuccino for 75 minutes of weekly cultural enrichment to learn, be inspired and definitely entertained by La Serenissima's riches and our team's curated points of interest. From Italian history, art, and craft, to neighborhoods, museums, factories, and artisan ateliers we'll come to understand why Venice is a city of living history, a UNESCO World Heritage site and TrimQueen's favorite city. Each tour is approximately 75 minutes on Zoom and will be available for replay for 48 hours.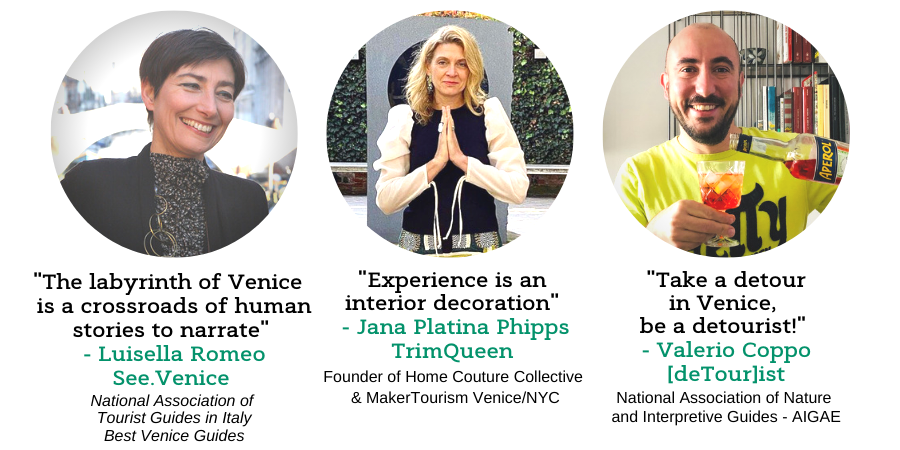 SIX Virtual Venice Tours
Join us for Breakfast in Venice each Saturday at 9am EDT (April 17 - May 8th) plus two weekday mornings for textile tours
 SIGN UP FOR SERIES OF SIX TOURS (save $50)
SIGN UP FOR INDIVIDUAL TOURS
PURCHASE SERIES & VENETIAN EmbellishBox (save $75)
Venetian EmbellishBox - Limited Edition
& Fiori Earrings
Inspired by the artisan makers of Venice, we've created a luxury EmbellishBox, combining the velvet of Bevilacqua, the glowing hand of Fortuny fabric with the luminescence of custom handmade glass beads from Ferro Vetro in Murano. The Venetian EmbellishBox is a limited edition and one-of-a-kind maker experience to gift yourself or your loved ones.  Perfect for Mothers Day, we will gather to workshop with the materials on Saturday 5/17 as a special edition of our Breakfast in Venice series.
If you purchased the tour series use code TQVirtualVenice to save $25 on our Venetian EmbellishBox or Fiori Earrings.
If you're not a maker, Jana will make a pair for you - Venetian "Fiori" Earrings by TrimQueen
FULL ITINERARY - BREAKFAST IN VENICE
Stroll the Venetian neighborhood of Dorsoduro, the ancient home of gondola makers, seat of the University, with vistas of architectural beauty. Our local guide Luisella Romeo will take us back in time to the Bubonic plague, and explain how, then and now, the Venetians give thanks and pay tribute to those spared by visiting Palladio's Redentore Church. Luisella will share historical highlights in real time, being our eyes, ears, and scout, honing in on architectural, artistic and cultural details. She'll introduce our Maker Tourism friend Marisa Convento, a verified impiraressa artisan maker of jewelry, flowers and corals, from Murano glass beads, who is saving this ancient craft from extinction. We'll finish our tour with a view of the jewel-toned Grand Canal atop the Accademia Bridge with a renewed understanding of how modern Venetian life is symbiotic with its past.
On this virtual tour, we'll travel up the Grand Canal to the Palazzo Ca'Rezzonico, a former residence of extreme wealth and luxury. It has a colorful history of riches to rags to riches again, and notably hosted poet Robert Browning and composer Cole Porter. Embellished to the gills, we'll experience the regalia and fascinating history of Carnevale celebrated by the aristocracy of Venice and the nouveau riche of Europe. This is one of Luisella Romeo's personal favorites and a first visit for Maker Tourism, she had us at BAROQUE! Luisella notes "As you tour the ballroom and the alcove, you will delight in the rococo furniture and the beautiful art of the 18th century: the sensual frescoes by Tiepolo, the delicate pastels by Rosalba Carriera, the theatrical representation of Venice by  Canaletto, the whimsical scenes of daily life by Guardi and Pietro Longhi, and the sarcasm of the Pulcinellas by Giandomenico Tiepolo." You may want to swap your cappuccino for a Bellini and don your satin slippers for this sensorial overload, you will feel awash in 18th century effervescent history.
Tour living history! At its height as a republic, Venice was the hub of international trade, a compulsory stop on The Silk Road for trading spices, scents and exotic fibers, connecting Asia to Europe. As part of the innovation of the time, Venetians learned to weave silk by perfecting the marriage of hand and machine –the loom – supplying velvet to the wealthiest of church and state . With Luisella as our guide, we'll visit Tessitura Luigi Bevilacqua, one of the most high-end fabric factories and suppliers in the world still weaving silk on hand looms, YES BY HAND!  We'll learn about their various techniques, how long it takes for an apprentice to advance to the loom, and how their heritage business has modernized while still creating masterpieces of restoration.
Just a 30 minute exhilarating water taxi ride from San Marco, Murano island is home to the world-class artistry of glass blowing and has a distinct local flavor within the Venetian lagoon. Valerio of de(Tour) will guide us on this enchanting behind the scenes tour to discover some hidden gems and educate us about the history of sand to glass. We'll visit one of the oldest glass factories Barovier & Toso, active since 1295, where you will see tradition combined with contemporary design and creativity. As glass making runs in the veins of the Muranese, we'll meet such a local in her studio. Monica of FerroVetro is known as "the Duchessa" and welcomed our goggled-group in real life last Maker Tourism tour. Monica taught us how to make glass beads in the 17th Century tradition, hands-on! It's pure alchemy and you will never look at glass in the same way again.
Our first stop with Luisella is in the district of San Polo to visit extraordinary textile artist Sarah Zanarella of Rugadoro in her atelier, a true find. Sarah has invented a fabric and trim collage technique for mask making that has made her pieces collectible all over the world.  She recently expanded to larger scale works of textile art. Sarah is always working on a capolavoro (masterpiece) and we'll have an insider's view of her latest.
Secondly, we'll travel across  the lagoon on the south side to the island of Giudecca. It housed spacious palazzos in the 1800s then transformed to a more industrial locale, and in 1919 the renowned artist and inventor Mariano Fortuny specified and built his factory and gardens. Fortuny continues to thrive with a following of design devotees, and you may be surprised to know that Fortuny is still manufacturing exquisite fabrics in this Giudecca factory with secret processes developed a century ago. Carla Turrin of Fortuny will be our guide, she'll enlighten us with the company's history and their latest introductions. We'll tour the private garden and learn how the brand was entrusted to the current stewards of the brand, Mickey and Maury Riad, leading stateside in New York.
If you have been to Piazza San Marco, you KNOW the delight when you emerge from Venice's cramped streets to an enormous square with views of sea and sky, guarded by lions, and bejeweled with the Byzantine architecture of the basilica. If it's your first time, behold! Luisella will be our eyes and ears, we'll see the square like never before, and hear her adventurous and mysterious stories about the Doge's palace (where we first toured with her IRL), the Bridge of Sighs, the iconic Campanile, the Renaissance Clock Tower, the ancient Mint and the Napoleonic wing. If we're  in "the zone", we can even do a little shopping or stop at one of the famous cafés. You will leave filled with historical facts that connect the dots of the amazing Venice we have experienced together on this TQ Virtual Venice Tour.