Welcome to Highlights from the High Point Market Design Bloggers Tour. My goal in reporting this market was to uncover what is most unique about the companies I visited and meet the creatives behind the great design.  Sit back and run the highlight reel below, I loved putting this together with all the design fodder I gathered from the creative people I was lucky enough to meet >>
Now to learn a bit about these companies and what is extraordinary about them.
Nathan Anthony – Artful Engineering
I have been enamored by the work of Tina Nicole and Khai Mai, founders of  Nathan Anthony, for some time, however I had no idea of the level of craftsmanship they were committed to. Experiencing their showroom is like looking at an abstract piece of art and discovering something new the longer your eye lingers.  It is clear that their designs have an architectural reference, however, there is always an element of levity to their pieces.   This time visiting them in Interhall on the tour, I got to meet them both, partners in work and in life, and had the pleasure of hearing their inspiration first hand.  They also explained their design process for each complicated piece from the frame, to the tufting, stitching, 3D quilting and finishing technique, often impressive feats of engineering.  Kai adds "Our focus is a 360 degree view:  front, back, side and overhead."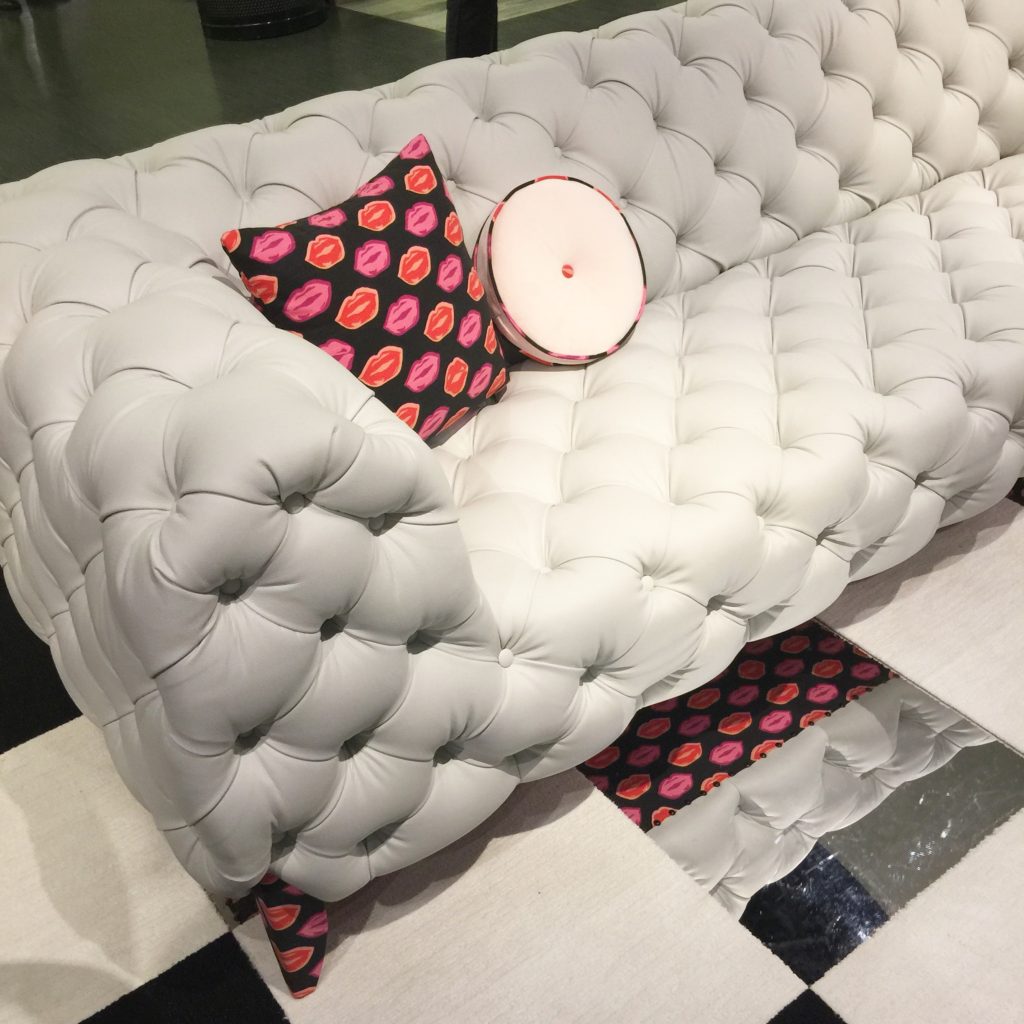 The Sabine Sofa was featured in Architectural Digest, the deep diamond tufting may be traditional but the wrapped leg in a pop art graphic fabric, and surprising underside decked in Haute Lips gives this piece a contemporary, peek-a-boo levity.
Can you see the varying heights of the raised grid panels on this headboard? It's quite an engineering feat!  The Gherkin building, constructed in glass and metal, towering over London's financial district, was the inspiration for Tina's Grace Bed design. At market, it was upholstered in a show-stopping ruby-colored mohair with an ash gold wood finished frame.
Bernhardt – NeoTraditional
I have been industry friends with talented textile expert/product designer, Regenia Payne at Bernhardt Furniture for many years, and I am always impressed by her work.
We toured the huge 75,000 sq ft showroom with amazing design details that drew me into each vignette. Afterwards, I sat down with Regenia to talk about the Luxe Pillow collection, now in it's second season. (See video above.) Regenia shared, "Embroidered and textural pillows add the finishing touch to transitional sofas that are in the neo-traditional vane, adding a modern spin."  Yes, this just rolled off her tongue, she knows the power of accent pillows.
Emporium Home – Refined Nature
Visiting Ashley Childers at Emporium Home was like walking into a jewelry box.  With precious stones and gold accents, I wanted to wear and touch everything!  From lighting to case goods, upholstery,  textiles, mirrors and artwork, clearly, Ashley is a prolific designer AND artist. She says, "I know it's a cliche, but I am a nature lover and this translates into my life aesthetic." Minerals and natural materials were incorporated into this collection but Ashley contrasts the organic forms or textures with refinement in silhouette or finish.  The juxtaposition was enthralling.
One of the new finishes Ashley introduced was Tamo Ash, as used below on the Apollo Chest.  Tamo Ash is a wildly swirly grain that is also used in guitar construction. Isn't it beautiful?
Crypton Home – LUXE Performance
Crypton Home is fast becoming a household name in performance fabric. I love their tagline "Life is Beautiful. Let it happen." Our Design Bloggers Tour group  visited several showrooms lead by Elise Gabrielson, Marketing Manager, who schooled us in the cutting-edge technology of stain and odor resistance.  Performance is one of the fastest growing segments of the home furnishings industry, addressing the wear and tear of kids and pets. Oh red wine spills too! I was pleased to learn that Crypton has a Greenguard Gold Certification. A concern for indoor air quality can be a potential downside in the performance category.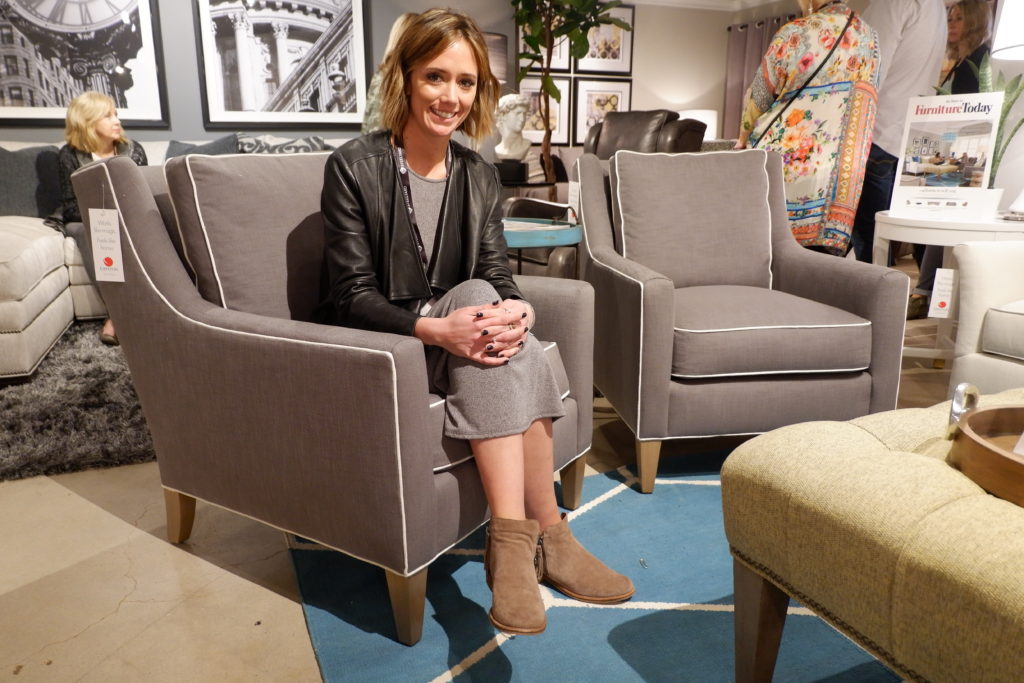 Elise Gabrielson, Marketing Manager of Crypton Home, at the Huntington House Showroom, seated on a Crypton uphostered Laguna Chair featured in Domino Magazine.
We had quite a show at Joybird Furniture where Patrick Bliesener cut to the chase and immediately poured red wine on a sofa cushion and energetically told us about the merits of Crypton.  Joybird has often popped up in my social media feed but I had never known what they did.  First, it's clear that midcentury modern is their aesthetic and millennials are their demographic. Their direct to consumer website has an impressive intuitive interface. They also have a healthy "to the trade" business due to their customization capability and 4 – 8 week delivery. (Tour  more of the showroom in my highlights video.)
I've been following Huntington House on Instagram for a while so I was psyched to finally visit the showroom in person. It is a shuttle ride from the big buildings so it hadn't been on my trajectory previously. Christy Grove and Michael Kirby greeted us and gave us the grand tour, hosted us for lunch, and some much needed recharging by a prof masseuse! But the real treat was seeing their product.  It has midcentury styling that sits beautifully with a rustic aesthetic.  I sat down with Michael Kirby, VP of Merchandising, to discuss this unique mix and he explained "I like the masculine, rustic side of design. I love Southwest influences, textures, ethnic fabrics, mixed with leather and contemporary fabrics."  He referred to some of his vignettes as "Modern Barn," in the broader sense of a design movement.
To go behind the scenes of their factory, take a look at this video, it's so insightful to learn about how high quality furniture is constructed by hand with the skilled workforce in North Carolina.
Next stop was the light filled showroom of  The MT Company. Moroccan tea time set the mood for all the beautiful fabrications we would see.  What I love about their showroom is the flow from transitional to traditional, with 6 varying collections, offering over 1,000 fabrics, leathers and trims, it is a paradise to "design your own."
I adore the work of artist and designer Dana Gibson.  We realized recently that we are related, on my husband's side, connected by the 20th c. artist Charles Dana Gibson. Thus, I keep especially close tabs on all she does. Her pattern mix, scale and love of color is always a delight.  I fell in love with her Ivy Ottoman this market in this Chanel-like boucle, so luxe and it's performance!
Artefama – Finish is Everything
Artefama Furniture was the one sponsoring company that was case goods focused. Based in Brazil,  it is renown for their unique wood finishes and upon further inquiry, their state-of-the-art facility that builds in environmental purpose with their process.  Click here for a tour.  I wish I spoke Portuguese because I am a Brazilian music fan, since I don't, owner Jose Antonio Franzoni bravely gave me an interview and easily conveyed his passion about wood preservation, "we enhance the character of the wood with our finishes." You can see their expertise in their pieces.  They have a vertical operation and have supplied the likes of Rooms To Go and Ikea but now are developing their own stylized line exhibiting in High Point for the second time, with distribution from Miami.  
I always enjoy discovering new sources at market but this time was especially delightful because  I got to meet the people behind the product, what makes design and High Point Market so unique.  If you missed my three video recaps of HPMKT Spring 2017, tune in here >> YouTube/TrimQueen.  Let me know what you think about my novice video-making (I'm getting addicted to it!)  Up next week, the Modern Embellishments taking over Decor.
Thank you for reading and keep #trimspotting!
***This is a sponsored post however all observations and opinions are my own.