Christmastime is always hectic, but getting ready to move our Trim Queen studio added a level of pressure and chaos that had me waking with a knot in my stomach, and it wasn't the pretty passementerie kind. I debated about throwing our annual Merry Making Holiday Party, but decided after 10 years, I couldn't let the tradition die. We changed our evening "Party" to an "Open Studio" day unsure who would come. Working until the last minute, we didn't decorate and didn't serve our signature cocktail. We simply (semi) organized our materials, cleared our work table, set out our stash of scissors, and blasted some holiday jazz. Friends trickled in bearing sweets and libations, and spoke glowingly about the ornaments and wreaths they had made over the years in our studio and how much they loved seeing them each holiday. We realized that we had unknowingly started a tradition – taking pause to create at Christmas.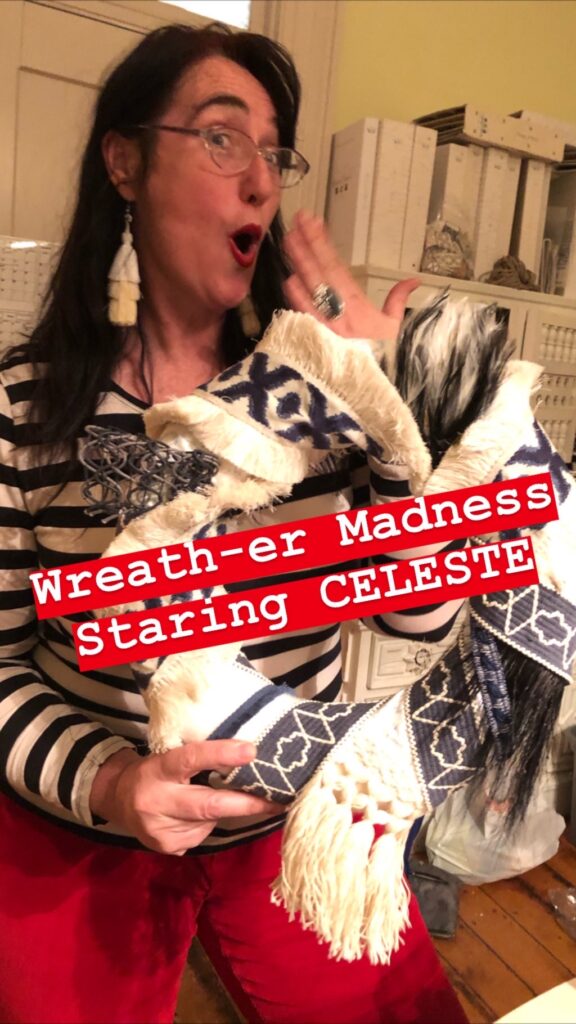 As the day progressed, it wasn't like our parties or workshops where we are usually instructing and helping people. These creative friends had been here before, they brought new friends, and told them "you're going to LOVE this".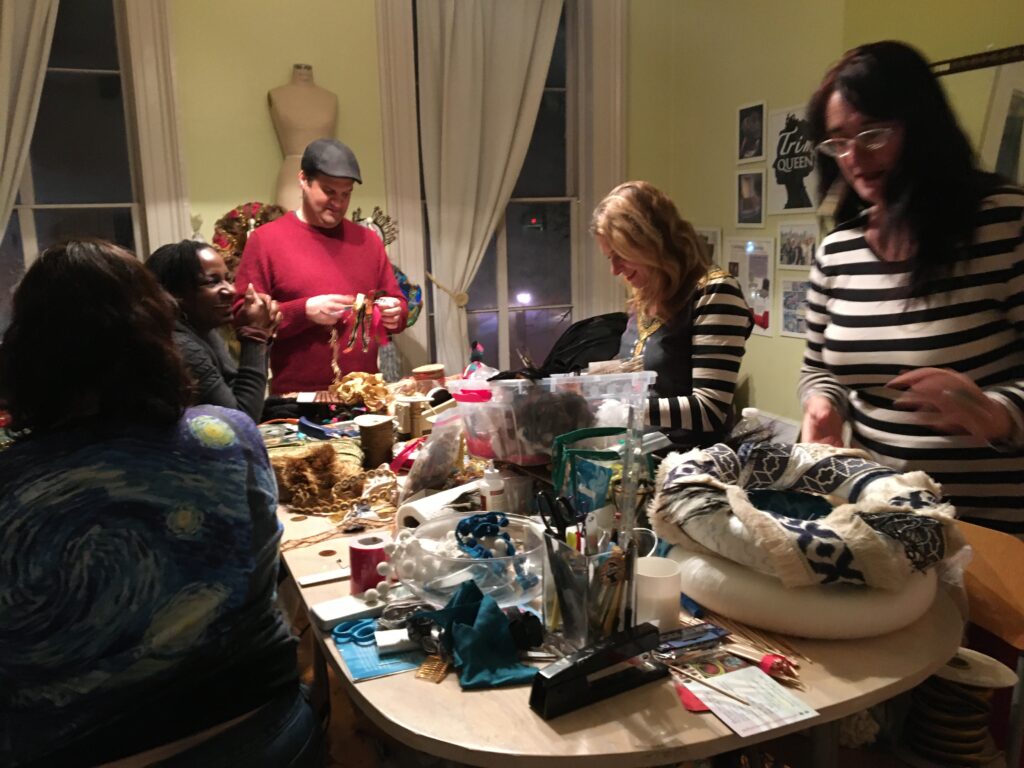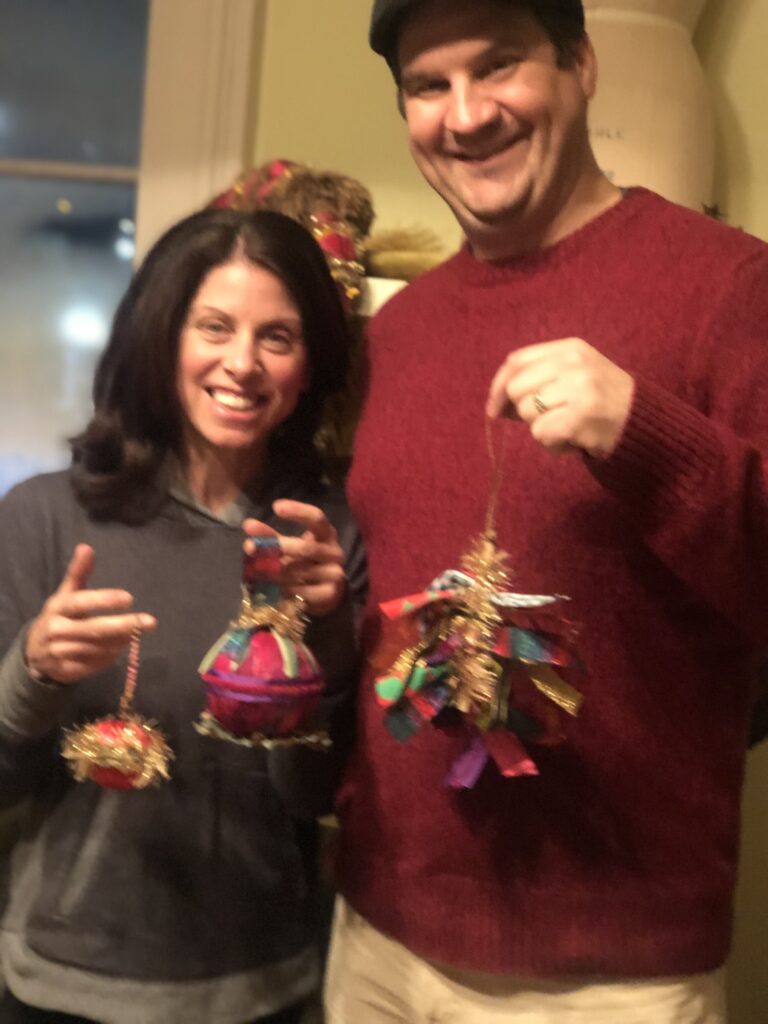 They collectively dug in without reservation or inhibitions. to create! It was amazing, we could feel the FLOW in the crowded room. No one was thinking about all the things they had to do before the holiday, they were in the moment, hunting like magpies for trim, fabric, and beads to embellish their ornament or wreath — they played with their collage of materials to see what worked. Sarah and I would watch and slyly add something to their mix, for our joy wasn't in our making so much as facilitating theirs.
I had gotten my creative yayas out earlier in the week zhushing Italian panettone for gifts. It feels like three makes a tradition — it was my third year wrapping La Torinese cakes in designer/artist Jill Seale's hand marbled paper. I just LOVE the feel of the paper, how it cuts, the texture of the paint, the randomness of the pattern, it's just so delicious. Jill called this palette "a varietal of the Venetian forest". Design is like cooking, I say, if you choose the best ingredients, deliciousness unfolds! This year I repurposed a stripped vintage passementerie bauble and made into an ornament, I used hug snug ribbons in olive and scarlet and my new favorite honeycomb ribbon which is the negative cutout film of sequins, oohlala! I totally get into this, it's like a collage art project. It's a meditative exercise smack dab in the middle of the hectic holiday. Creating brings me so much JOY.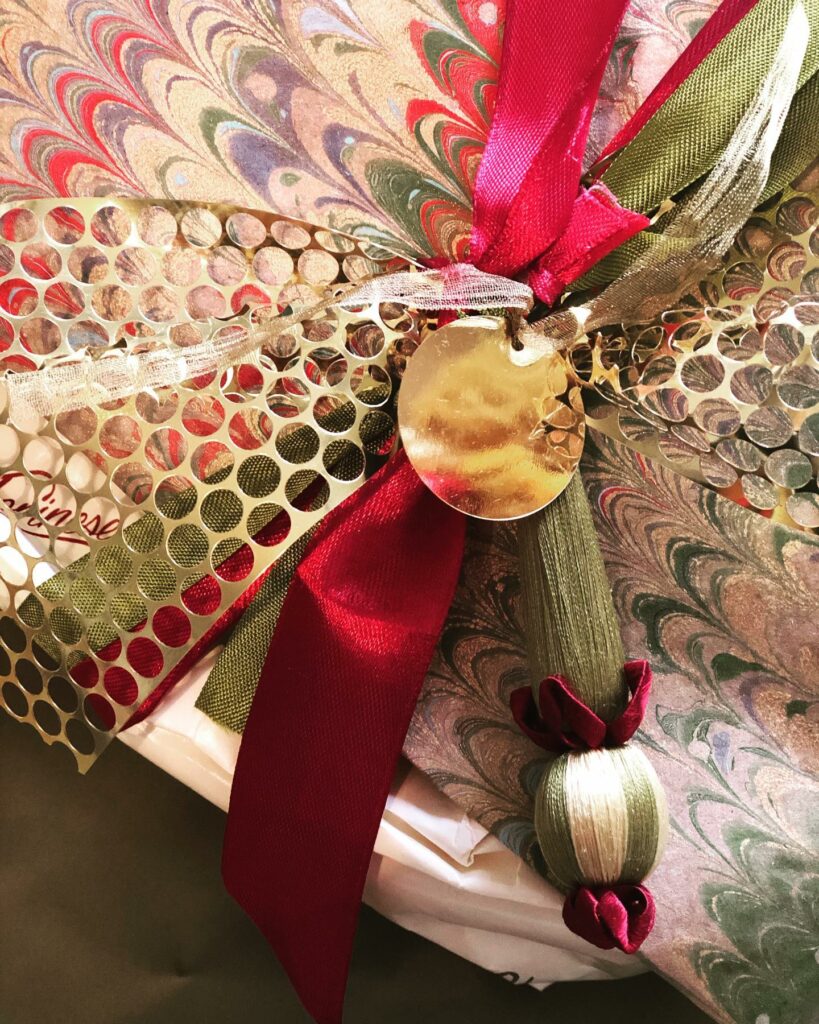 The day after the party, Sarah and I always muse over the events of the previous eve, like giddy teenagers post-prom, LOL. Sarah aptly observed why this time was so special, "it's the people connection…it's living our TQ mission".
"…sharing embellishment as a creative form of self expression."
As I pack up all the studio materials, cherishing all the memories and the growth of Trim Queen, I'm especially grateful to Sarah Petchell, my project manager, right hand and confidante, for helping me keep the long view, righting the ship again and again with intelligence, grace and humor.
I'm thankful to all my Fringe Friends who helped keep our Trim Queen holiday tradition alive, reminding me to TAKE PAUSE for friendship and creativity. I am so grateful to you all for your support and encouragement to keep going! 2019 was incredible with so many highs (and a few lows to push through), and we are building a new trim-vehicle for 2020 that is already blowing our mind, so stay tuned!
We wish you a beautiful holiday, full of creativity and taking pause for joyful moments!