When the first Autumn leaves hit my front porch, not only do I start thinking of October High Point Market, my inbox expands daily with new product press releases, showroom, seminar and party invites. It's like a homecoming, GO TEAM HPMKT!  I'm celebrating my 20th year at market which is a cause for celebration, and as luck would have it, I was selected for the second time (woohoo!) as one of the bloggers for the High Point Market Design Bloggers Tour.  Equally exciting was seeing the other bloggers chosen, many of whom I follow and have made friends with over the years. Connecting in real life with this talented crew will be the "trimmings on the cake" as we tour Fall market together.
Meet these design influencers L to R >>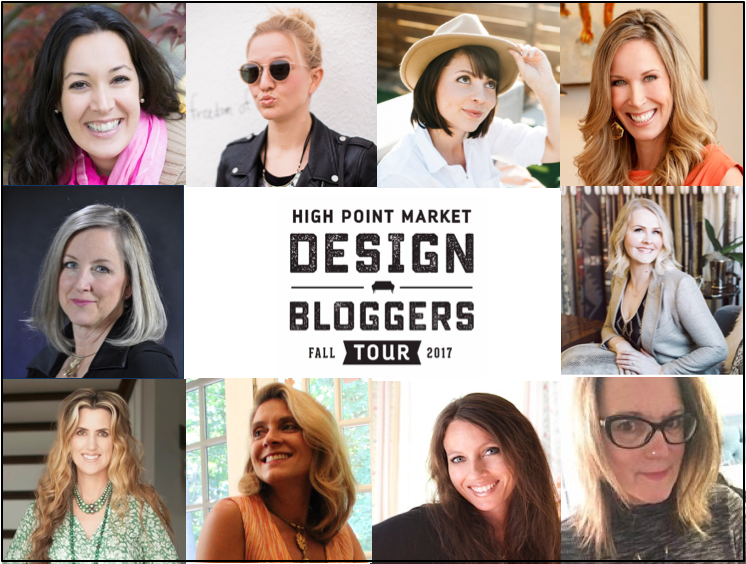 Cecillia Cannon www.homewithkeki.com 
Ann Sage www.annesage.com
Brittany Chinaglia  www.thevintagerugshop.com/blog
Lori Dennis  www.loridennis.com/greenblog
Deborah von Donop www.dvdinteriordesign.com
Sarah Walker www.thecuratedhouse.com/journal 
Kristie Barnet www.thedecorologist.com 
Jana Platina Phipps www.trimqueen.com
Courtney Allison www.frenchcountrycottage.net
Cheryl Kees Clendenon www.indetailinteriors.com/stories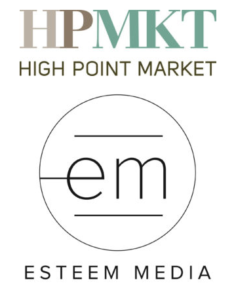 Did you know? HPMKT facts!
High Point Market  is the largest furnishings industry trade show in the world, with 75,000+ people in attendance, from more than 100 countries in 180 buildings representing 2000+ exhibitors with 11.5 million square feet of show space.This market is a launching pad for what the public will see at retail, and in design projects, in the following months.
Why is #DesignBloggersTour important?
High Point Market partners with Esteem Media (in it's fifth tour) bringing design bloggers on a 2-day tour of sponsoring showrooms. Our group will tour these showrooms October 14 – 16th and we'll bring you along reporting on our social media channels, (Facebook, Instagram, Twitter) with the hashtag #DesignBloggersTour
Each of the selected bloggers brings a unique perspective to the tour. We'll each write several posts based on our experience and expertise. This is a fantastic way to introduce professionals to the expansive offerings of High Point Market. An exquisite part of this tour is getting an in-depth look at product, meeting with the designers for a behind-the-scenes view of their process in launching new collections. That's what lights me up!
Here's your #SneakPeek preview
From upholstery to case goods, artwork, sculpture, art frames to fabric, we'll be covering every home furnishings category. Meet the sponsoring companies and showrooms we will be touring.  Here's your #SneakPeek at some of their new products launching October market.  Click below to get introduced — thank you sponsors for this opportunity to come to market and share the creme de la creme in decor.
Thanks for reading and keep a lookout for some major #ModernEmbellishment and #Trimspotting come Fall High Point Market. Can't wait to join the Design Bloggers Tour.
ps. You can find my Spring market reporting here >>>