At Spring High Point Market, I felt like I was on a LIVE challenge cooking show. I was tasked as a Style Spotter to "spot" 25 products that I deemed notable. High Point has over a million square feet of showroom space, so I made a plan based on lots of research in anticipation of my challenge, and tried to "stay in my lane," not be distracted, but leave time open for discovery. I wanted to focus on Embellishment, Textiles, Made In Italy, Vintage and Upcycled collections, along with new launches. I can happily report "Mission Accomplished!" You can view my At Market Gallery and see what our 2022 Style Spotters Team of ten influential design professionals deemed outstanding finds.
Some of my SPOTS are trending, meaning that they are influenced by cultural phenomena. Most notably, the uptick in upcycling and growth in the vintage market as results of the importance of sustainability and delays in supply chain. Also noted was the popularity of chambray as an evolution of grey to blue, augmented by the desire for comfort coinciding with pandemic living. Some trends become absorbed by the mainstream for the advancement of society, like circularity. Other trends, like the color popularity of greige, fade in and out. Time tells! Many of my official and unofficial SPOTS are related to my personal design lens. I also firmly believe that it's a culturally "niche is rich" time in America. People are into EVERYTHING & ANYTHING, and they are self-actualizing with more confidence finding like-minded others through social media that are intro their "thing" too which validates their POV. I love this!
As Yves St. Laurent once said, "Fashion fades, Style is eternal." It is my hope that in sharing my market experience, you find information and inspiration that is relevant to your eternal and personal style, what matters to you, your clients and your business.
Flourishing Fiber Arts & Makers
Fiber art is an antidote to our digital life. Artists and makers invited us into their tactile process of artistry and handmade creativity.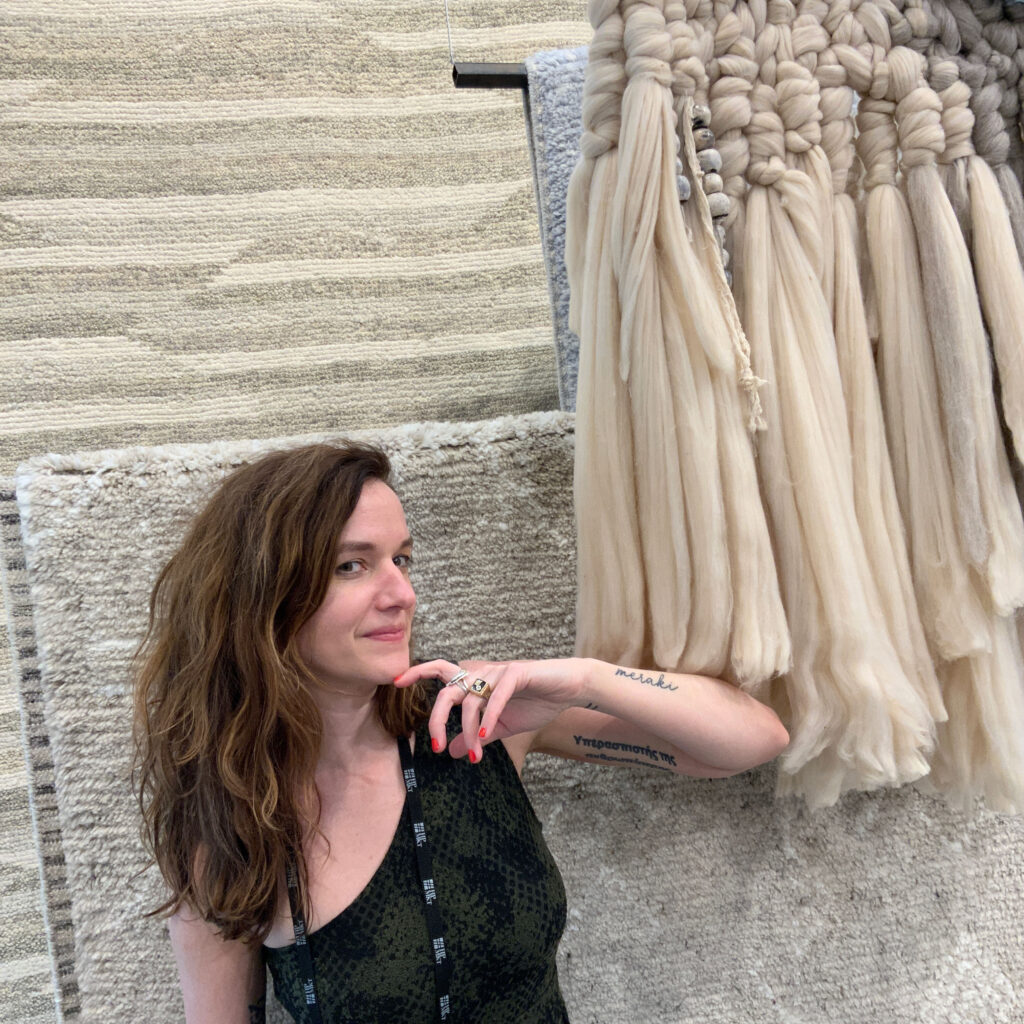 "New to Me" Embellishments
It was a GREAT MARKET for "Trimspotting" as I've dubbed it. My focused lens is on how embellishments are a design language of self/client-expression and there was plenty to see and distill. Zack Taylor at Wesley Hall said it best pondering their bullion-skirted Flynn Sofa, "there's a generation that grew up in stripped down interiors, so we are educating (and inspiring) them that current can be classic." The mix of classic and modern application is perfection in this velvet sofa trimmed in natural linen and cotton with a windowpane tape treatment and pencil bullion fringe.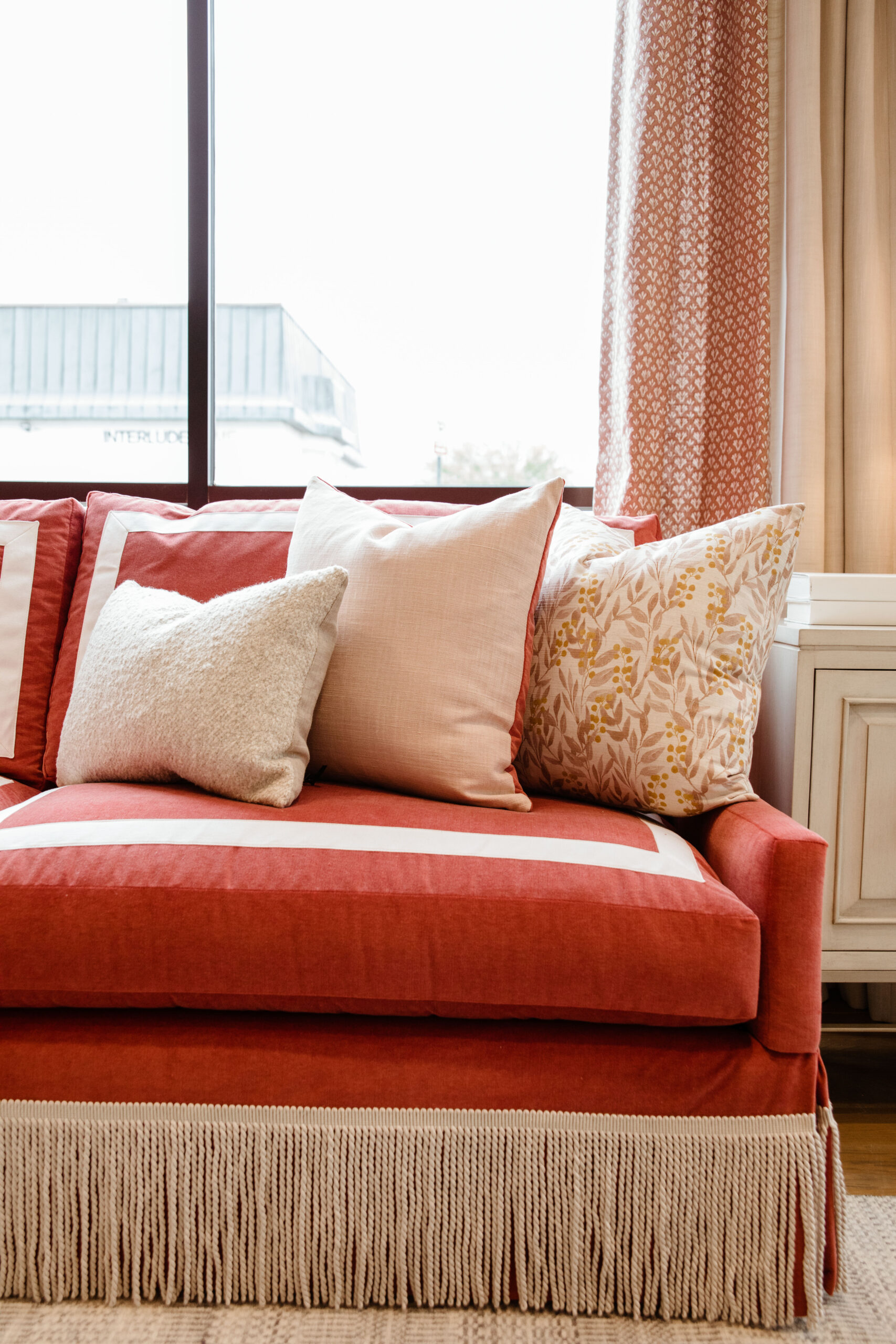 The Definitive Guide to Trimmings Fabrications
BRAVO THIBAUT! With the launch of Tapes and Trim Vol. 2, Thibaut has produced a 22 page Style Guide full of design trim-spiration. It features dozens of fabrication techniques using trimmings and fabric to create unique pillows, window treatments, upholstery and other home accessories. Their newest collection introduces 9 patterns, with a total of 78 SKUs, adding to their growing trim category. The Thibaut showroom at High Point Market is always a highlight of creativity and I was smitten with their sample bar. This company is customer-centric and it shows!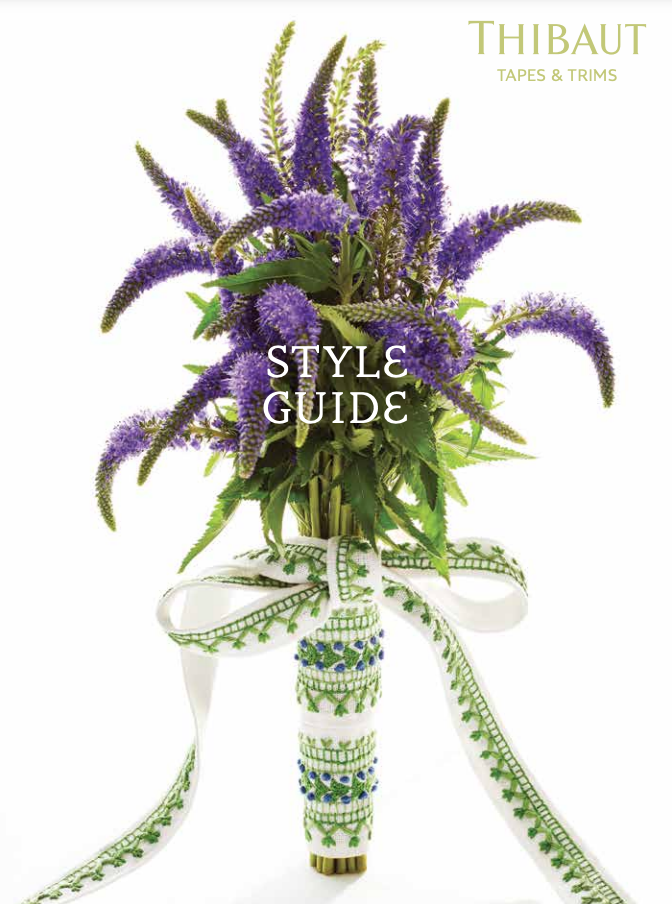 Chambray All Day
Move over bouclè and rosè, it's time for Chambray!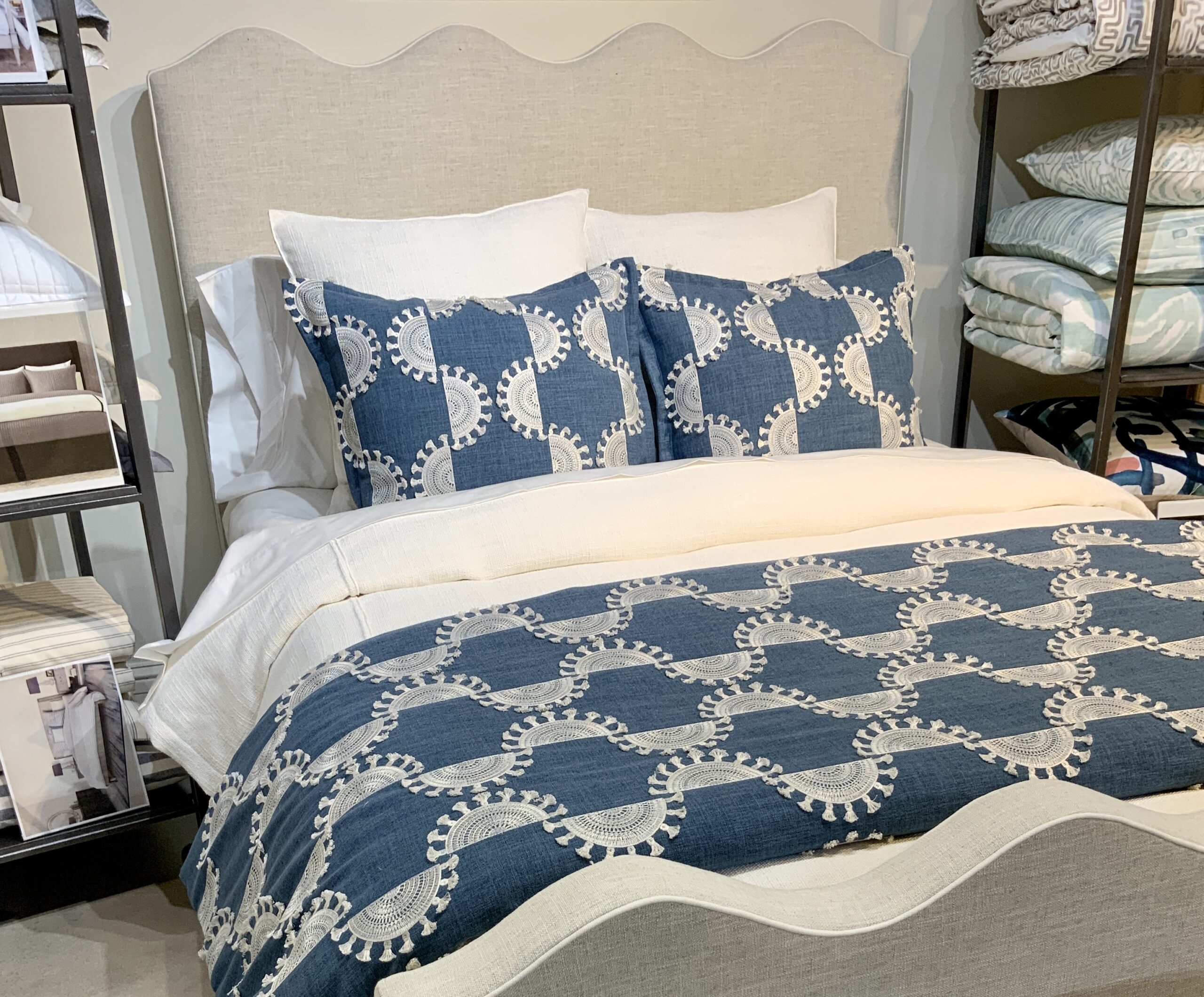 Products with Purpose
When a product has a positive impact on the environment of people, it's a win-win and also makes a great story for consumers to connect with and feel good about their purchase as an investment.
The Sequal Initiative – Reducing Marine Litter
InsideOut Performance Fabrics® and Taylor King Furniture launched a collaboration introducing the design community to the SEAQUAL INITIATIVE as a part of their company missions to reduce waste and advance environmentalism. The SEAQUAL INITIATIVE recycles marine litter into OEKO-TEX certified yarns that are woven at Valdese Weavers into performance fabric. The Taylor King showroom brought this important initiative to life with a multi-media display, and highlighted the fabrics and their masterful upholstery on their Watts Settee (which I proudly stylespotted.) To date, the SEAQUAL INITIATIVE has transformed more than 200 tons of marine litter into plastic and cleaned more than 600 tons of waste from our oceans.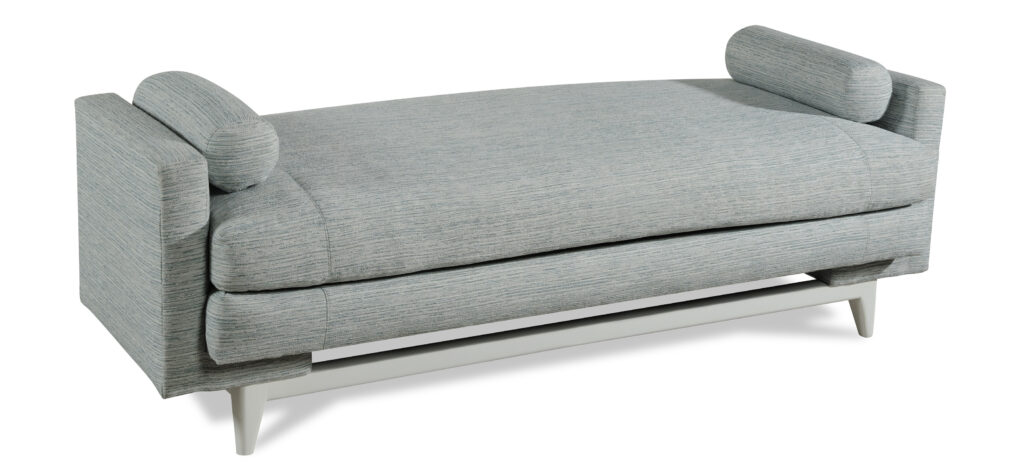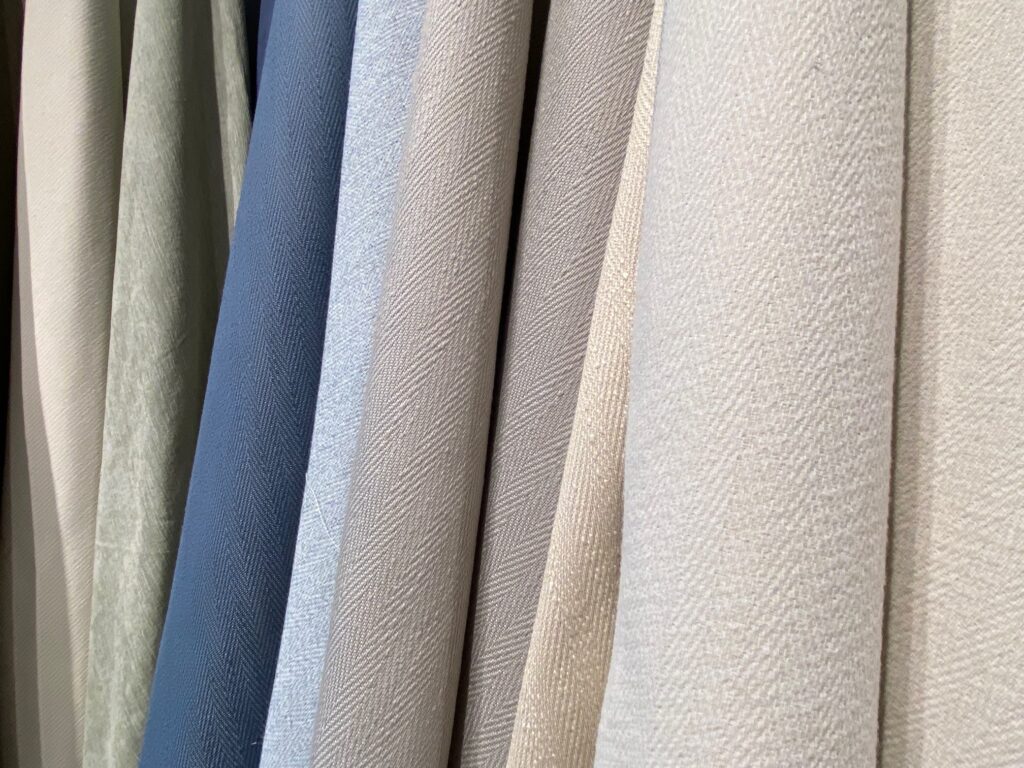 Half United – Fighting Hunger
First time High Point Market exhibitor Half United showcased their new home collection in Market Square. I heard the news Half United exhibiting from Sherry Black an Insta-pal, she was splitting-at-the-seams proud of her daughter's work and once I spoke with Carmen, I understood why. Carmen is passionate about empowering people to get out of poverty, and hunger, through offering employment.
Nearly 12% of the total global population cannot effectively learn, work, or care for themselves or their families simply because they do not have enough food to eat. Starting with philanthropy in mind, Half Untied has grown to give over one million meals to partnering organizations in Cambodia, Liberia, Fiji, USA, and Nepal. Realizing that giving meals is an incredible short-term solution to fighting hunger, they decided to create a sustainable, holistic and lasting solution to hunger: gainful employment. As the old adage says, if you give a man a fish he will eat for a day. If you teach a man to fish he will eat for a lifetime. We wanted to see lasting change in these places we so deeply cared about such as Haiti, so we made a way to see it through.