Do you tablescape?  I stumbled across this hashtag on Instagram and fell down an embellished rabbit hole.  To sneak a peek into an entertaining style-moment is a design voyeur's dream.  Turns out I was a tablescaper myself and didn't even know it. Last year I shared my holiday table and DIY Jeweled Napkin Rings I made repurposing my mother in law's vintage brooches. This year Westchester Home Magazine invited me to share my tablescaping tips in Creative Ways to Decorate Your Table for Fall.  Embellishment ensued.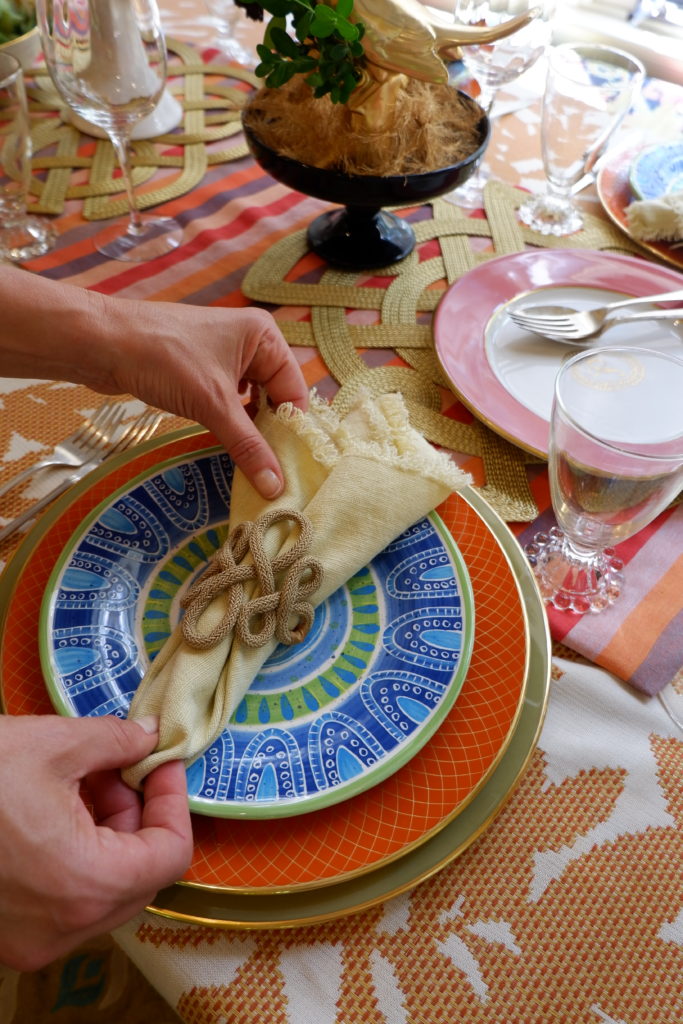 After reading it I realized many of the techniques I shared, I learned from Pamela Fritz, my amazing boss from nearly 30 years ago, when I joined her visual merchandising Christmas crew at the great luxury retailer I.Magnin in California.
Fritzi, as she is called, put us to work executing imaginative holiday vignettes in each department that we would labor over. Silently, she'd review our work with a knowing smile, make a few minor adjustments by coupling elements or using a riser to give height to a focal point that would transform our hack into a masterpiece. We were in awe. Her talent was, and is, extraordinary, and I learned so much working side by side that would serve me as my career evolved. Fritzi also wouldn't let me be seduced by the designer clothing and insisted I save my money to go live in NYC, bless you Fritzi!  Needless to say, Fritzi is a mentor and lifelong friend, now innkeeper and creator of Sonoma Vintage Guest Cottage which is a new canvas on which to showcase her talent and passions.   
I asked Fritzi to join me and some tablescaping designer friends I admire with a similar Midas touch – Lynne, Tamara, Elissa, Cynthia and Laura – to share tips on how to create a tablescape like a pro. As Laura Rysman reported in NY Times Style this past weekend,"Think of your tablescape as more than just a base camp for serving food and drink. It is, in fact, the scenery for the theater of dinner that you are directing."   So let's get this creative party started!
Pamela Fritz – Bring YOURSELF to the Table
"What I've seen over the past year in my travels, the experiences I've had, our culture, and the love, that's what we each bring to the table. Just throw it together, light some candles, grab a glass of wine and pull it together with what you've got. Your guests will feel the joy."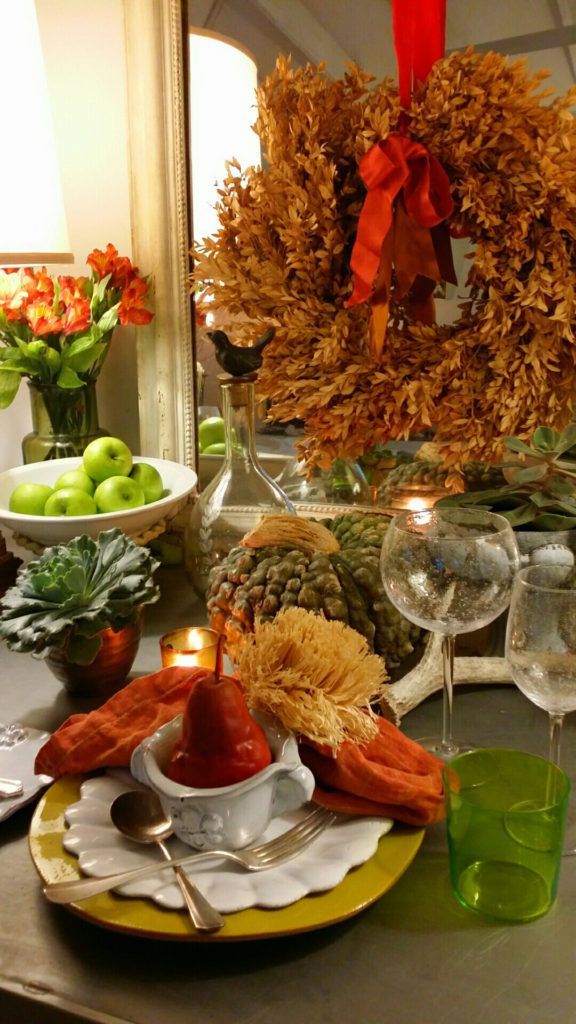 Fritzi breaks down her design process: "The red pear is the feminine with warm geranium, poppy and burnished gold satin ribbons are for softness.  A natural straw pompom with a washed linen napkin casually placed around the plate sets a relaxed mood. I added little candles amongst gems of fruit, squashes, antlers and succulents."
Note: look how she criss-crosses her silverware, genius!
I agree with Fritzi, what you bring to the table IS yourself. It can be expressed in cherished pieces handed down from your family or can be things you love and collect. Her Sonoma guest cottage definitely reflects this.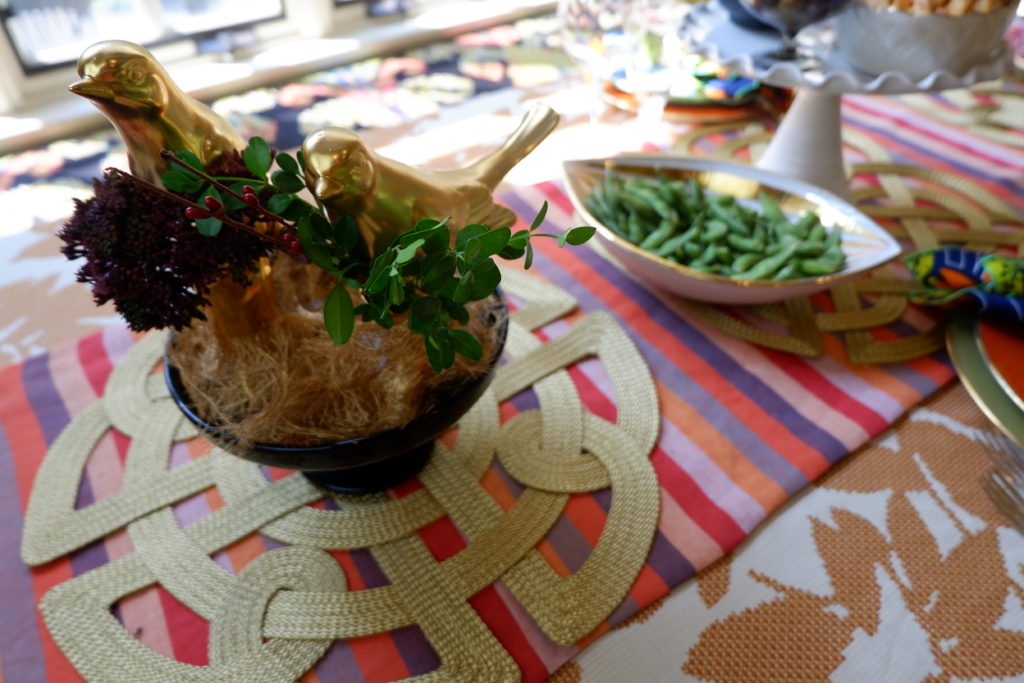 Also starting her career in visual merchandising then moving into interior design and textiles, Lynne Carroll always had a passion for collecting vintage. Lynne scours thrifts stores, estate sales, garage sales and flea markets in between her long drives between sales appointments as a textile agent. From figurines to state plates, Lynne amassed a stockpile of glass and dinnerware and is now a dealer known as Genevieve Bloom.
Genevieve Bloom – Use the Rule of Three
 "Put the rule of three to work. Designers have long relied on this equation to create a balanced interior. For your table, pick one color and repeat it three times. Always chose items of varying heights and odd numbers for interest.
Trim Queen –  Dress UP in Layers
"Go MAXIMAL! Pull out all the things you love then play and layer.  Adding gold accents to my table is like adding that finishing touch of jewelry to my outfit that pulls everything together. The sparkle will unite all of your dining accoutrements and leave your guests trying to figure out exactly why your table is so gorgeous. " 
Create pattern play by mixing patterns on your table for a global yet relaxed elegance. Make sure there is a color that unites all the patterns, in this case it's orange.  Or use napkins with a color in the pattern to bridge the china to the textiles.  For a contemporary look, buy a few yards of a graphic-patterned performance fabric to use as your table cloth, hem the edges (or not, after a cocktail no one cares).  Mix fancy china with more casual ceramics to create a high-low bohemian vibe.
Vary heights. Copy an effective visual merchandising trick by using  varying heights to give your table more surface area for serving dishes and room for a seasonal centerpiece. Use cake stands, even stack them, or add height to serving  bowls and platters by setting them on flipped over saucers and small bowls. Use tall candlesticks to add a sense of celebration without taking up too much room.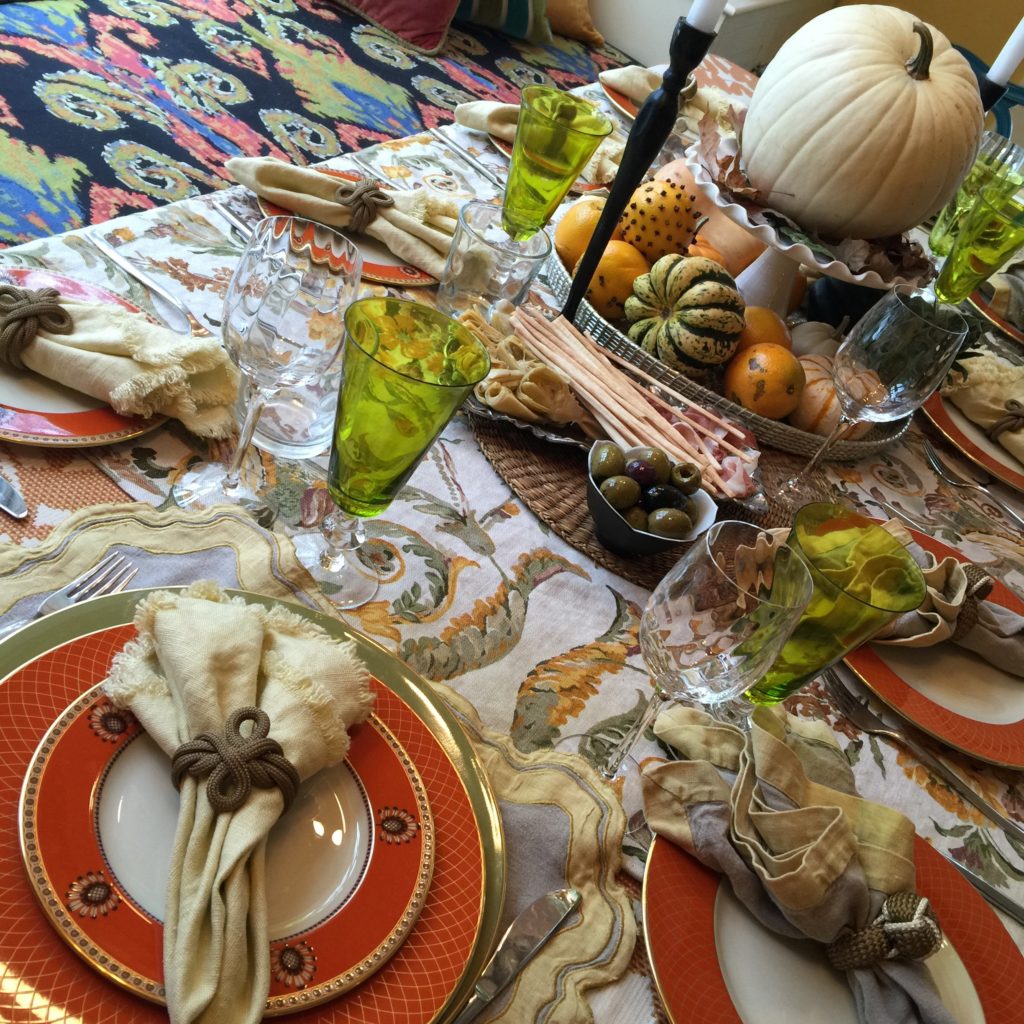 Another New Yorker who is definitely into dressing up a table is  
Tamara Matthews-Stephenson
.  Tamara is the doyenne of Hamptons' Style, the ultimate hostess and an industry insider blogging at
Nest by Tamara
. She is a partner in 
Root Cellar Designs
with her talented lifelong friend Susan Young, and together they create textiles rooted in decorative arts history.  So it was no surprise she wowed me when I asked her to give me and my #FringeFriends some designer advice on tablescaping.
Tamara Matthews-Stephenson – Go Bold and Delight your Guests
"Dress up your table with the unexpected and whimsical, setting the tone for a fun party."
"Sometimes I use garden sculptures or home accessories for a fun, festive centerpiece.  I layer colorful linens with patterns and colors not always associated with the holidays. I mix and match plate patterns and create a unique and sophisticated but not formal or stuffy dinner.  I often wrap little gifts for guests – something small like chocolates. Go bold and wow your guests, they will be delighted!" See how Tamara brings dramatic, colorful, even overscaled elements of nature into her design, so pro!
Elissa Grayer is a Westchester based interior designer that I met in High Point and I keep my eye on her work because she is so talented and has a spirit of generosity that is so engaging. Recently she designed a table for a fundraiser that caught my eye and when she shared her tip, I understood why.
Elissa Grayer – Reflect the Beauty
"Always add something shiny and gold, to reflect the light and whatever other beautiful objects you've got on your table. I loved the way the Roll and Hill candlesticks did just that as we gathered for the Hope's Lodge charity benefit."
Not only do these candlesticks reflect the light and beauty, they are works of art, sculptures. I love how the modern shape plays against her floral arrangement and the varying heights keep your eyes immersed in the colors and light.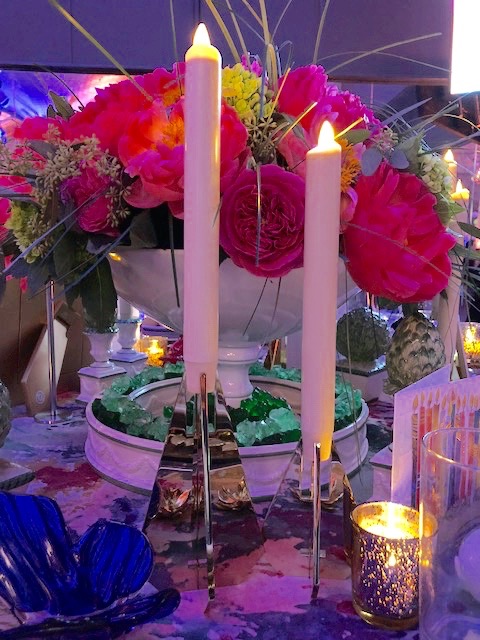 As you know, or can can tell, I love mixing vintage with contemporary pieces, in my dress and decor, so it was LOVE at first sight when I met Sasha Nicholas on Instagram. She's one of those people you can tell has an attention to detail that is JOYFUL. I soon found out that Sasha Nicholas IRL is Cynthia Nouri and she has a chic-as-heck shop in Ladue, MO.  She makes custom dinnerware, ice buckets, and monograms about anything and mixes it all with vintage pieces. HELLOOOOO! I am whipping out my Phipps family crest and creating something PRONTO in time for Xmas!
Sasha Nicholas – Create YOUR Story
"Holiday Entertaining is the perfect opportunity to get out family or vintage china sets you rarely use and mix it up. Don't  worry about mixing older cream transferware with white porcelain!  Gathering at the table is one of the most important daily rituals. The best things in life are beautiful, meaningful & enduring. Let your table tell your story."
I love that Cynthia helps create new traditions with her pieces and always has sayings that leave me smiling.  Here's one of my favorites she shared on Facebook, "If You Have A Family That Loves You, A Few Good Friends, Food On Your Table and A Roof Over Your Head, You Are Richer Than You Think." Amen! Look at this simply beautiful table anchored by napkins under the plate and a centerpiece you could basically forage from your yard that is absolutely elegant. Go for it y'all!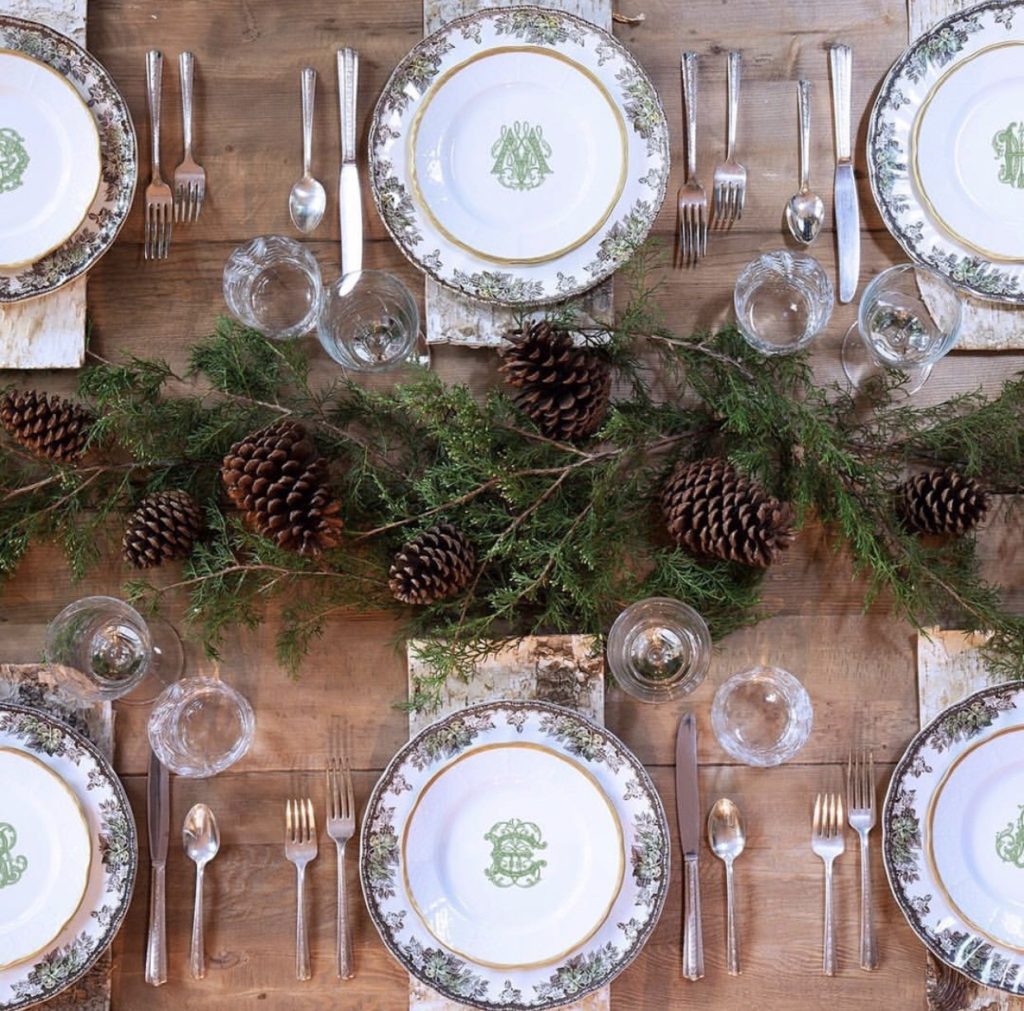 Another designer I admire and must admit to opening up every single blog she writes because they are so juicy, is Laura Thurman of Thurman Design Studio in Nashville. You might remember Laura from my Porch Perfect post, we met in High Point this last summer at the Red Egg LadyBoss soiree.  Laura can't help but make everything she touches soulful and she puts her heart into her design work. Her touch of  ricrac caught my eye and I had to share.
Laura Thurman – Let the Place Setting Whet your Appetite
"Use organic materials to add personality to your place setting. Incorporate fresh herbs when possible and tie it off with ribbon or fringe." 
Laura says, "Great tablescapes or place settings are well layered. I wanted this setting to feel rustic but timeless."  Isn't it though?  It is so inviting and I really want to know what Laura will be serving on this setting! I am sure it will be an incredible farm-to-table memorable meal!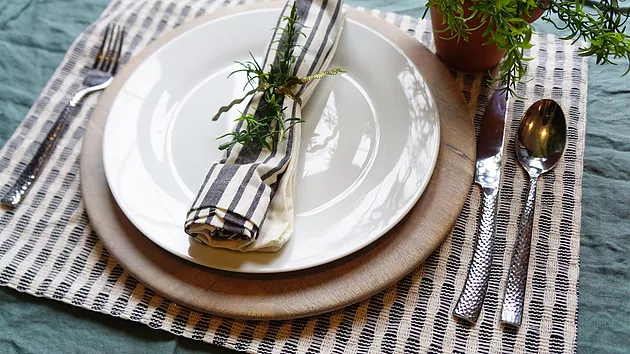 Well friends, I hope sharing these tips and photos have given you some inspiration and license to pull out all the dinnerware, cake stands, textiles and funky tchotchkes you love and get to playing with your tablescape.  I have no doubt you will delight your guests and have fun doing it.  Blast your favorite tunes, get creative, and embrace the holiday spirit with joy in your heart — you will spread it. Send me a picture of your #tablescape I'll get a jolt of happiness seeing your creativity.
Wishing you cheer in celebrating the holidays and small joys everyday.  I am truly thankful you are in my life.