Welcome back to Who's Who of Spring 2017 High Point Market, my highlights from the Design Bloggers Tour.  If you have FOMO, like me, click here if you missed Part I.  As I mentioned, I learned a great deal from interviewing these designers in their showrooms, as they pointed out unique characteristics of their pieces, the fabrics and finishes, and shared stories about their inspiration for the designs. One thing they all shared: DETAILS
"The details are not the details. They make the design."  – Charles Eames
My highlight reel below features DESIGNER DETAILS from Part I & Part II >>
Celerie Kemble | Life Has Seams
Interior designer Celerie Kemble is a wondrous mix of her Palm Beach upbringing, Harvard education, Manhattan sophistication and jaunty, hard-working-mom demeanor.  She is the first female celebrity designer to collaborate with Eastern Accents, the Chicago-based soft goods manufacturer. Her design philosophy is an accessible one, "In life as in design, it is not perfection you should be after. There's beauty in the faded and worn, the well loved, and the sentimental…
After all, life has seams. Your home should be like a loosely woven fabric of desires, memories, practical notions, and even compromises."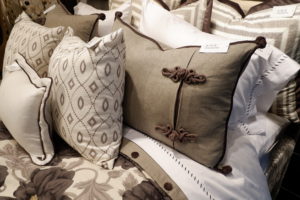 The Midnight Poppy bedding mixes graphic patterns with a large-scale monochromatic floral for a ying and yang effect. Pillows are embellished with passementerie frog closures and velvet piping, knotted at the corners. Velvet buttons secure the duvet cover and the fine linen is delicately embroidered. This ensemble goes the whole nine yards in the trim category.
"It's all the delicacies and the small gestures that define this collection: Swiss dots, lace details, picot stitches, baubles and fringe. Trimmings have become my most hearty tool, if you took the trim away, it would be like having a pencil without the lead." Music to my ears!
The outdoor pillows have wild patterning, concentric squares, diamonds, diagonals and stripes made out of trims, pompoms, fringes and tassels.
Another feat Celerie accomplished at High Point Market was the debut of her dream bedroom designed for the newly renovated boutique hotel, Pandora's Manor, Eastern Accents foray into hospitality, keep reading…
Pandora's Manor | Jewel of High Point
I walked from the showroom to the Pandora's Manor with Creative Director, and project doyenne, Louise Traficanti. Louise filled with pride as we toured the beautiful example of Colonial Revival architecture that was built in 1905 by Henry Fraser, one of the founding fathers of  furniture manufacturing in High Point, for his wife Pandora. Owner of Eastern Accents, Ridvan Tatargil, recognized the potential with the property and under Louise's discerning eye, it has taken over 2 years to carefully renovate and restore, with added modern amenities.  Louise shares,
"It is a culmination of so much talent, from the craftsmen to the designers involved, it is a one-of-a-kind experience."
Join me on my tour, click below >>
Six interior designers were commissioned to create their dream bedrooms: Celerie Kemble, Madcap Cottage, Thom Filicia, Alexa Hampton, Barclay Butera, & Tobi Fairley.  The Manor's next stage includes building an events space that will accommodate 200 people for meetings and social gatherings. Our design bloggers group was honored to attend the black-tie Showhouse Gala celebrating this jewel.
Rachel Ashwell Collection | The Beauty of Imperfection
It was a huge thrill to meet Rachel Ashwell, and as I was waiting to interview her, every person that came in the showroom had stars in their eyes, enamored by her celebrity status.  Rachel immediately put people at ease with her smile and "I'm just doing my thing" attitude. I recall the day I fell in love with the Shabby Chic store in Soho in the late 80's, it was a world unto it's own. Whitewashed, minimal, cozy, I aspired the style for my loft at the time.  The word 'lifestyle' was not yet in the design vernacular but that's exactly what Rachel was creating.
Now with a flagship store in Santa Monica, CA, two stores in Japan, a collection at Target and a Bed & Breakfast called The Prairie in Round Top, Texas, Rachel's style has evolved yet stayed true to her roots. With this new product, the Rachel Ashwell Collection, she has created an umbrella under which Shabby Chic is at home.  What is the common thread?
"Beauty, comfort, function" Rachel says, "unites all I do."
Rachel explained, "it's a curated version of the best of what I could have found, all vintage inspired."  She calls her pieces "Forever Furniture."
There were still moments of Shabby Chic-infused romance as seen in the carved details of the Somerset Console and her Petticoat Bedding Collection.
Alexander Julian | Sartorial Comfort
Fashion icon Alexander Julian's Postscript Collection for Universal Furniture is aptly named for their second collaboration, 23 years after the best-selling Home Colours launch. What made his first collection so successful, transforming a formal look into one that was livable, rings true throughout this latest, "Even in the most refined setting, comfort should never be an afterthought," he says.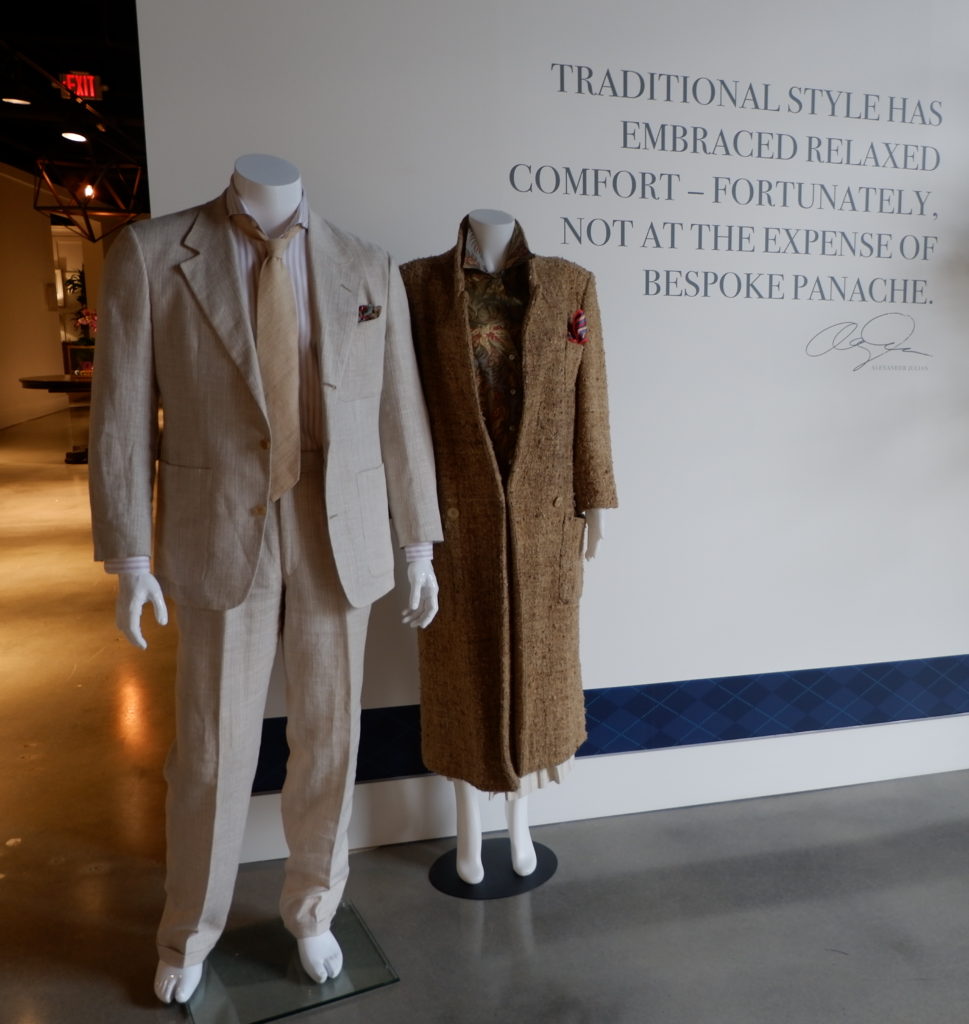 Alex's sartorial style of "dressy casual" influences his furniture design by mixing rich materials with practicality. He seamlessly specifies linen or performance fabrics with pearls, and soft, woven argyles with metal buttons.
He told me this collection is intended NOT to be gender specific, that he "works in the overlap of motifs that are proven, through time, to appeal to both men and women simultaneously."  He then shared his motto which eloquently puts into words a sentiment I deeply believe about self-expression and decorating:
"Express yourself in your home, it will help you to feel at home in the world."
Bunny Williams Home | Curated and Coveted
At the Bunny Williams Home showroom in Interhall, the collection is an expression of legendary Interior Designer Bunny Williams' creativity and educated aesthetic. The pieces call upon her decades of design experience and her extensive knowledge of decorative history. "I started Bunny Williams Home to fill a void in the marketplace for those unique pieces one needs to give a room personality. I am always on the hunt for unusual things.
I love each and every piece because there is a story behind it; something I've been inspired by, coveted, or own."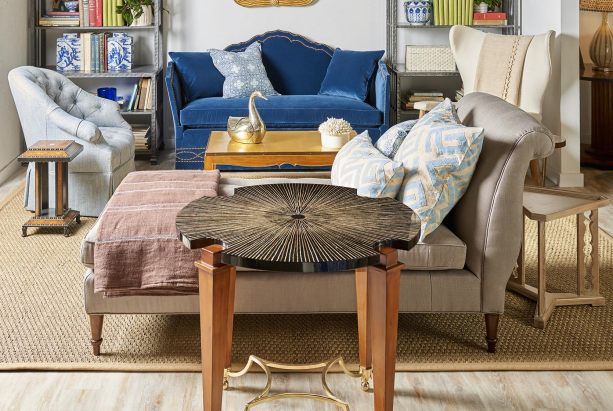 The Parker Sofa, for instance, is inspired by an antique Knole-style sofa that Bunny had in her library for many years. The original Knole settee had high sides with hinges that kept in the warmth of the hearth.  They lowered to create a daybed for napping, or relaxed contemplation. It was commissioned for the Great English house of the 1600's. I am sure Bunny has had many warm, contemplative moments on hers.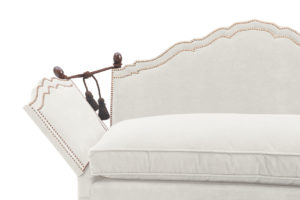 One of Bunny's favorite pieces in the collection is the Dappled Mirror. It is made completely by hand in a wonderful factory in Vietnam using the time-honored, traditional technique of eggshell lacquer. 
Being on the Design Bloggers Tour has been a privilege and has given me the opportunity to go beyond my usual market tour, to probe what is on-the-surface interesting and learn from these designers the great effort, passion and expertise that has brought their collections to fruition.
Stay tuned for my final Design Bloggers Tour post with scenes of Modern Embellishments of and other High Point Market Spring 2017 mega-moments.
Thanks for reading and keep #trimspotting!!
***This is a sponsored post however all observations and opinions are my own.