I've always loved vintage. Growing up, on the weekends you could find me in downtown Sacramento drawn to decades-past designer clothes made with fine fabrics and expert tailoring. I'd pair my retro finds with trendy accessories to update my "look." After college I moved to New York to pursue a career in design and landed in the garment district, ultimately modernizing a century-old trimmings factory. I had many apartments during my decade of city dwelling that were decorated with a hodgepodge of inexpensive pieces, old and new, easy to transport. Fast forward to getting married, having a baby, and moving to the suburbs, it was the first time that I invested in fine furniture – heritage furniture worth keeping. We had a center hall colonial that I decorated in classics, pumped up with color, pattern and trimmings. My favorite piece was a chaise longue I bought from a North Carolina-based high end manufacturer. My industry friend and designer Sarah helped customize a fabric collage look that would suit our Paris-inspired bedroom. Rumor had it that the Queen of Belgium had the same piece, glad to know I had royal taste!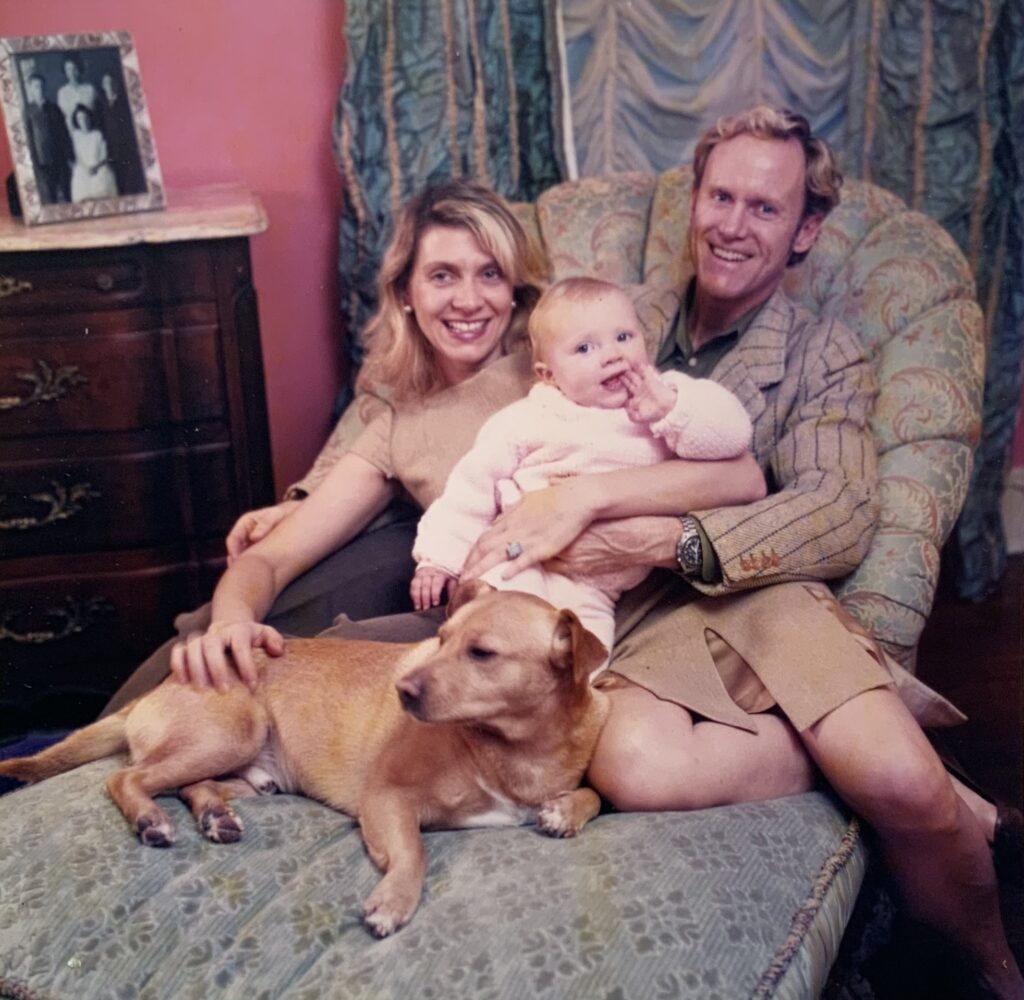 Fun Fact: The chaise longue was popularized in 16th century France crafted by artisans for the wealthy to rest on without retiring to the bedroom. Meaning long chair, chaise longue is pronounced "shayz laang" but many Americans call it a chaise lounge.
Several years later when we moved to a Bavarian-style historic home, the chaise no longer fit into our living space, nor the more transitional design scheme, so I moved the elegant lady chaise to my design studio. There she sat in the window serving as a catch-all. The sunlight started to disintegrate the silk, fade the tassel fringe, and my 20 year-old piece was looking like a has-been.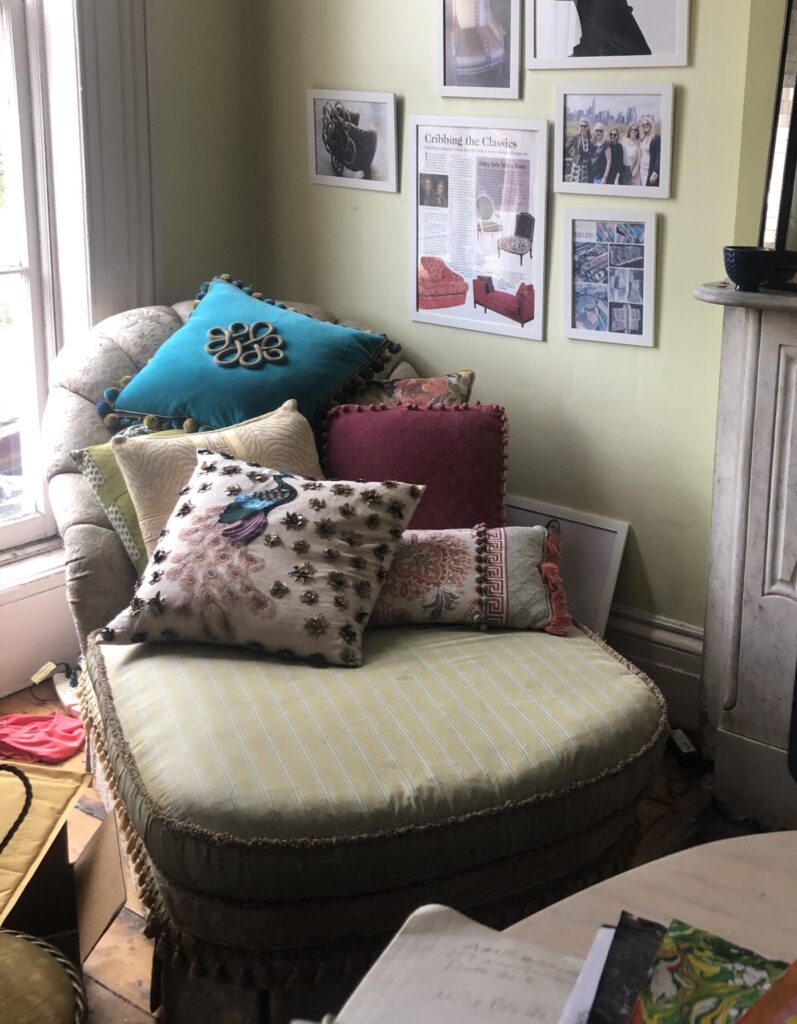 I was at a crossroads – I didn't want to kick the piece to the curb — it was very valuable both in its quality and sentimentality — yet reupholstering it would be an investment and the most sustainable action to take. As we started to work more from home and our living room was becoming multi-purpose, I decided to move lady chaise back home and give her a makeover.
THE REUPHOLSTERY PROCESS
I remembered seeing all the amazing Calico before and after reupholstered pieces, so I sent my information and photos in for a reupholstery quote; it was easy. Once I got my quote back, I understood that the expense was not only an investment in my chaise longue, giving it new life and possibly passing it down to my children, but it was an act of sustainability too: by not disposing of or buying furniture! I was ready and scheduled my appointment with my local Calico in Mamaroneck, NY to get the process started. I was seriously excited going to the store and brought my photos, dimensions, and swatches of the other colors I had in the room.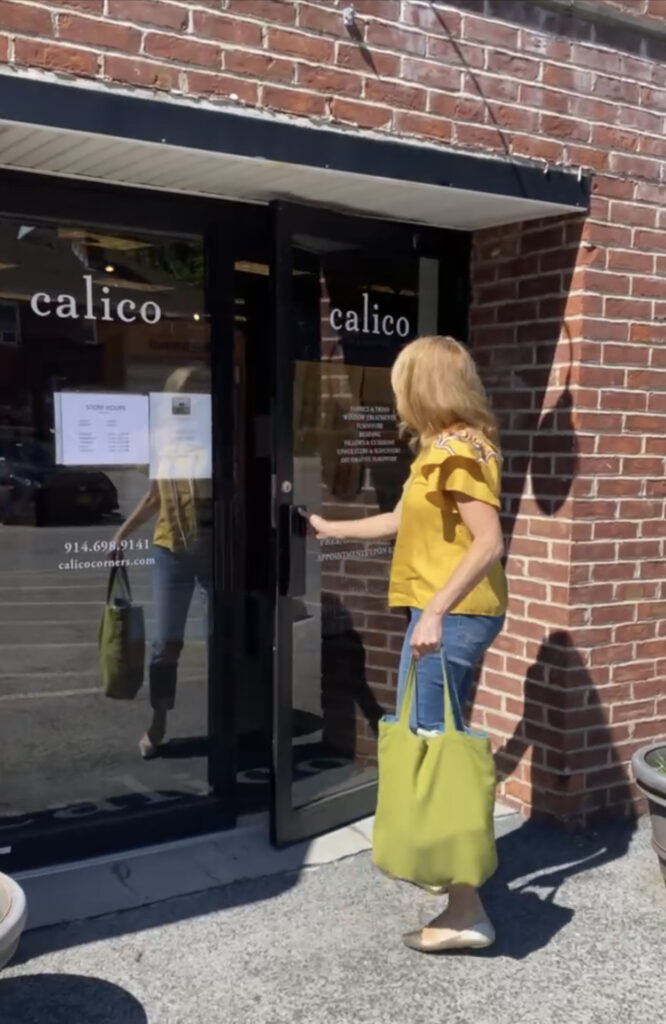 It was a good jumping-off point. The in-store designer Eugenie had questions for me about how I planned to use the piece, what fabric properties I wanted, and my preferred colors before she started to pull fabrics. It was a blast! We literally created a story with fabrics and tried different combinations to see what worked for the piece and for the room. With over 5,000 fabrics and trims, her expertise gave me confidence that I'd make the right choices for the chaise longue and in truth she saved me from making any costly mistakes.
One thing I expressed to Eugenie was that I wanted to bring some lightness to the piece while incorporating the palette of the room. She brought over a print I flipped for, designed by Justina Blakeney called Topanga with a natural background and painterly tropical botanicals. It's 90% cotton/10% linen. It would have been too much pattern to use all over so we decided to have it be the focal point as the seat cushion. 
For the body fabric of the chaise, Eugenie pulled out several indoor performance velvets in the colors from the print. Using a performance fabric was a brilliant idea since I have kids and pets and unlike the silk that disintegrated, this velvet will have longevity, with ease to clean. We chose a blue/green Banks Velvet called Jade that is also in the color scheme. 
TRIMMINGS AS THE BRIDGE
With the basics settled, it was time to embellish with the trimmings — the jewelry of the room.
Calico has an incredible assortment of trimmings categorized by color. Eugenie went right to the teals and found a gorgeous wide embroidered tape called Ancois that would pull together the print and the velvet. When we measured it at 5 ½", Eugenie pointed out that it was almost the size of the boxing (width) of the seat cushion and I loved the idea of BRIDGING the print to the velvet. We also added the tape to a decorative pillow which completed the design story. To tailor the seat cushion, keep its form, we added an ivory twisted cord to connect the top and bottom to the sides.
Finally the pièce de résistance, the skirt fringe — it was in a special order program called The LUXE Collection for good reason. It had a designer price tag (more expensive per yard than the fabric), but when I pictured the chaise with it and without it there was no question in my mind that it simply MADE the piece extraordinary. I call this Trim Alchemy — making something extraordinary using trimmings — and it added the WOW factor. Since this was going to be a heritage furniture piece with longevity in our home, it was a given that the Trim Queen would invest in FRINGE. This particular skirt fringe was a passementerie art in itself, each tassel braid tied together by hand. It was a work of craftsmanship and adding it gave the piece an artisanal one-of-a-kind presence and the cost was merited. Now our selections were complete!
CALICO DELIVERS
A few days later Calico's team came to pick up the chaise from my home and several weeks later called to tell me she was ready! We arranged a convenient time and Calico delivered her with care for the BIG REVEAL!!
Once I got a closer look, I was so impressed with the attention to detail. The workmanship was impeccable.
I am ecstatic with the results, she's the BELLE of my living room! I'm so glad I invested with Calico to make over and modernize my chaise longue as an act of sustainability which rescued this heritage piece we'll cherish in our family for many years to come.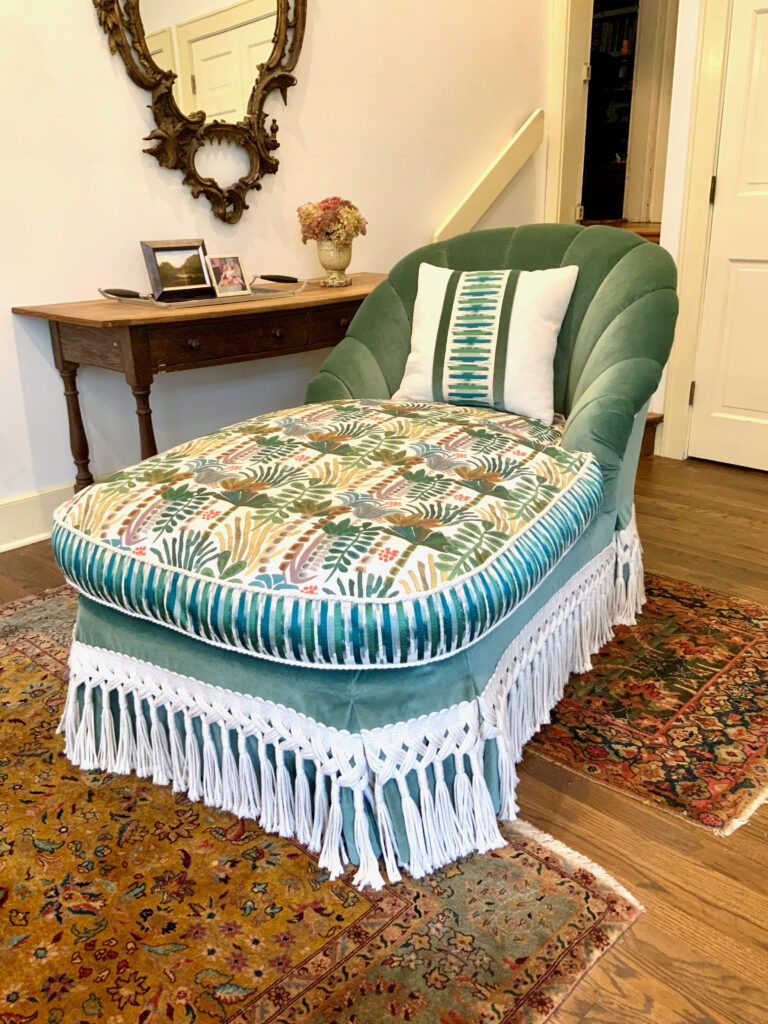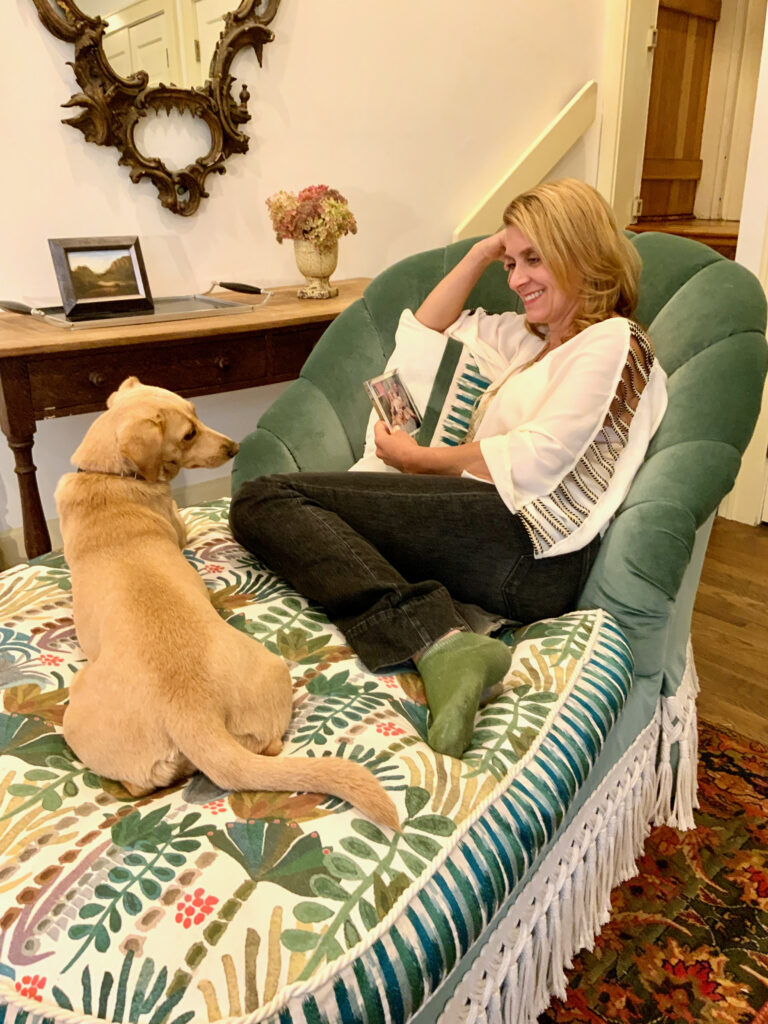 Thanks for following along on my design journey and I hope the next time you want to discard a piece of furniture, you'll reconsider and revive it with reupholstery!