There's been an insurgence of tassels in fashion, and lately, in decor too.  My theory is that handcrafts like knitting, macrame and needlepoint have been on the upswing as a response to our sleek, techno-centric world. We need to use our hands for making things, cooking, or even buy things that have an element of  'crafted by hand' to balance our out human experience. Tassels belong to this handmade family and we've just added modern versions, in contemporary colors, to our TrimQueen website.
Tassel History – A Passementier's Calling Card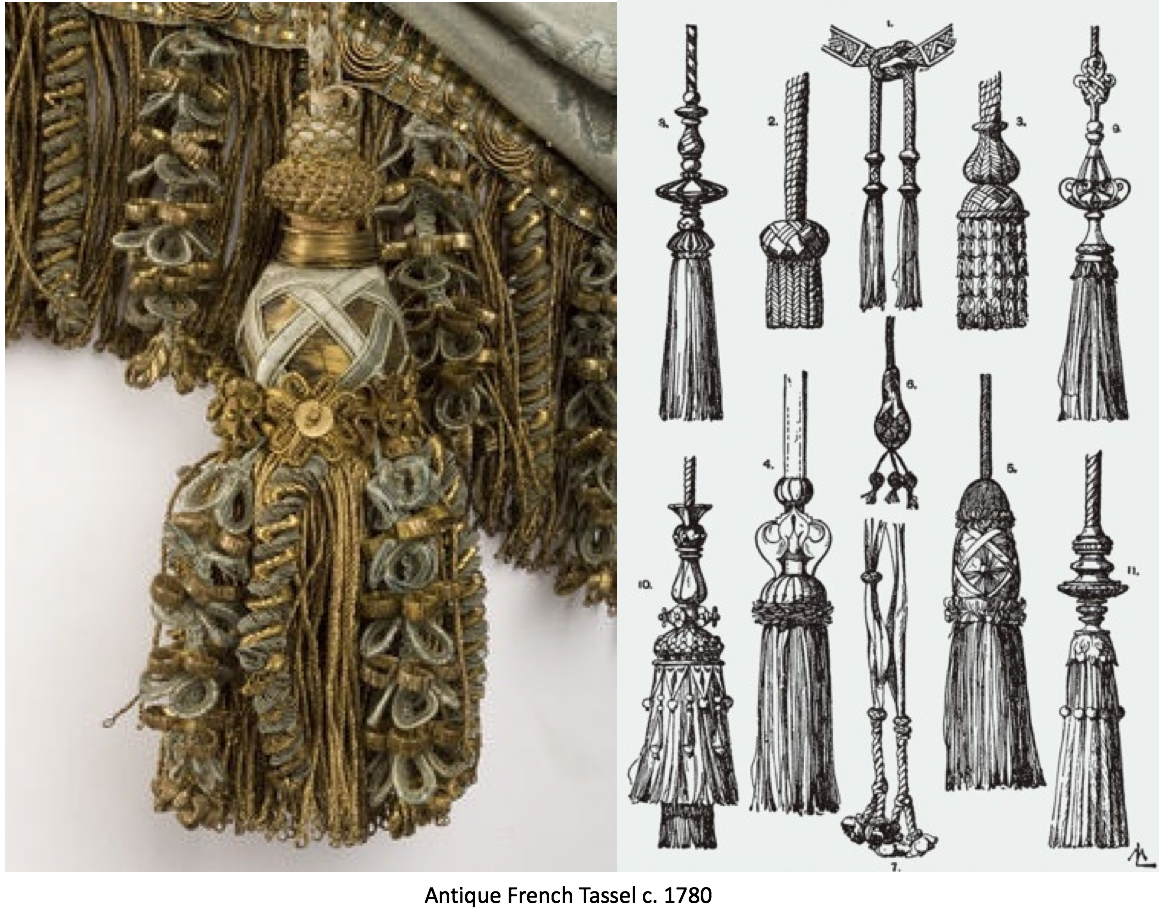 The true art of embellishment was born in the ateliers of the Passementerie guilds in 16th Century France. These formal guilds taught decorative passementerie which translates as "to turn by hand."   Artisans elevated the art form of manipulating cord and braid from utilitarian status of hiding to decorative. It took 7 years for an apprentice to become a master and the "tassel" was, in essence, an apprentice's thesis and a master's calling card to get commissioned work from the royalty, military and clergy.  Passementerie indicated status and or wealth, coveted by the aristocracy, military and clergy and still does today.
Zhush (as in the French je + "oosh" — to primp or fluff up, make striking or flamboyant.
Tassels are embellishing more and more contemporary decor, following the fashion trend, and aren't they so darn photogenic?  As in the era of the guilds, adding embellishments can indicate status, CREATIVE STATUS, whether adorned or added to decor.  I asked my design friends, with exquisite taste and talent, how they style with tassels. Here are their pro tips for zhushing your decor, along with some of my tried and true ones.
Traditional Gets Zhushed
Interior designer Traci Zeller, fan of #TasselTuesday shares,
"Adding tassels gave an otherwise classic dresser a little bit of sass! The sophisticated and colorful design of this room means the room will grow with its owner — a spunky and smart eight year-old — throughout her teenage years and beyond. The case goods are all neutral, but the bright tassels provide the punch — and can easily be removed or changed if she wants something different."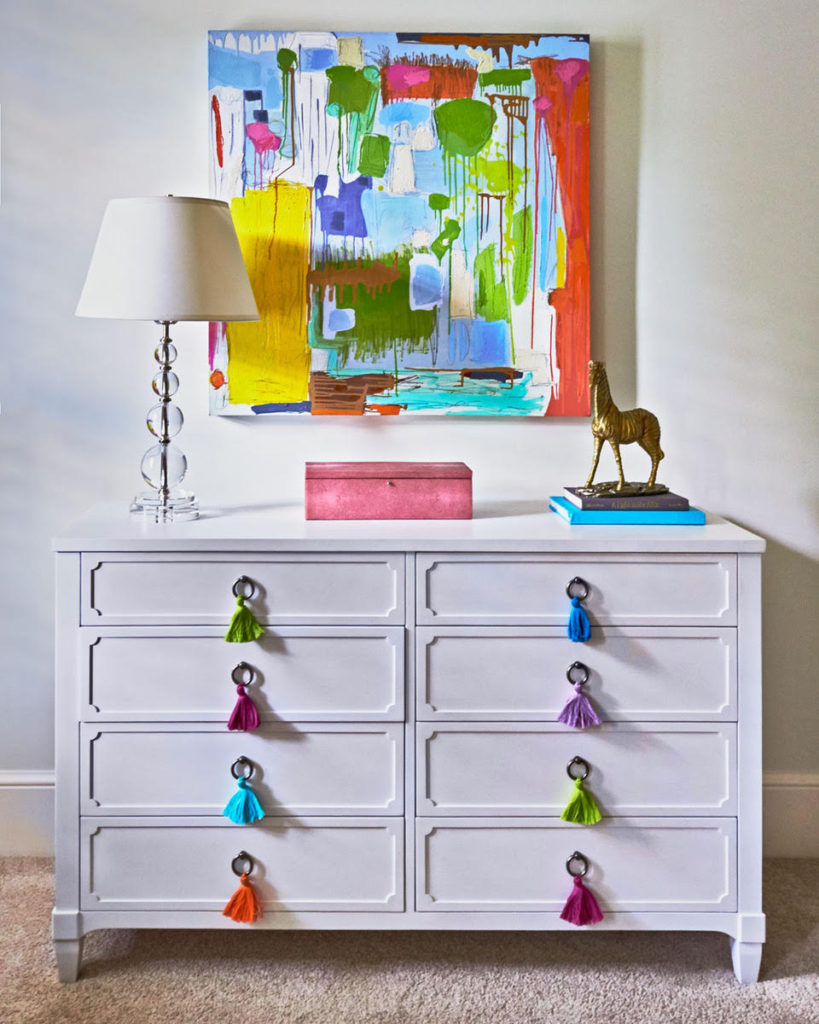 In another vein, she updates her 1800's Belgian chest with a NAVY accent.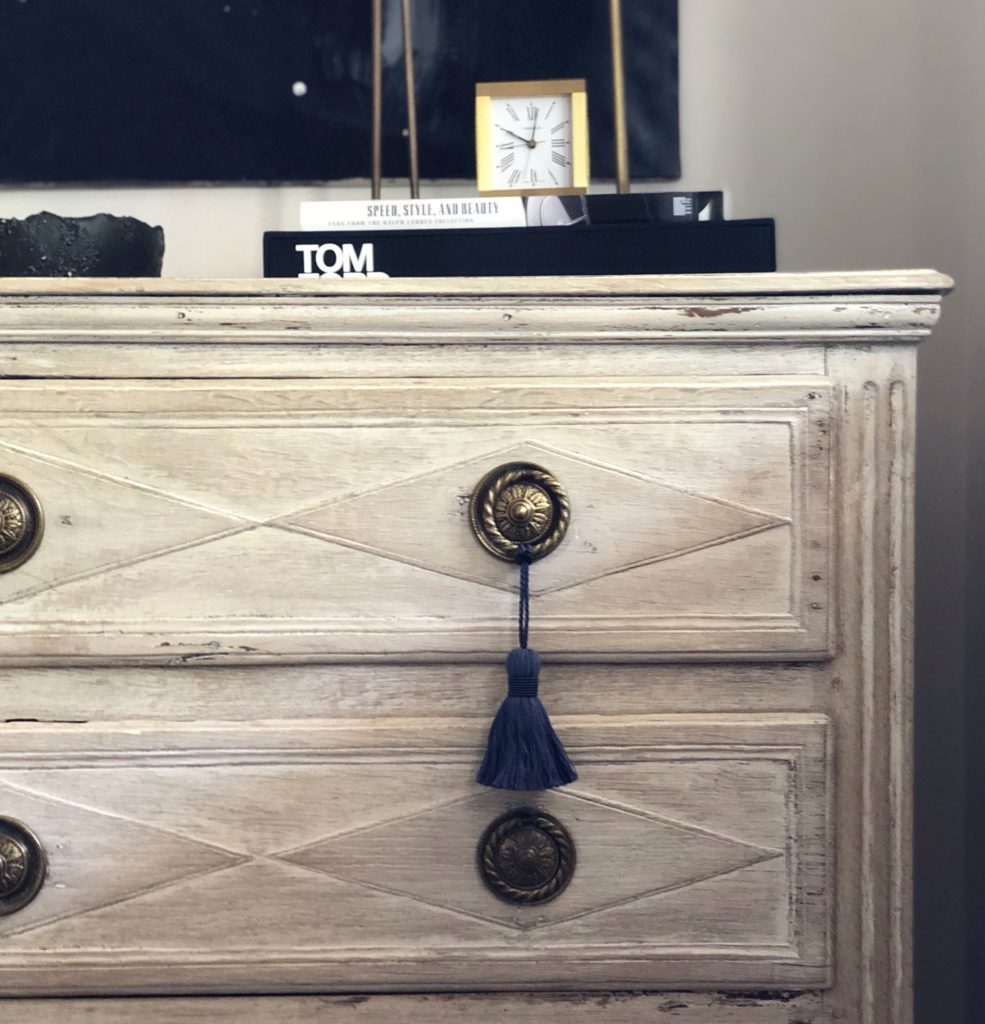 Interior and product designer Kerrie Kelly loves to mix materials in her projects.
"Adding the softness and color of a handmade tassel provides just the right amount of personality to any case good piece. I love the classic look of navy and/or white with leather and brass."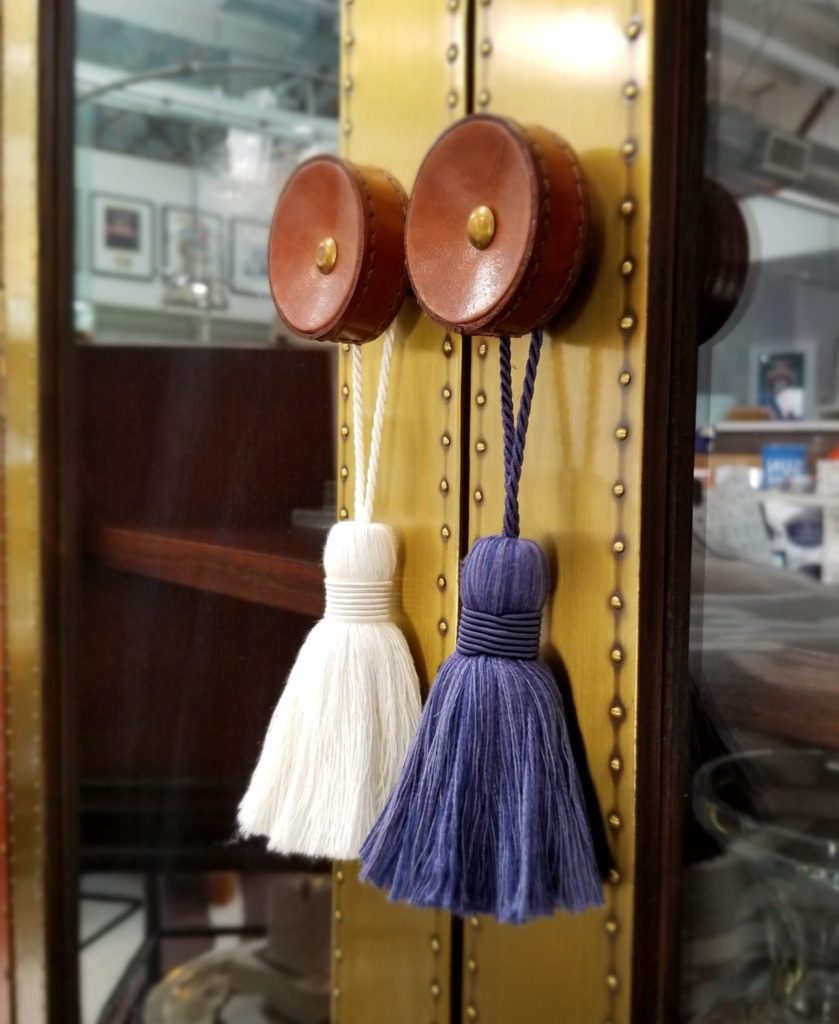 Interior designer, life and business coach Tobi Fairley knows how to zhush a home and a creative life!
"I love using tassels and trims to jazz up furniture, especially traditional pieces. It adds that perfect amount of personality and sass to a piece, especially if the tassel adds a pop of color."
Tabletop Tasseling – It's a Thing
Recently at Cooper's Farmhouse in Shohola, PA, the guru of small gatherings Amy Flurry and Renaissance Man Inn Keeper Cooper Boone hosted a crew of creatives for an exquisite dinner and introduction to the beautiful Upper Deleware River region.  Each guest added an element to the event. I sent some tassels ahead of time having no idea how Cooper and Amy would style them.  Needless to say I was in awe when I saw this jaw-dropping table!  More on this couture dinner to come in a future post, but I  just had to share this exquisite tablescape and how Cooper and Amy created a stunning backdrop for an artisanal meal and crème de la crème evening with friends that would follow.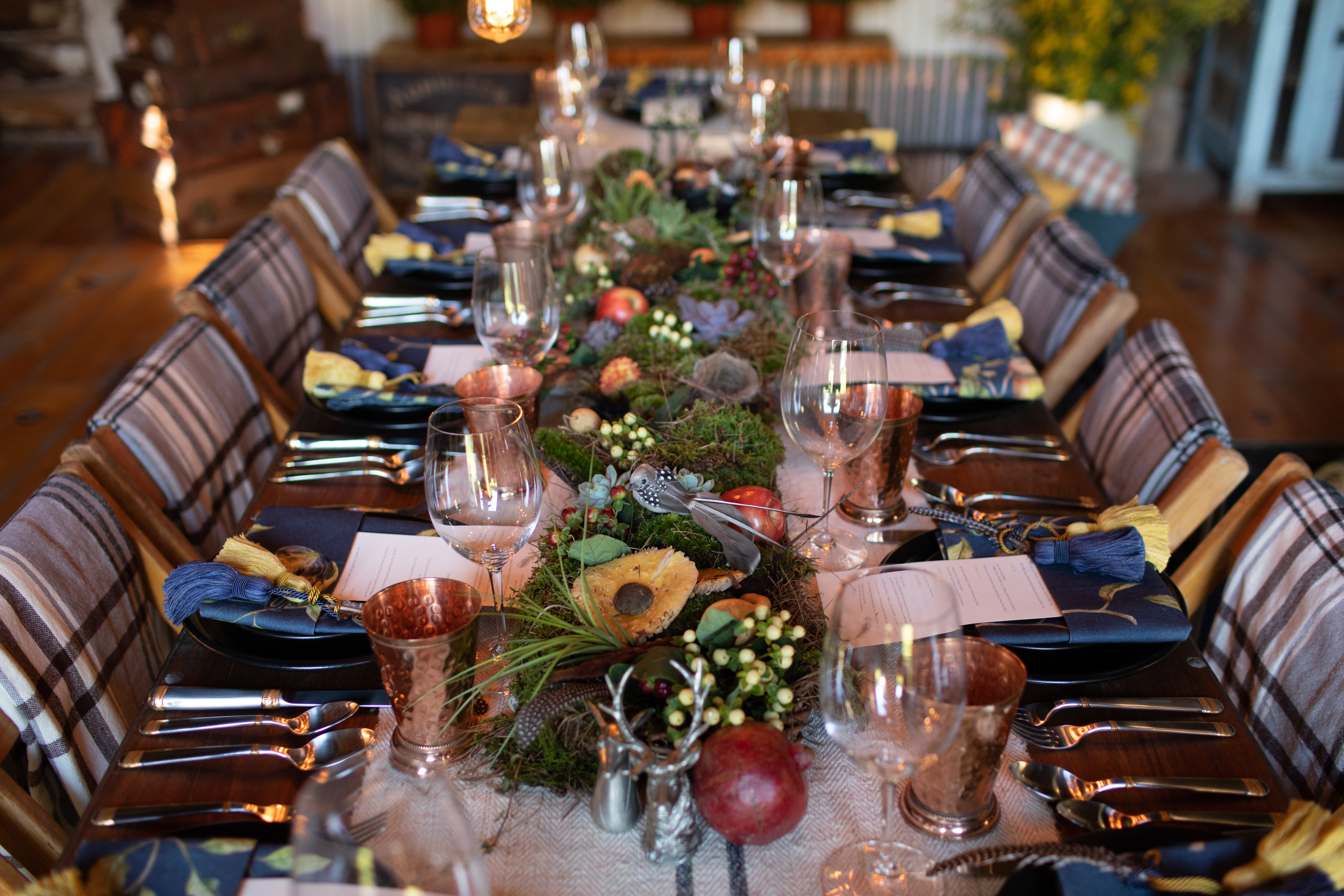 Cooper is a total details person in all of his life so it is no surprise he took tasseling to perfection.
"Tassels were never on my radar nor part of my design point of view…until now. Texture, depth and whimsy now grace my tablescapes!"
Foundry Black Fiesta Dinnerware pairs with custom Brush and Inc napkins (designed for the occasion), Trim Queen tassels, and centerpiece design by Cooper Boone.  Farm to Table menu created by Chef Brandon Grimila and libation pairings by mixologist Donnan Sutherland of Orchard Hill Cider Mill.
 Westchester Home Magazine's Come Home on IGTV was another gathering of aesthetes slowing down to enjoy food, fashion, friendship, decor, and spirits. If "slow living" is the new luxury, count me in!  The tablescape at interior designer Lisa McTernan's home late summer was a perfect  setting for local friends to feast all senses. Check out her blog about our eve, Cocktails and Conversation.  Trim and tassels added elegance to her casual chic setting.
Pillows with Personality to Spare
By virtue of rising fashion brands like Gucci and Balmain, embellishments have skyrocketed back into our design vernacular.  Though you might not be a Maximalist, it's undeniable that trimmings add to the bespoke/designer quality of fashion and furnishings. Who doesn't love CUSTOMIZATION?!!  Patternplay, embellishments and graphic details are the norm rather than exceptions in our IG feeds.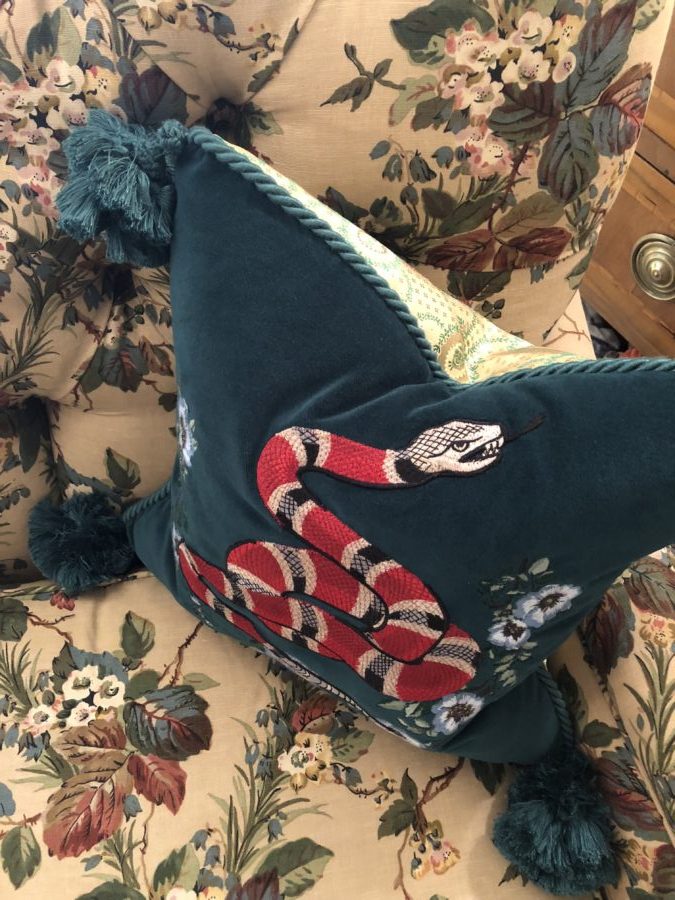 Patricia Marquis of Southern Shades Pillows gave TQ some #TrimAlchemy love on Instagram "turning ordinary into extraordinary" using our new key tassels.
"I looked everywhere for the perfect tassel for these pillows—-the quality is excellent—the perfect shade of pink, nice and full and they took a pillow from pretty–and ordinary– to amazing."
Note how she lets the long tassel loop drop from the corner for an elegant fabrication.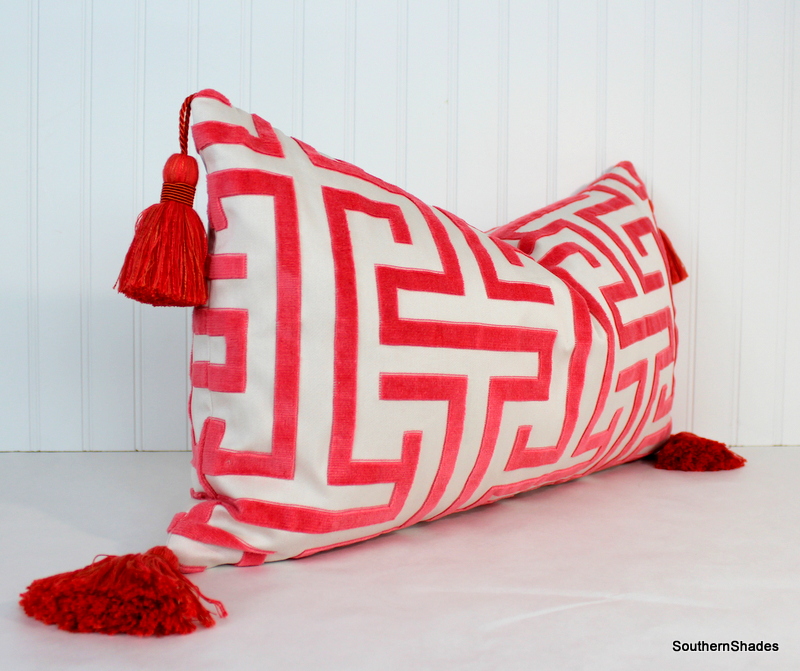 At Texworld, international sourcing show, we added double tassels as a Trim Queen signature to our #FringeFriends embellished pillow which was a huge hit.
Kim Salmela's newest collection for Norwalk Furniture is full of designer details. This key tassel adds additional texture to this woven fabric.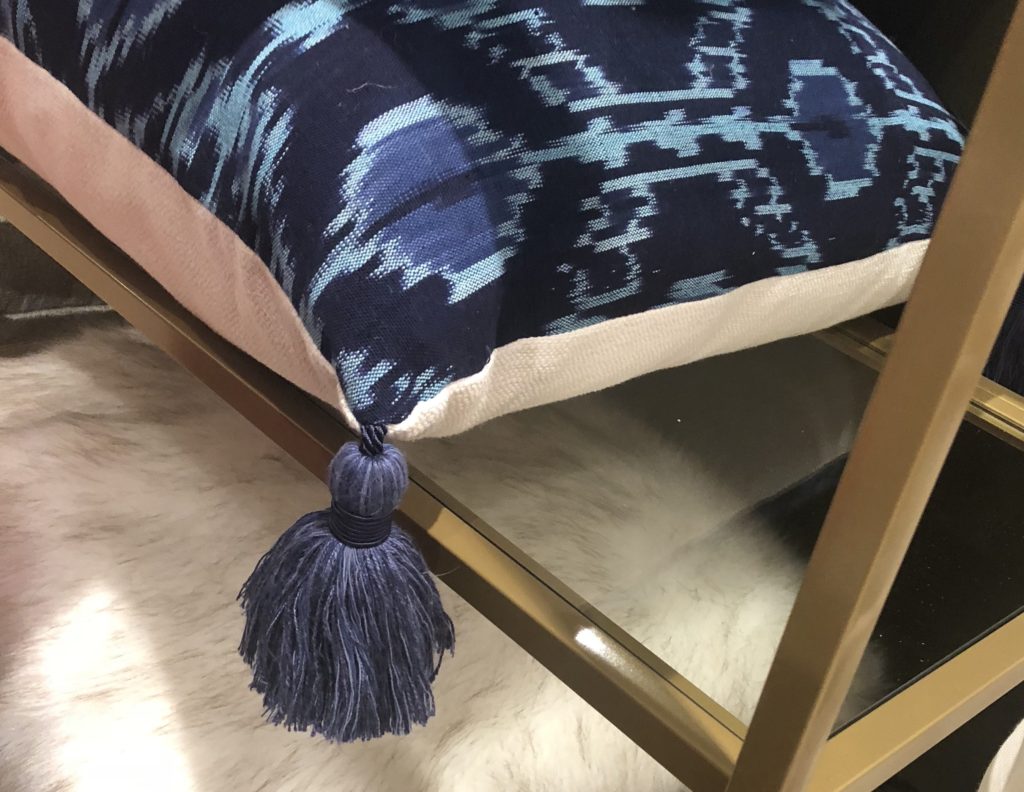 Lighting with Levity
Designer Carol Gregg of Red Egg adds a tassel to her bar setting for some fun.
"Tassels give movement to our pieces. We love to hang them on lamp switches and every time we turn on a lamp the tassel does a little dance."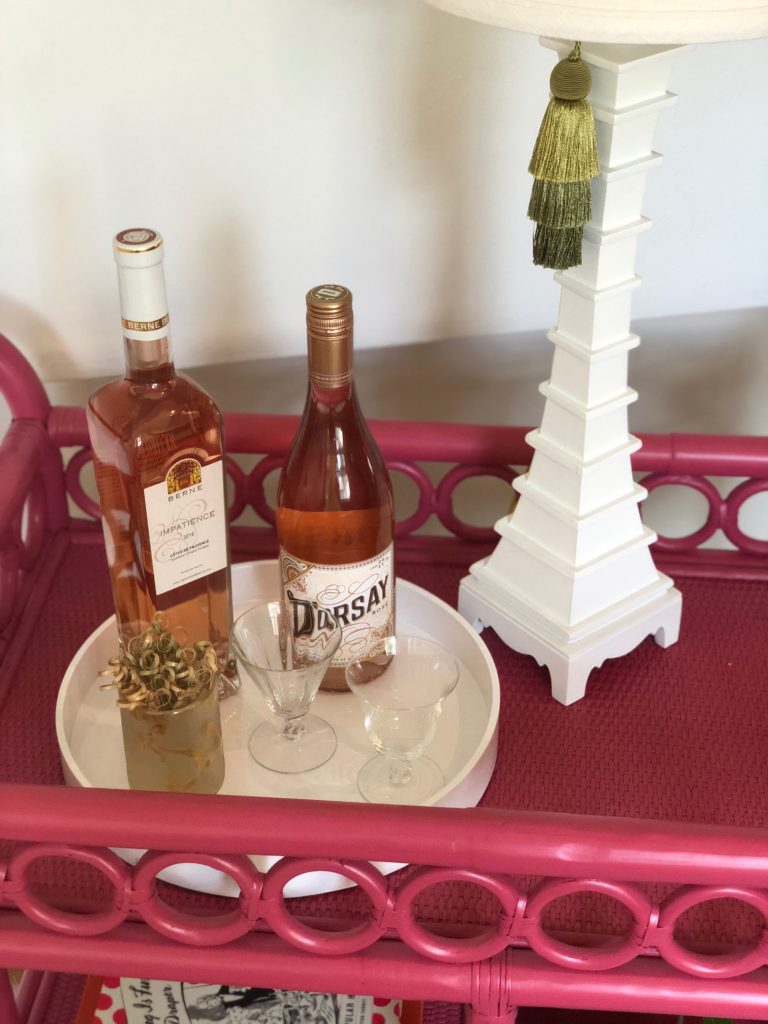 Deborah Von Donop of DVD Interior Design loves to layer. It's the details and texture in a room that bring soul to a home.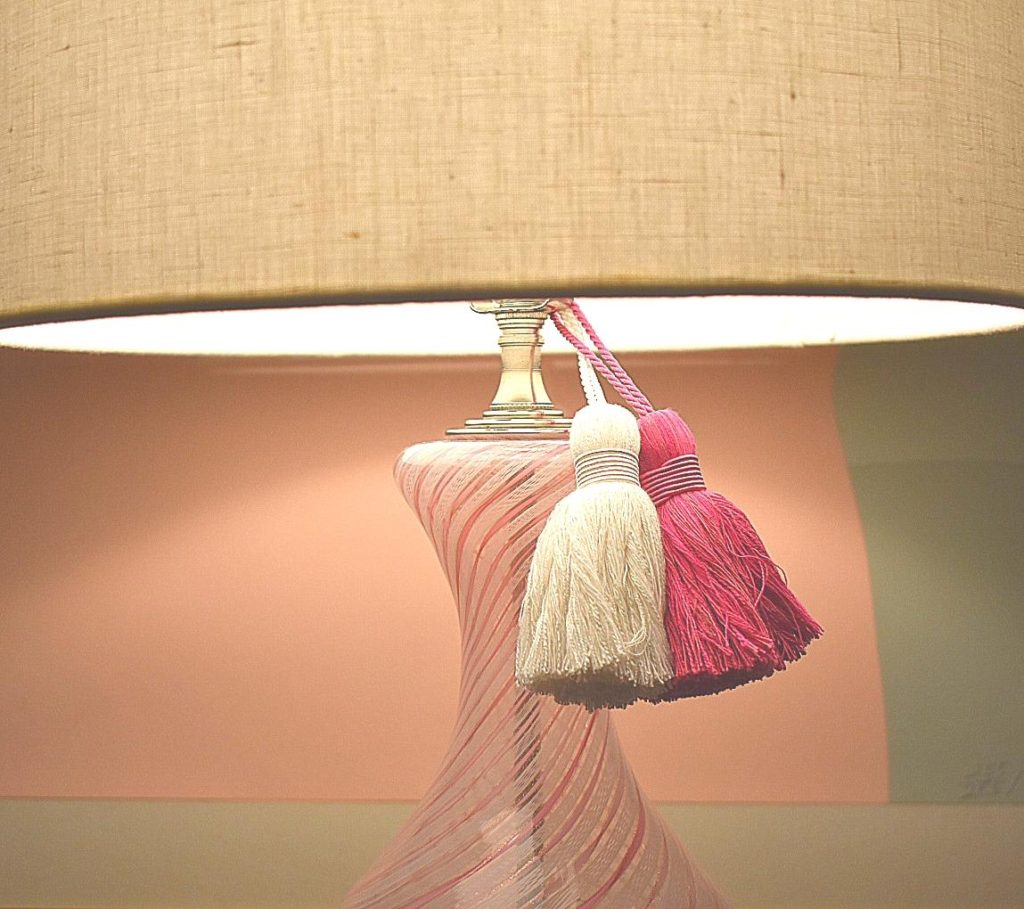 Tassels Set the Mood
Interior designer Sarah Walker of The Curated House creates a mood with textiles.
"Tassels and trim not only bring texture and dimension to a finished space, they also add life to a design presentation, helping clients connect to the mood and tactile experience being created for them."
Passementerie Workshops – Maker Therapy
At the October High Point Market, I hosted a Luxe Craft DY hour at The Point taking a break from our hardcore schedules to chill and play.  Our mission at Trim Queen is "to share embellishment as a creative form of self expression" and the workshops have an amazing residual effect of  therapeutic calm and accomplishment. It was such a joy sharing the art of passementerie and tassel-making with design friends and new acquaintances.  Thanks to designer Lisa Kahn Allen (below) and all my #FringeFriends for joining me for our #tasseliscious workshop. Click through the post below to see the enriching time we shared.
https://www.instagram.com/p/BpRurh6g_F8/?taken-by=trimqueen
Whether you want to make tassels or layer in these soulful accents in your decor, I hope you have some new ideas of how to do so. You can shop most of these tassels on our website we'd love to see how you style them in your own way, I love sharing your creativity!