One of my favorite summer traditions is joining friends on Shelter Island, hosted by the fabulous Deborah Klein of DK Inside Designer, for a spectacular weekend of food, design and shell collecting. We call ourselves the #SeaSippinSistas as you'll find us soaking up the ocean's soft Eastern light (nursing mojitos) at sunset. It's also our group's tradition to visit Traditional Home's Hampton Designer Showhouse on opening day, benefitting the Southampton Hospital.  As you might know from my previous coverage of the showhouse, we are grateful for the quality care it provides for my mother-in-law who lives locally. It is a large undertaking to make this showhouse happen, thank you to all the philanthropic designers and sponsors for sharing their time, talent and dedication.
The secret perk of visiting opening day, is that many designers are at the ready, greeting guests to share their inspiration. This season, there were two homes that served as the palette for the designers, the Beachcomber and the Linden House at  The Fields in Southampton built by Paramount Custom Homes. As per usual, I had on my #trimspotting lens, in search of how the rooms would incorporate modern embellishment. With my design sistas on board, they chimed in with their keen eye for design and we had an engaging afternoon meeting many of the designers. These are our collective embellishment highlights, visit the showhouse to see ALL the rooms.
 Beachcomber House Highlights
Melanie Roy Interiors – CALM & COOL
Calm and cool, Melanie Roy greeted us with textile designer Judy Ross. This bedroom mixed organic textures, linen, jute, natural woods with contemporary pattern in the artwork and textiles.  Both of these women obviously love design and also have a passion for sharing it. I had been following Judy Ross Textiles on Instagram for a while so it was a thrill to meet her in person and get the insider tour of her work throughout Melanie's guest bedroom and bath.
Ashbourne – CULTURED CLASSICS
Ashbourne by Christine Gentile gave this room an exquisite, classical design, detailed to perfection. The embroidered linens, trimmings on the pillows, and window shades gave cultured ambiance to this room.
TREND ALERT: bead fringe attached to shades plays to light
Eddie Ross  – PLAYFUL MAXIMALISM
Stepping into Eddie Ross's festive master bedroom was like stumbling into the most deevine party. The pattern play was so uplifting, with a design conversation happening at every eyeful. As style director for The Mine (formerly ATG Stores) and author of the Modern Mix, Eddie showcased what is possible to achieve with The Mine's "best of" sources. You can even take a virtual tour of his room here.
A-List Interiors – POP THE BUBBLY
Anelle Gandelman and Ariella Duker of A-List Interiors wow'ed as we entered the downstairs lounge with a sleek, channel tufted sofa as the centerpiece. The sofa skirt and bolsters are detailed in Linen Dart trim by Robert Allen Design. It's a great design trick to break up the solid textiles and length of the sofa with the trimmed bolsters. Love it!  The soft palette of grays, platinum, champagne and blush, create a glamorous space for many a tete-a-tete, I imagine, over bubbly.
Sea Green Designs – MONTAUK VIBE
People debate about where the Hamptons begin and end. Whether Montauk is in, or not, it's relaxed, boho style, is au courant and Sea Green Designs created a Beachcomber's retreat that vibed an all-the-way East getaway. Shannon Willey mixed natural materials like linen, cotton and jute with a serene coastal palette. I could have plopped and stayed all weekend on the plush Bunakara Indian Bed that was in her study room. I  trimspotted one of my favorite all-time embellishments, a Lee Jofa Kelly Wearstler trim, straight away, used on the bolster pillow and window treatments in the bedroom retreat.
Shannon not only has a design business but also has a retail shop in Southampton Villiage on Job's Lane.
East Hampton Gardens – TIME-HONORED yet FRESH
Gregory Shano and Michael Giannelli recently opened East Hampton Gardens on Gingerbread Lane offering a fresh take on elegant garden design and outdoor living.  Their design terrace, and covered porch design in the Beachcomber House, is both classic and fresh.
Linden House Highlights
Libby Langdon – QUINTESSENTIAL HAMPTONS
We began our journey to the second showhouse from the pool side. Interior design friend, product designer and media personality, Libby Langdon invited the #SeaSippinSistas to her domain of the Linden house, the outside terrace.
Although Libby doesn't have any trimmings YET on her gorgeous outdoor furniture collection from NorthCape, I just had to include her space because it's quintessential to the Hampton lifestyle.
 Catch the video tour of the pool terrace I helped film, she is so impressive on camera, she is a true tv personality who thinks on her feet.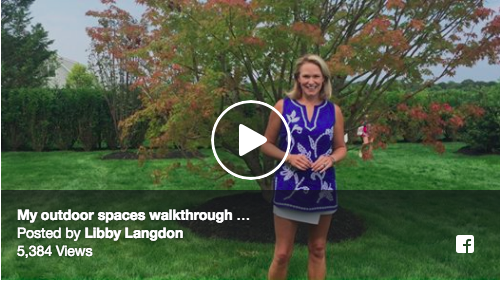 Mabley Handler – REFINED BEACH DWELLERS
Through the window, from the terrace, I spied the grand Family Room designed Mabley Handler Interior Design. I had seen their impressive Curated Kravet furniture collection launch at High Point Market but it looked even more impressive in a real life setting. I spied Jennifer's dress with lace and fringe and the woven cord of Austin's bracelet and belt. I couldn't help myself! They were good sports about letting me get close-ups of their clothes. This couple exudes refined coastal living, and style.
Lisa Mende – COLORFUL COASTAL CHARM
Lisa Mende's covered porch was definitely a colorful highlight of the showhouse and has been the press' darling. Her design was inspired by casual summers spent on the coast of North Carolina and if you know Lisa, her charm as a hostess shines through her work. I love how she mixes the natural materials of the shells with contemporary coral fabrics and the pompoms. The vintage pieces add levity to the space that would make any guest feel at ease.
Apartment 48 – TASTE OF AMALFI
The guest bedroom designed by Rayman Boozer of Apartment 48 is my personal favorite. I couldn't pinpoint WHY, it was just EVERYTHING! The mix of pattern, how the canopy bed filled the room, the curated, yet whimsical, artwork and objet played on the classics as only a connoisseur could. As I uncovered more about Rayman's inspiration for the design, my admiration was uncovered, he is an Italophile.  Inspired by The Talented Mr. Ripley, Rayman created a contemporary take on a retro Italian pensione of the Amalfi Coast. This room was a feast of the senses, chock full of playful bravado, BRAVO Signore Boozer!!!!  This room needs a soundtrack.
Wolf Interior Design – GODDESS ROMANCE
Ranelle Wolf delighted us with an over-the-top tour of her romantic bedroom filled with her goddesss paintings.
Rajni Alex Design – COUTURE JEWEL BOX
Like a life-sized jewel box, Rajni Alex's bedroom was designed for a discerning woman, one perpetually decked out. The sleek finishes in brass, glass and lacquer, played against the luxurious touch of the suede upholstered daybed, outrageous hand painted geode patterned wall, and embroidered leading edge of the drapery.
We were so enchanted by gracious Rajni and can't wait to see more of her elegant projects unfold.
With the Hampton Designer Showhouse closing after Labor Day, it's signals summers' end, but like all great traditions, my visit is booked next year with the #SeaSippinSistas.
Check out my past showhouse highlights:
Thanks for reading, and keep #TRIMSPOTTING, I love sharing creativity.