HAUTE pronounced "oat" is French meaning high, elevated or upper.  For me, HAUTE was the theme of High Point Market this Fall, it was an elevated week, distinct from others past. Perhaps it was experiencing the blackout from tropical storm Michael — with power lines down we searched for a restaurant with electricity and congregated in Bistro 98 and Jimmy's Pizza on Main St., grateful for any nosh and drink — so when all the lights came on there was a huge sense of relief and heightened joy. "Light shines more brightly after the darkness"  right?  At the traditional showroom parties, the mood was high, there was an elevated energy, more enthusiasm, dancing and camaraderie.  The Sheila E concert was packed, music lovers united and we blew off steam together. It was an energized market like I have never experienced in my 20 years.  If you were there, I'd love to hear if you felt the same. Design was elevated as well, truly HAUTE, I saw so much creativity and beauty, and I'd like to share it with you.
#Trimspotting Embellishments
With my embellishment radar ON, I covered immense ground after my tour and seminars (more on that later) hustling from the main IHFC building to Market Square, 200 Steele, Hamilton Wrenn district and to outlying showrooms.  As an agent for Classical Elements trimmings, I wanted to see how clients incorporated our product and as a journalist I had my eye on all embellished product to report on "the state of embellishment".  It was thrilling to find it flourishing.  I know I didn't hit every single showroom so if you were #trimspotting too, please send your finds so I can share. The following trends had an element of HAUTE, elevated manipulation of materials and/or fabrication.
Pompom fringe, a trim usually associated with less sophisticated design, played well this market with more luxurious textiles: mohair, wool and velvet.
Couture Tasseling
Matte, shiny, metallic, horsehair, slinky, hefty, petite — tassels took all shapes, sizes and fibers, zhushing the market.
#FringingIn HPMKT
My designer pal Elaine Reeves, at Vanguard, coined #FringingIn on Instagram— meaning when fringe is spotted or worn in a place or town. These showrooms were definitely #FringingIn High Point Market this Fall and we all have Elaine to thank for her creative hashtag. Mwah Elaine! Spotted that fabulous modern bullion several times, love the contemporary nod to macrame.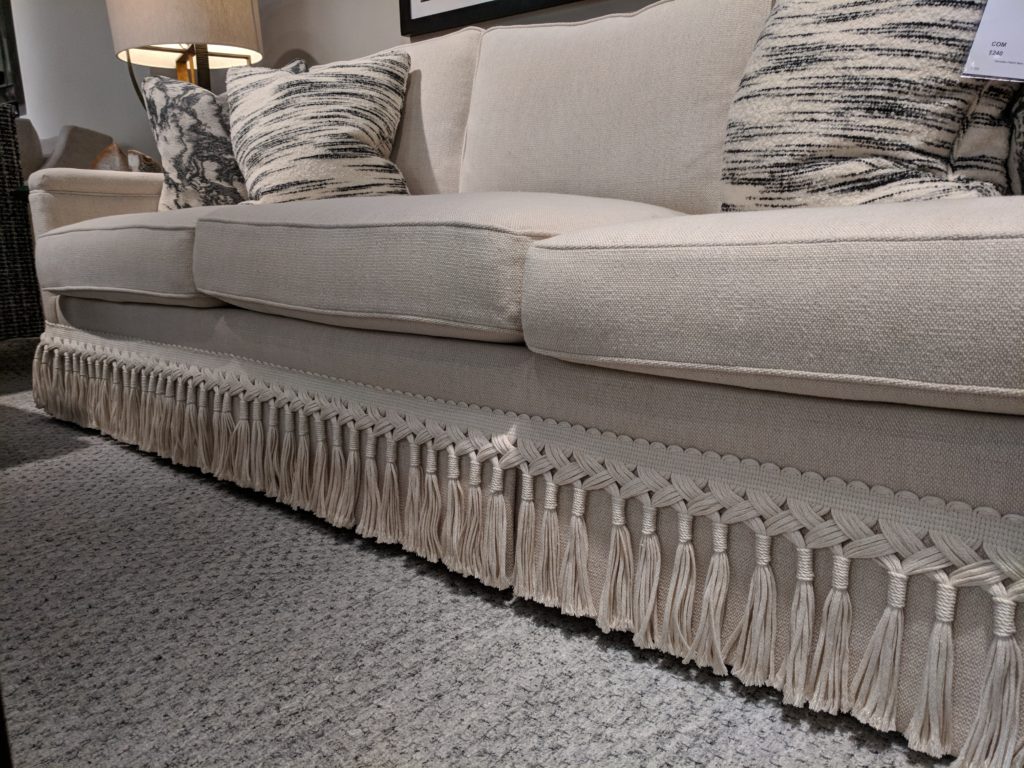 Graphic Tape Manipulation
The meandering fret is a classic and not going anywhere, but overscaled. Tapes remain strong creating stripe effects too, they are totally versatile as a decorative tool.
Old Gold Reigns
Gold accents take on tones of antique brass, the metallics are slightly distressed, not bright or garish.
Baker No. 10 – Fine Passementerie Details
Baker's launch of collection No. 10 returns the brand to its roots, focusing on it's core luxury manufacturing rather than on name designer collections.  Baker has built its success on creating  furniture and objects, "made without artistic or material compromise, while stretching the boundaries of our craft with bold only Baker chances."  They introduced a stunning collection of metallic and embroidered trimmings that accented the luxury collection with fine yarns and passementerie details.
Close In for Contrast
High contrast details add interest, define shape, and make these pieces so photogenic.
HPMKT Insider's Tour #2
When I come  to market, I have several layers to my work;  tour guide, educator, journalist and sales agent. First I had the pleasure to lead my second High Point Market Insider's Tour.  Twelve new HPMKT attendees and I, along with my assistant Mary, covered 10 showrooms and a CEU by foot, shuttle and the Red Line!  It was an exhilarating day, introducing this accomplished group to exquisite product lines and showrooms. Below is our highlight reel.
Thank you to this amazing group Debbie & Bethany of Prints and Plaids, Myriam of Jacopille Design, Lynda of Camelback Interior Design, Lucy of Tartan & Toille, Lindsey of Eclectic Interiors, MJ from Bespoke Trimmings, Kristen of Remondi Designs, Jill of High Country Designs, Elizabeth and Barry of Superior Construction and Design and Christine from 830 Design.
Another benefit of this tour is the camaraderie — meeting fellow industry entrepreneurs, learning about their businesses and how they blend work and their personal lives.  I enjoy learning about the different segments and opportunities in our industry.
HUGE gratitude to these showrooms that greeted us as VIPs and were so generous with their time and welcome gifts.
Build in Time for Professional Enrichment
Another important reason I attend High Point Market is for the excellent educational opportunities to hone my business and network.  I spent a fair amount of time planning my showroom schedule around attending these valuable seminars and events:
Digital Marketing for Designers with Franziska Neumann
Recipe for Success moderated by Christine Phillips with Jane Dagmi, Barclay Butera, Amy Flurry and Nick May
Wellness in the Home and How to Sell Healthy Design moderated by Sarah Walker with Blanche Garcia, Young Huh, Lisa Kahn Allen, Richard Oullette
From Organized to Overwhelmed moderated by LuAnn Nigara with Jessica Duce, Claire Jefford, Wendy Woloshchuk, Jessica Salomone, Lauren Ashley at Alder & Tweed
Fearless Design Panel moderated by Holly Hollingsworth Phillips with Mally Skok, Julia Buckingham, Jaimie Meares, Alison Mattison, Tavia Forbes and Monet Masters
From Culture to Product at Norwalk w Fashion Snoops Jaye Anna Mize and Kim Salmela
Pooch Pop Up with Emotional Support Dogs sponsored by Crypton at The Point
Now What? Maximizing your Marketing Momentum with Ellen Gefen, Lisa Mende and Sarah Paxton
I also had the thrill of  teaching my Embellishment CEU at Southern Furniture and sharing my Passementerie Workshop at The Point.  THANK YOU designers and Fringe Friends for attending these events, we had such a blast learning and making!!
Well that's another embellished High Point Market in the books, and I cannot imagine how to beat this one. For now, let's delight and appreciate the hard work and creativity of everyone in our industry — the HAUTE achievements of Fall Market 2018.