When Louise Traficanti, Creative Director at Eastern Accents, Chicago-based soft goods manufacturer, posted about Heimtextil last year on social media, I had FOMO with good reason:
Heimtextil is so immense and all encompassing with regards to textiles, that it is only by visiting that you can truly comprehend the various facets of our industry. You gain a deeper knowledge, and respect, for textiles.  You can buy artwork to create new textiles, machines that cut and sew fabrics, meet yarn suppliers and see fabrics of every weight from drapery sheers to upholstery fabrics. 
"You understand the enormity of our industry" – Louise Traficanti

Athenea – Photo: Messe Frankfurt GmbH / Thomas Fedra
Heimtextil was already on my radar, but Louise's commentary solidified my interest to attend this essential global design fair.  So, it's with great excitement that I announce I have been invited as a journalist to attend from January 8-11. Heimtextil here I come!
In preparation, I've been researching and planning how to navigate this comprehensive show and am sharing this preview. If you aren't attending, I'll share my visit, and insights, in real-time, with posts from the show. You can follow along, just click >>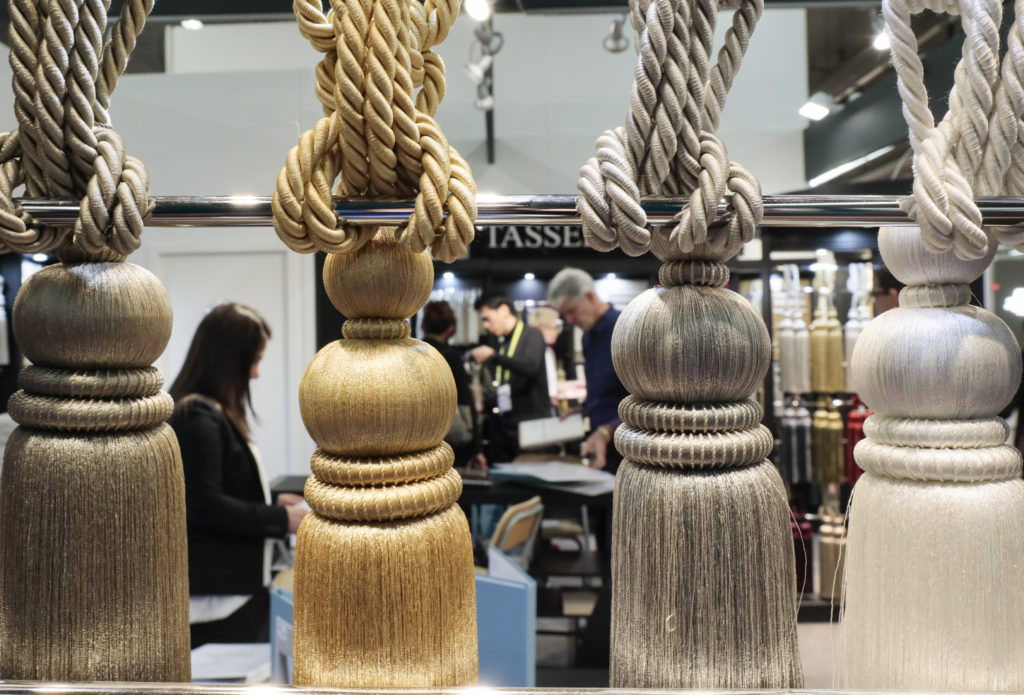 About Heimtextil – Let's Go!
Translating literally to "Frankfurt Trade Fair," Heimtextil is the largest show for residential and contract textiles in the world, welcoming nearly 70,000 international visitors to Frankfurt, Germany each January.  Approximately 2900 exhibitors from 67 countries present new design and textile products across 20 halls. The fair is hosted by Messe Frankfurt, the world's leading trade fair and event organizer with a global network that hosts over 130 trade fairs per year around the world. (You might recall that I participated in Texworld this past year in NYC, working with their Atlanta-based North American headquarters.) 
Heimtextil Venue – Photo: Messe Frankfurt Exhibition GmbH / Jochen Günther

Trimmings at Heimtextil – Photo: Messe Frankfurt Exhibition GmbH / Thomas Fedra
Sourcing, Education, Networking
If you are a manufacturer, retailer, designer, converter, editor, residential or commercial interior designer, architect or design influencer, you should attend this show for sourcing, trend insight, education, and networking to expand your business.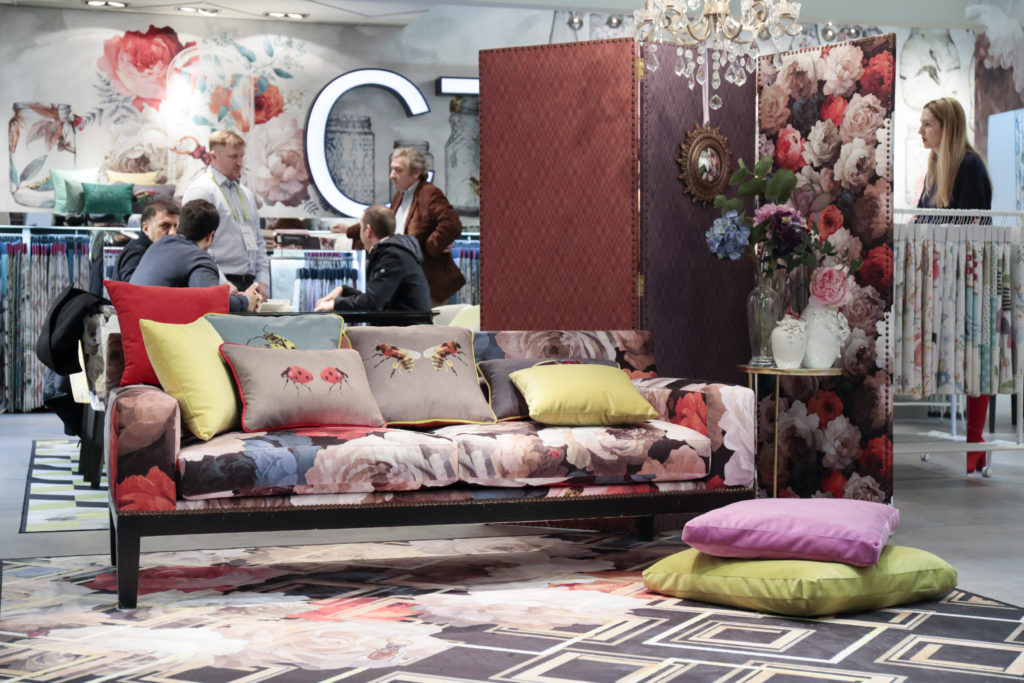 John Kearns, owner of Hamilton Fabrics, a textile converter, visits Proposte each year, and has added Heimtextil to his schedule for 2019:
This will be my first time attending Heimtexil and I am very excited about seeing the fair. I hear it is comprehensive and will be a great opportunity to help me prepare for Hamilton's June collection launches.
Dolce Vita – Photo: Messe Frankfurt GmbH / Thomas Fedra

Photo: Messe Frankfurt GmbH / Thomas Fedra
Kathy Carr Rickwood of Mixed Bag LLC, a NYC-based, international fabric mill representative says,
2018 was my return to Frankfurt after 20 years. It's a big global fair and I decided to attend on many levels — it's important to be where my customers are, and simultaneously see what new products are being launched by not only the mills I represent but also other innovators in the international market.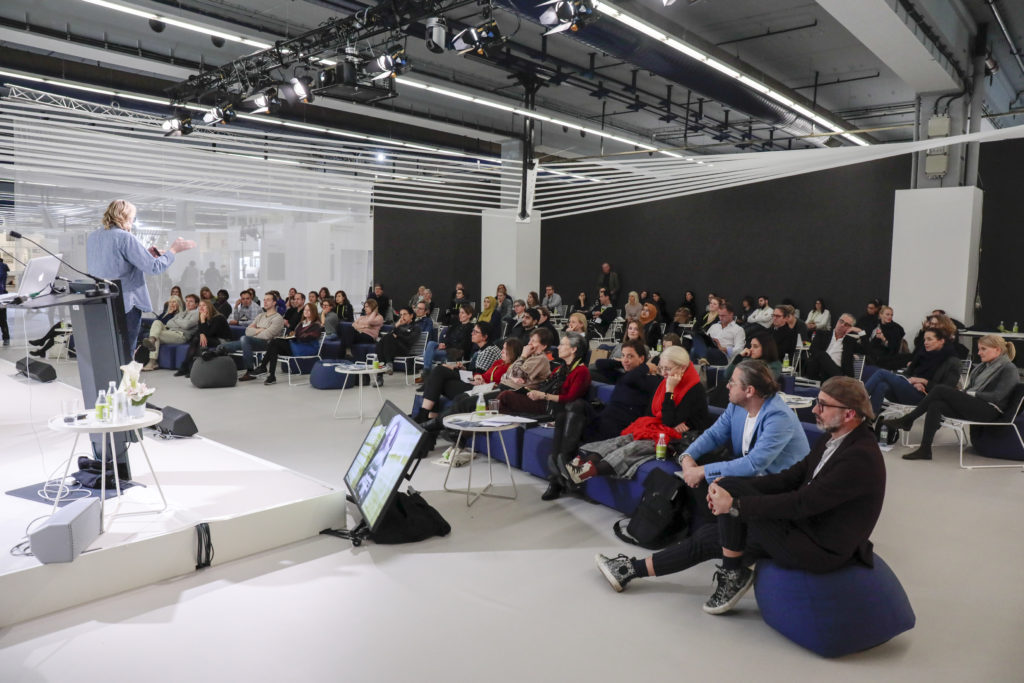 In addition to the international sourcing I'll be doing for my projects –there are nearly 3000 exhibitors from 64 countries — I plan on taking advantage of the educational seminars. Most intriguing, to me, will be the lectures series in the Interior Architecture Hospitality Expo Hall. The "Design Dialog" series will explore the latest design trends for the furniture industry with experts from the industry including furniture manufacturers, fabric suppliers, designers and trend experts. And I will definitely be at the Heimtextil @Night party. Show cognoscenti say it's an outrageously fun way to decompress and a great social scene. I'm in!
Toward Utopia Trend Space
The Trend Space is industry renowned, as Messe Frankfurt taps first-rank international agencies to lead their trend council — FranklinTil, Stijlinstituut Amsterdam,  SPOTT Trends and Business, and Atelier Markgraph collaborate on these interactive, future-oriented presentations.  It will be my first stop at the fair.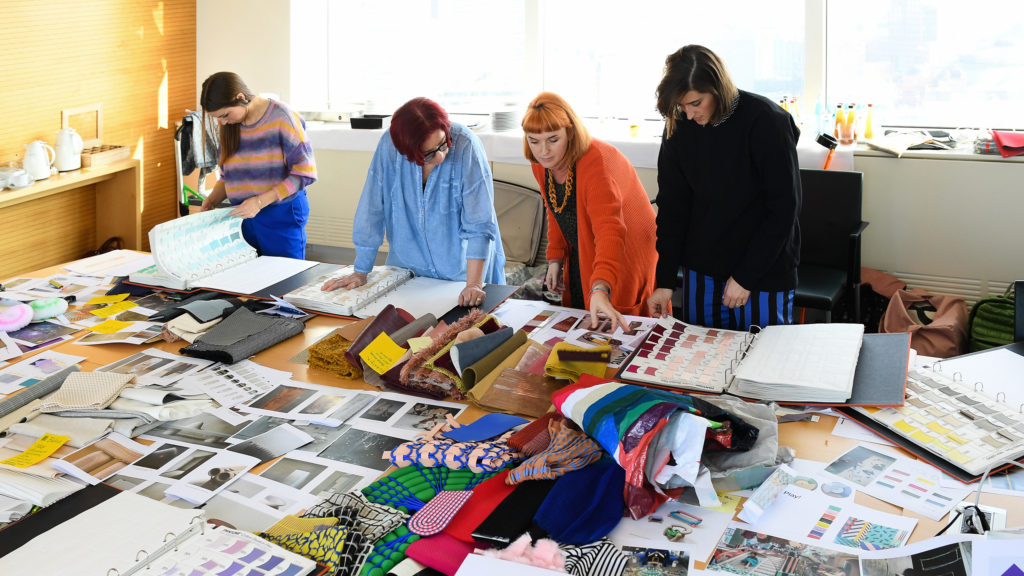 The 2019/20 theme is Toward Utopia with the idea:
Today's consumers are living by new standards. Craving escape from complex lifestyles, they are seeking deeper connections, spiritual affirmation and a sense of meaning…we are looking to lead meaningful, considered lives built on positive connections. Taking personal responsibility for how we live, we are striving toward lifestyles that complement our personal belief systems.  In short, we are seeking a new utopia — a society organized to benefit all it's citizens.
Here's a video explaining the theme and related trends. Brilliant!
Heimtextil's five dominant trends are presented in the Trend Book (click to purchase). I've already devoured my copy and it's well researched and illustrated themes, and can't wait to see the Trend Space. The engaging trend analysis has already informed my design work for 2019. Let me introduce you:

Fringe Friends — I hope your 2019 includes some inspirational travel that adds measurable value to your business. I am so thrilled to start my new year with a trip to Heimtextil that I am sure will fuel me, on many levels, for the entire year. Keep #trimspotting, I love sharing your creativity, and stay tuned to #TQxHeimtextil.