I had the pleasure of presenting Fashioning Furnishings, my HPMKT picks, to the Soft Design Lab VIP Market Group on opening night of High Point Market Fall 2015.  As I traveled through the showrooms the rest of the week, my content expanded with more inspiration,  so I updated my presentation. Are YOU or you favorite company in the mix?  Watch and see!
I am sure you saw some trends emerge: EQUESTRIAN, GLAM DESKS, ACRYLIC LEGS, STREET CRED, CHINOISERIE, PATTERN PLAY, ANIMAL PRINTS, TECHNO JEWEL TONES.  Let's linger on a few.
HIGHLIGHTS OCT 2015
The big FASHION news this market was Kate Spade launching at EJ Victor and Cynthia Rowley at Hooker Furniture.  Both showed GLAMOROUS DESK SETTINGS which was a trend that continued throughout market.
Glamorous Desk Sets
Kara Mann's inaugural collection for Milling Road at Baker was stunning. This was one of several desk settings she showed.  You'll find more in my recap video.
Equestrian: Brass, buckles, leather, plaid
Another prominent trend at market was Equestrian, which played out with brass buckles, nailheads, plaid and leather.  These were some standouts.
TRIMSPOTTING: product + people
Marge Carson's ball chain fringe fabrications were a feat of luxury.
Fret Skirt Banding at CR Laine for Tobi Fairley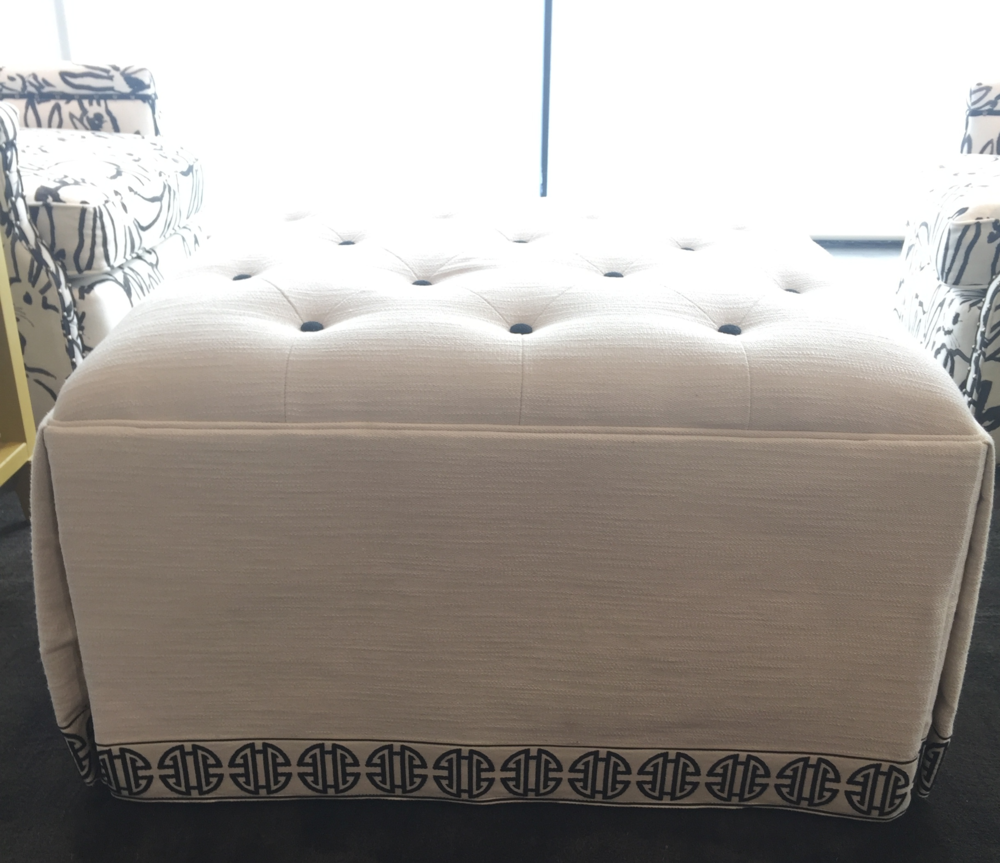 Fringed ottomans featured at Pearson and Hickory Chair

Time for TASSELS
Were you #trimspotted?
In case you missed the Antiques by ZAAR grand re-opening and my co-DJ debut with Jason Nixon, we are definitely going to make it an annual market event.  Having an 80's/Funk/Disco dance party was apparently just the ticket to recharge our market batteries!
Until next time, keep embellishing, #trimspotting and sharing your creativity!