Last week I attended the third annual Future of Home Conference in NYC. The keynote was "How To Thrive in a Passion Economy" by Adam Davidson, journalist, co-founder of NPR podcast Planet Money and author of the book The Passion Economy. Onstage he read excerpts from "about us" profiles found on several interior design websites and they all basically sounded the same. He marveled at how detailed individual design projects are in our industry, but the same meticulous care is not put into most of our profiles.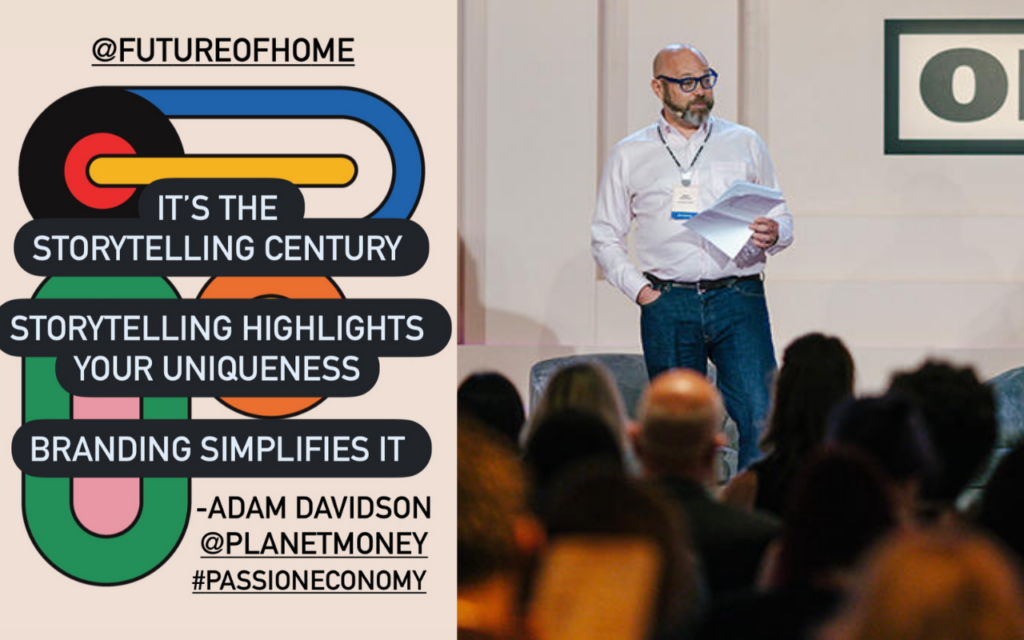 My AHA moment (when my neighbor saw me head smack) was when he shared branding is over, it's about storytelling – "Be passionate. Be unique to you," he said. "Tell a story so powerful that people know right away that you are the best fit for them."
The more you thrill some people, the more you will alienate others, but it just means that eventually, you will be working with the clients you really click with."

– Adam Davidson
YES ADAM YES! The content we create should be unmistakably ours. "The narrower your story, the more impactful it will be."
SOCIAL STORYTELLING
Adam's keynote reminded me to re-watch the discussion that I contributed to last High Point Market hosted by Universal Furniture: Social Storytelling: creating a brand narrative that stands out online. Digital marketing creative Ericka Saurit & business coach/consultant Ginna Christensen lead a packed house through branding lessons hard-earned on the front line of social media. Interior designer Corey Damen Jenkins, lifestyle product designer Aviva Stanoff and I answered smart, rapid-fire Qs, sharing how we found and lifted our brand voices through storytelling on social media to grow our businesses.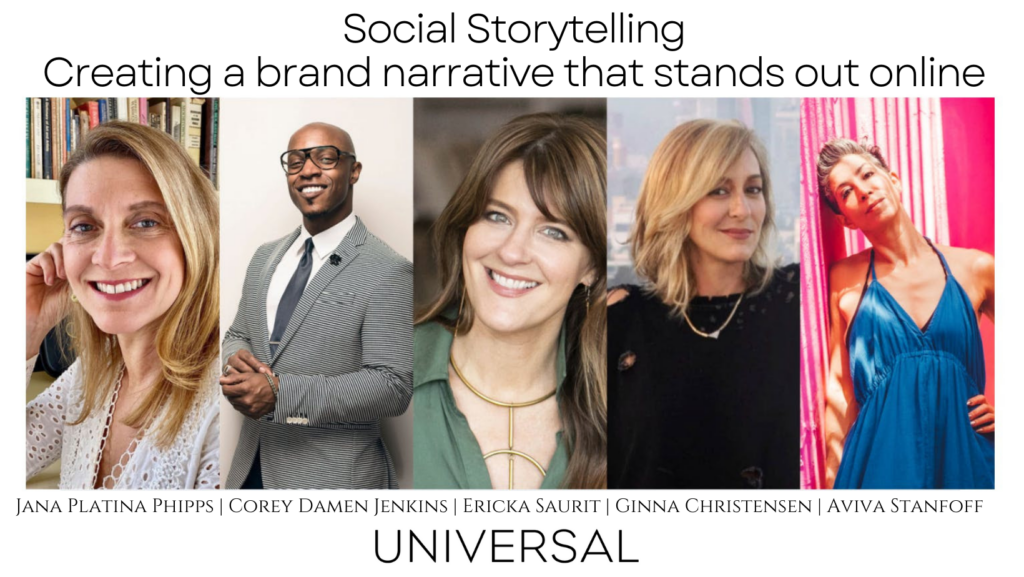 Key Takeaways
ERICKA: STORYTELLING IS MEMORABLE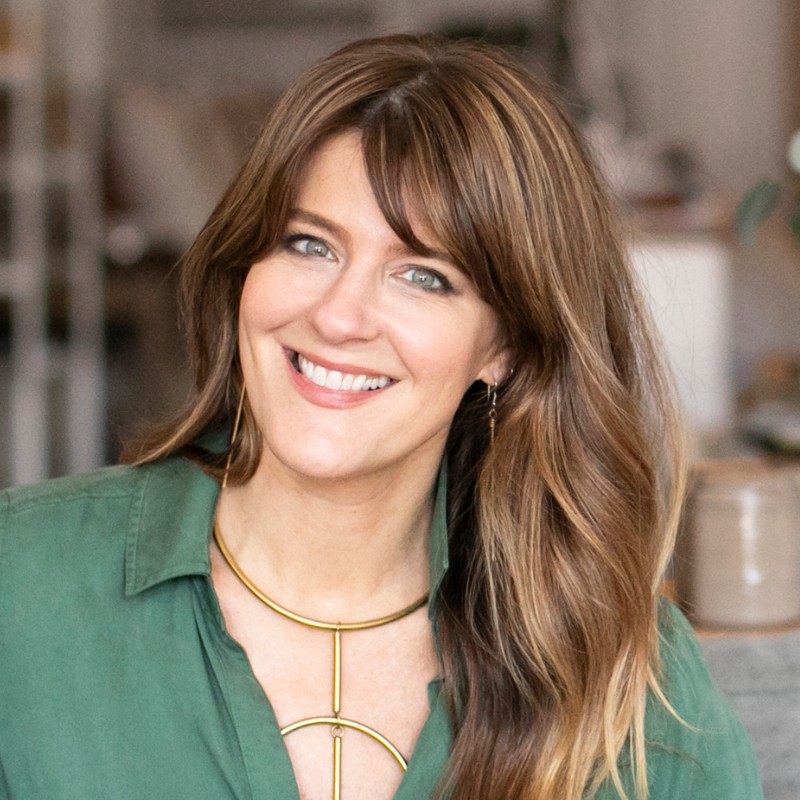 Ericka says "Story sharing, actually, is one of the oldest ways we have of communicating with each other over time. Before any of us had a way to record what was happening in our lives, we shared our stories and oral histories in ways that were easily memorable…In fact, early stories used the same elements, or formulas, as our modern stories do."
There's typically a character that someone can easily identify with (so it's personal)
There's going to be something at stake—at risk, a danger maybe, or imminent success, or failure
Maybe there's a plot twist, or something to hold our attention and keep it interesting
And there has to be a resolution of course, an event at the end that culminates in a lesson or shares a value. This is really the heart of every good story.
Can you see it? We are in essence all telling stories with what we share, it's a new lens with which to see when we create or consume.
Read Ericka's event recap and the CURVE"Schweddy"BALLS she and Ginna were thrown on her blog.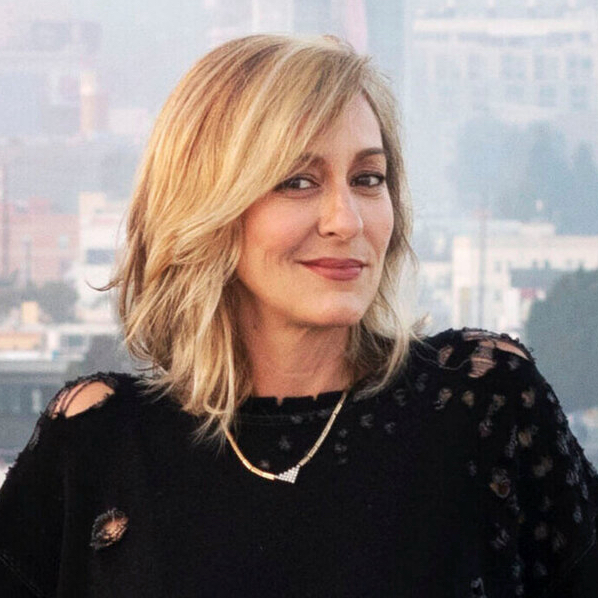 GINNA: DOCUMENT & BRING VALUE
Ginna says she finds some consistent challenges with her clients, they:
Don't know how to show up on social media – self-promotion feels icky
Are overwhelmed doing the work of 4 people, they're stretched and don't have time
They want a magic bullet and aren't convinced that social storytelling will bring them the right clients
"I often tell my clients if they can shift their mindset in two ways, content creation will become a lot easier and that icky feeling will go away. The first shift is to document not create and the second is to focus on bringing value rather than trying to get something." Ginna differentiated and defined branding as the process of understanding who you are and marketing as the practice of showing up and telling the world who you are over and over again. Storytelling is marketing and there is not one right way for everyone to do it.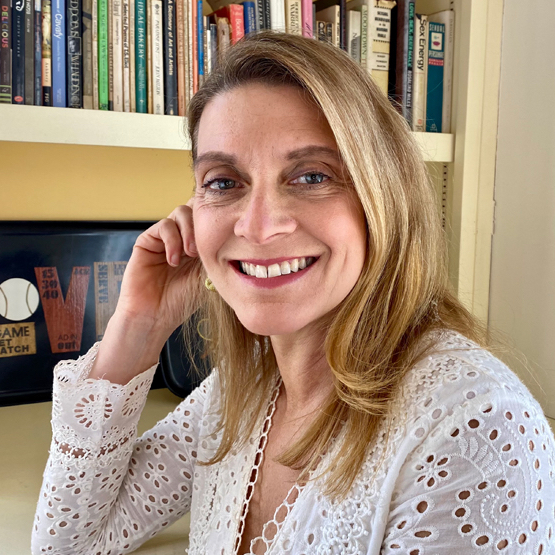 JANA: JUST START & LET GO OF PERFECTIONISM
"You have to start somewhere and you can't have your voice until you start…it develops over time. JUST START." I look at my first posts and get a good giggle, I was like an infant finding my footing. Once I identified my brand soul's values: POSITIVITY, CREATIVITY, BEAUTY, CONNECTIVITY and EMPOWERMENT, it was easier to create content on a consistent basis, because I was documenting my business, my inspirations, my process and pieces of my life. Embellishments by definition are joyful, so there's lots of fun on my channel but I sprinkle in some of the not so positive moments too because "that's reality" and it allows me to connect more deeply with my community.
It took me a long time to build a following but you can grow more quickly if you have good strategies. (Which I now teach: Instagram Agility) If I had to do it over again, I would "activate my connectivity a little earlier" and "not been such a perfectionist" about curating my content. I'm freer now.
Look at your analytics…I use Instagram for brand building and storytelling but to get people to my website, they come through Pinterest and email marketing. Hot tip: try Inshot Video Editor for REELS and other video content. I'm hooked!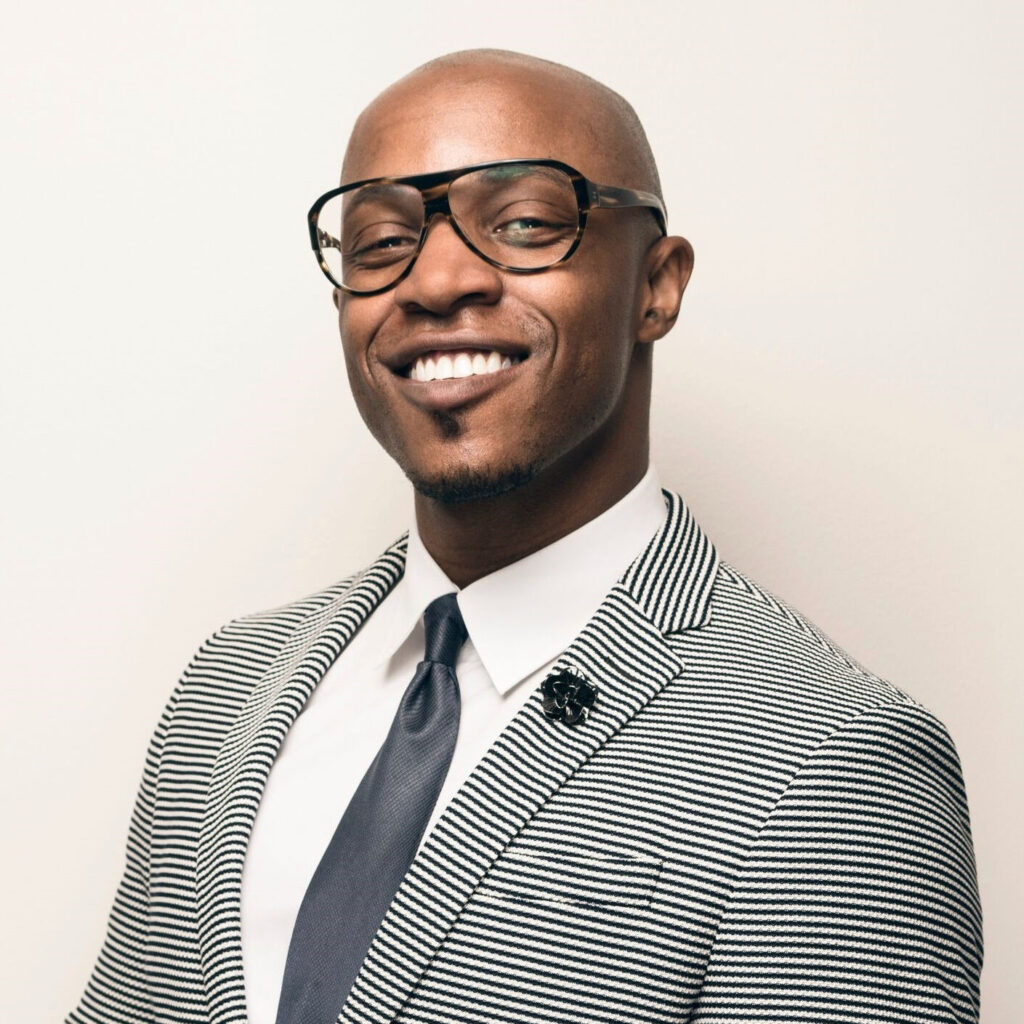 COREY: KEEPING IT REAL
Corey says a key success in building his brand is that it's fueled by the need to be authentic and approachable with his people. "Keeping it real" led him to realize he has more in common with others than he thought he did. He says "it's okay to be vulnerable and share your challenges with your followers along with your exciting content. It can actually turn off a client if all they see is perfection rather than someone who is authentic and down to earth."
Another important point Corey makes is to not get caught up in what other people's opinions are about you and about the number of likes and comments you get on a post. Be yourself.
Corey prefers Instagram but says Facebook is still useful because you can type out more than you can on Instagram. He hasn't built a following on TikTok yet because he feels that it doesn't fit his brand. Corey says "it's really about figuring out what speaks best for your brand, your voice, and then picking the platform that communicates that most effectively."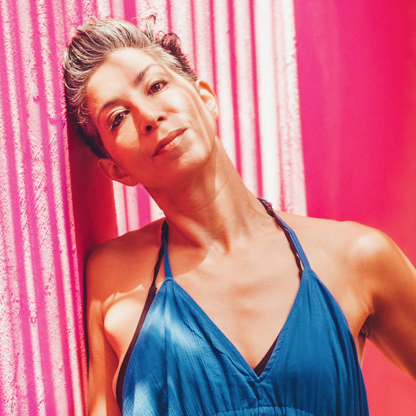 AVIVA: DOYENNE OF SPARKLEUNITY
Aviva says when it comes to creating content that doesn't feel too salesy, "the secret is to connect, and to connect with people in a way which your spirit tells you to connect." Aviva does this through her art, textiles, and crystals. Whatever it is that makes you feel happy and inspired should be what you are creating. She says it's important to remember that "we're all in this together" and we all walk in different shoes and if you can share your experiences in an authentic manner, your clients and followers will start to connect with you.
When it comes receiving feedback on social media, Aviva says "I can't be everything to everyone" and that "it's our responsibility to use our power for good and to connect with one another to do good, and to inspire others to do good through our work", don't worry about others' perceptions of ourselves.
Aviva notes the different demographics of TikTok vs. Instagram, "you have to be strategic, there are a lot of platforms. Just pick one and dive in, don't try to do all of them all at once."
Click HERE to watch or listen to the entire presentation.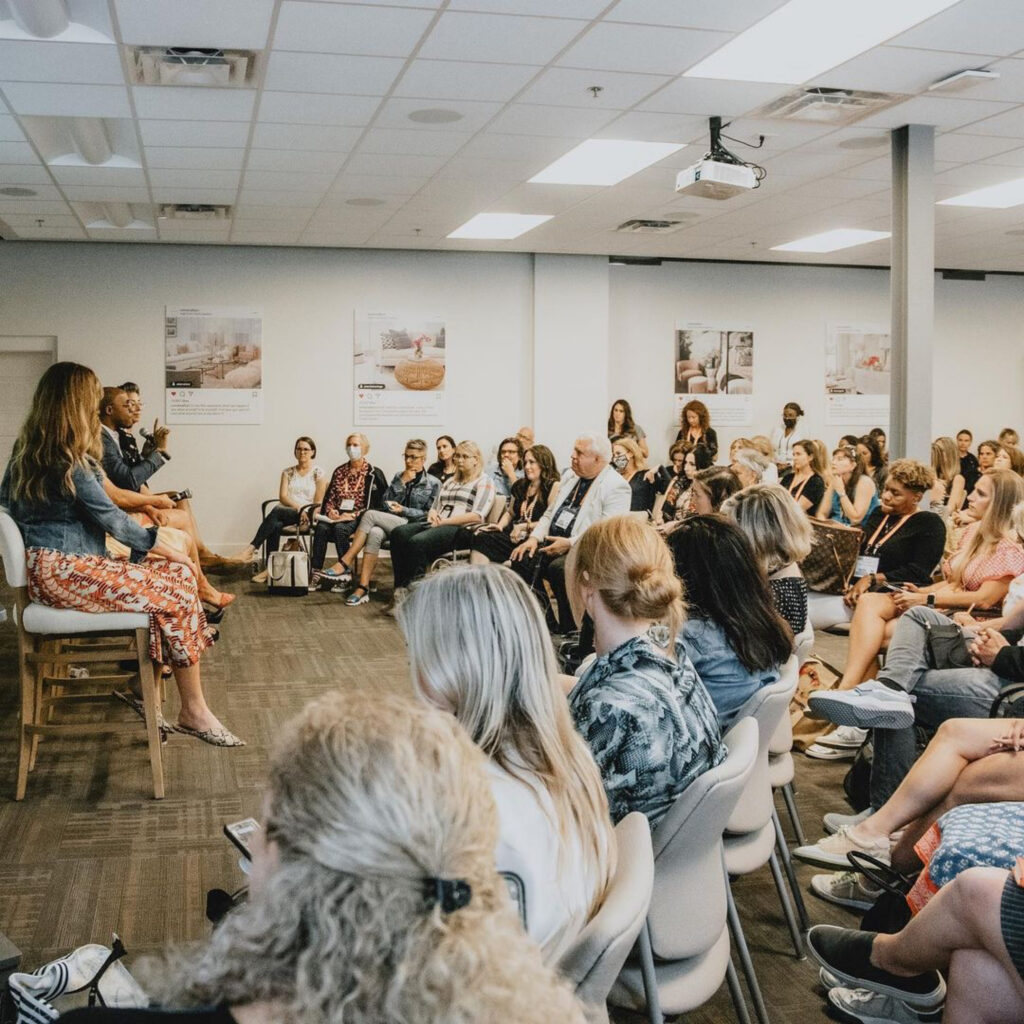 If you'd like to learn more about digital storytelling, join these learning opportunities:
I've been sharing on social for many years, but I never put the label of storytelling to my content specifically. Now I see more clearly the impact of my mix of social snapshots that are building my brand and business. When I work with new clients, either on trimmings collections, product development, or as an ambassador or influencer, there is already a comfort level because they know my values, dedication, and the quality of my work. We are aligned and our relationship has an undercurrent of empowerment and ease. This has become more of the rule rather than the exception, and I stay in flow with better results. I hope you dig deep into your brand soul essence and document your business to attract alignment more and more!
As always, thanks for reading, listening, trimspotting, connecting, and joining me on my creative entrepreneurial journey. If you need a pep talk or some clarity, let's connect!