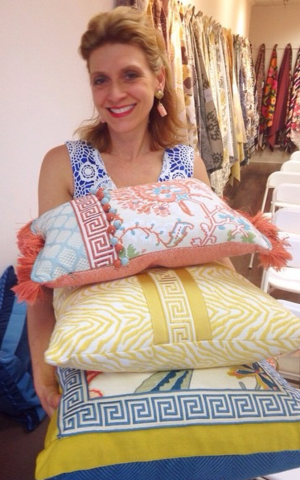 High Point Market Spring 2015 was jam-packed with new product and design ideas, learning, teaching and connecting.  Since I don't exhibit at furniture market, I cover the show instead wearing my "trim goggles" intent on seeing how clients, manufacturers and designers are creating and embellishing.
This market, I also had the pleasure of presenting A Virtual Tour of Trimmings CEU with Robert Allen Design at their showroom.  It was a wonderful event, thanks to all of you that attended.
Another highlight was interviewing Kelly Wearstler, launching her collection with EJVictor, for the WithIt Educational Breakfast. She was very forthcoming in sharing her life and design process.
When the book signing hit a snafu, she laughed it off and graciously chatted and took photos with all in the queue. We were charmed and promptly overloaded Instagram.  Read more about the  event on the WithIt blog here
#HPMkt Highlights
So what did I hone in on?  There is obviously so much to see with over 2000 exhibitors in 180 buildings, so I am spotlighting my interpretation of standouts.
Large Scale Embroidery
These were showstoppers.  We've seen this technique on pillows before but on a seat back, the ante is upped.  It's an updated graphic version of a monogram, really clever and cool.
Skirt Fringe – New Again
Remember this?  Bullion fringe has been in hibernation but with the recent explosion of fringe on the fashion scene (Multiple Personalities of Fringe post) it was bound to make a comeback.  Here are a few examples of where this luxurious long skirt fringe is used in upholstery.  It looks elegant and modern in the hands of Alexa Hampton and Randall Tysinger.
Plush Conversation Pieces
From slipper chairs to stools, these occasional pieces are definitely make an impression.  Don't mistake these as whimsical, materials are opulent.  Could we talk the TSA into a few of these please?  Perhaps Dubai has the budget.
Ambella Home's Edward Slipper Chair upholstered with boucle and Tibetan lamb hide
Kelly Wearstler's launch with EJVictor was an artful mix of finishes,  textures and fabrication.  Each piece was like an objet d'art, but all had thoughtful functionality.  These stools were placed a deux at the edge of a bed like a bench, dramatic and utile.
 Another launch with tons of buzz was Thomas O'Brien for Century Furniture. Each piece had provenance.
Van Collier was noted by Architectural Digest as having one of the best displays.  Their mix is always stunning. Can you see the Ultramarine blue stag hoofs peeking out?  Brilliant.
Trimspotting & Trendspotting – Graphics & Baubles
No heaviness here, these trimmings and applications are graphic and tailored.
Modern Romance of Champagne & Pastilles
The trending palette of market was one of sophisticated pastels, like European confections.  From blush to champagne,  sea mist to ice blue, there was romance at market.  Stylemaker Stacy Kunstel of Dunes and Duchess modeling her modern pink palette
Making on the Rise
The return to "making" is a happening for sure and I was happy to see in Soft Design Lab's Global Trends presentation at DesignCamp, it was one of the leading shifts in trends as seen at Maison Objet.
The story of how things are made is so valuable to understanding product. For example, at Vispring, global marketing director Magali Castillo showed me the all natural fibers used in making these bespoke beds.  She's holding horse hair cording which adds stability to the mix of materials used. I quickly understood why these beds are in the luxury category.
NC has a long tradition of making upholstery with factories spanning the High Point to Hickory areas.  When you buy NC made furniture, you aren't just buying style, you are buying an artisanal tradition of hand work in upholstering, wood finishing and sewing. Many companies have programs to tour their manufacturing plants to educate in this process, such as Hickory Chair and Century.
Bonus! Details at the High Point Designer Showhouse
Added bonus at market was touring the Junior League of High Point Showhouse sponsored by Traditional Home.  Here are some close-up shots of trimmings used by Lisa Mende, Libby Langdon, Madcap Cottage and Michelle Workman, click on photos for details.  Then, head on over to Lynda Quintero David's coverage on Hadley Court for the full overview.
Navigating High Point Market was a great reminder of all the effort that goes into product, that most times we purchase at retail, perhaps not thinking of the many hands involved.  So the next time you shop, for anything really, please consider how things are made and the VALUE that real, hardworking, passionate people bring to making product. Thanks for joining me and keep #trimspotting!
Stay inspired,