Spring High Point Market is in the air, April 22 – 26th to be exact, and I am THRILLED to join this group of esteemed bloggers to report design-worthy news from the official Design Bloggers Tour. We'll have on our most stylish walking shoes to cover miles of showrooms, bringing you the highlights of the High Point Market Design Bloggers Tour via the hashtag #DesignBloggersTour and our individual post-market blogs.
What is so unique about High Point Market?
High Point Market is a 5-day event that transpires twice a year in April and October. It is, in essence, fashion week for all things home.  It is the largest furnishings industry trade show in the world, with 75,000+ people in attendance, from more than 100 countries in 180 buildings representing 2000+ exhibitors with 11.5 million square feet of show space. There are tens of thousands of new product launches each market. Mind boggling, right?  This market is a launching pad for what the public will see at retail, and in design projects, in the following months.
Over the years, I have learned that grouping appointments by building is the best strategy to efficiently cover the most ground.  I always allow extra time to discover new vendors and build valuable educational seminars,  networking and social events into my schedule to recharge and connect.
What exactly is the #DesignBloggersTour?
High Point Market has partnered with Esteem Media for its fourth tour bringing ten chosen design bloggers on a 2-day tour of sponsoring showrooms.  Our group will visit these showrooms on April 24th – 25th, for an in-depth introduction to participating companies, their collections, and new product launches. We will be reporting on our social media channels, (Facebook, Instagram, Twitter) with the hashtag #DesignBloggersTour so you can follow along in real time. We will each be assigned a sponsoring company to write about, and post market, we will individually share two additional blogposts of our personal observations.
You can also follow me on my social media channels and/or subscribe to my blogposts here >> Trim Queen Chronicles
Who are the design bloggers involved?
I am excited to meet most of these women for the first time.  I encourage you to join me in subscribing to their blogs for differing perspectives and expertise relating to the home industry.  Let me introduce you to this dynamic group of esteemed design bloggers (from left to right):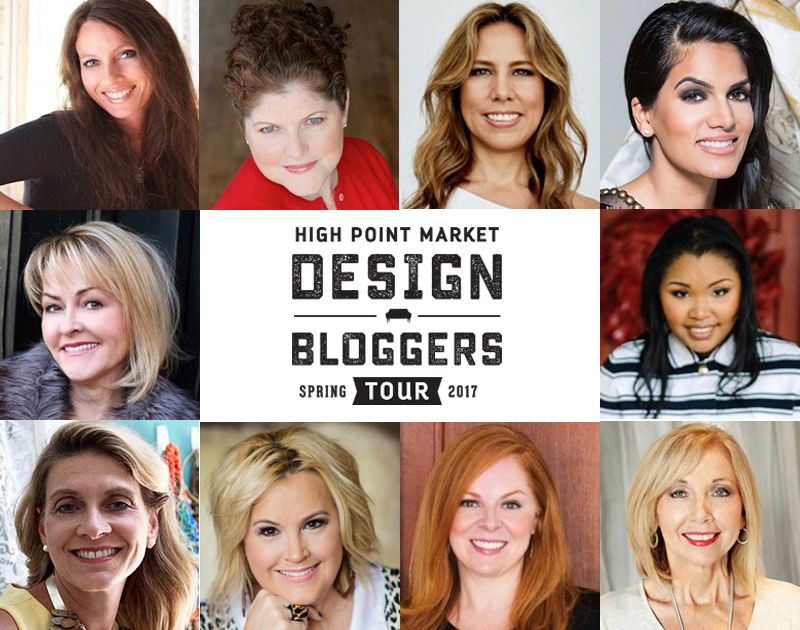 Which companies are sponsoring the tour?
Meet the sponsoring companies and showrooms we will be touring.  Click below to get introduced — thank you sponsors for this opportunity!
Trim Queen Chronicles High Point Market
I have been attending market for nearly 20 years, and the level of craftsmanship, creativity and business engaged, is extraordinary, unlike any other market. I have also been reporting market trends via my Trim Queen Chronicles blog since 2013.  Click to read how past design trends have emerged.
I'm amped for the challenge to cover High Point Market with my journalistic lens (I even purchased a new Fuji camera for the occasion), and share my magpie point of view.  Hopefully, my reporting will inspire YOUR decorating as you express your soulful personal style in your home. Don't forget to follow #DesignBloggersTour and I'll be seeing you virtually, or IRL, at High Point Market!  Until then, keep #trimspotting — I love sharing your creativity!!!