"The details are not the details. They make the design."  

– Charles Eames.
This quote came to mind during Spring 2017 High Point Market where designer collections were in full swing, more than any other market in recent memory. There is a designer eye for detail that is incomparable, and these "celeb" collabs delivered, to the most minute component.  
As part of the Design Bloggers Tour, on a whirlwind trek covering 15 showrooms in less than 2 days, we visited the Who's Who of HPMKT.  From fashion design icons Badgley Mischka and Alexander Julian, to interior design rockstars Windsor Smith, Celerie Kemble, Steve Leung, Michael Berman, and Bunny Williams, with lifestyle pioneer Rachel Ashwell, their diverse collections inspired and informed.  I was able to video interview most and learned a great deal beyond my usual perusal as each pointed out unique characteristics of a piece, the fabric, the finish, or shared a story about their inspiration for the design. (Since I have so much to share, I'll split this post into Part I & 2)  Come along and behold the details, click below for video highlights>>>
Windsor Smith | Alchemy
Los Angeles based interior designer Windsor Smith launched her greatly anticipated Alchemy Collection for Century Furniture, aspiring to create "heirlooms of tomorrow." Gracious and elegant when we meet, Windsor explains she drills down to the essence of a classic piece, to ascertain what gives it staying power. Using of-the-moment materials, she designs and constructs it to suit her modern sensibility creating a modern day heirloom.
Signature to her work, her environs showcase seating in the center of the room "to accommodate multitasking families," she said, which prescribes "furniture that is 360 degree gorgeous." Windsor describes her design work as "lifestyle architecture."
One of Windsor's favorite pieces is the Mist Etagere especially when used as a "floating bar." She says "It is a timeless piece that could be found on The Queen Mary, but when paired with contemporary seating, becomes transitional with staying power."
The Odette Boxed Waterfall Sofa was designed to "float sculpturally in the center of a room" according to Windsor. The boxed pleating with button detail gives it a sweet swagger. The Astral Chair is finished with a sassy kick skirt and a hand-turned rosette outside the rolled arm that is very bespoke.
Badgley Mischka | Golden Age of Hollywood Inspired
Touted by Vogue as one of the "Top 10 American Designers" Badgley Mischka have been co-designing the most glamorous and coveted evening, bridal wear and accessories for nearly 20 years. "Our signature style is simple, streamlined and thoroughly elegant, there is always an element of interest, either in the silhouette or with luxurious detail," says James Mischka. Interviewing them at their High Point Market showroom debut in Interhall, their glamorous signature style shines through with unique finishes from gilt gold to surfboard.
Their furniture collection became the ultimate accessory at their Fall 2017 runway show in NYC  where the Astaire Credenza made it's debut.  It has 2,000 hand cut pieces of wood that are hand painted, hand varnished and hand placed to create a unique undulated 3D surface.
The duo have owned and decorated many homes, but the one project that especially inspired them to design furniture, was the imperial suite they decorated for the Breakers Palm Beach.  "Decorating is a collective process, but a circular dining table is a must. We entertain a lot and at this Balboa Table, we can engage with all of our guests."
I asked them what the biggest challenge is in designing furniture and Mark Badgley shared "In fashion, a woman may frivolously buy a dress for one special evening. In the home, you are designing investment pieces. It's a balancing act (of style) and commitment. She wants something glamorous and special but livable day in and day out, practical."  I totally agree, it's a balancing act of style and commitment and can't wait to see how these designers build on what they showcased here.
Steve Leung | Luxury of Serenity
Steve Leung, internationally acclaimed architect, interior and product designer based in Hong Kong, launched his Luxury of Serenity Collection with Theodore Alexander.  In this design collaboration, he explores the concept of personal retreat, creating pieces that promote tranquility and relaxation that reinvigorate.
The Covet Deep Desire Chair also has a cosseting effect with a curved outside back, also wrapped in leather, with "Cigar Club" finished oak legs and brushed metal feet in a finish called Heritage Bronze.
Michael Berman | Califolio
Designer Michael Berman created a California modern collection inspired by elegant natural forms, infused with a mid century style called Califolio. This was the update to his Spring 2016 launch. He toured us through his part of the Theodore Alexander showroom pointing out the artisanal details of each piece.
"These artisan inspired tables reflect my love for the machine age and mid-century simplicity." Michael says. His love for amorphic shapes mixed with crisp geometry, in each room setting, gave insight into the importance of contrast and balance in design.  His favorite piece is the Washi 3-door Console he designed.
I hope you've been inspired by Part I of Who's Who in High Point, I'd love to hear what you think about these collections, please comment below.  Did I mention how much I loved being a part of the Design Bloggers Tour?  Talk about loving my job…and everyone's excitement at Spring market was infectious.
Next I'll share Who's Who of High Point Market Part II, visiting Alexander Julian, Rachel Ashwell, Bunny Williams and Celerie Kemble collections, with an exclusive peek into High Point's newest boutique hotel Pandora's Manor.  Until then, keep an eye out for details and creativity in whichever media you master!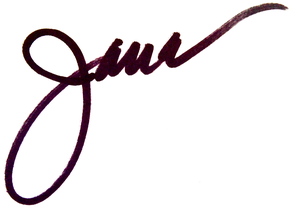 ***This is a sponsored post however all observations and opinions are my own.