This post rounds up my coverage of High Point Market and I'm concluding with some outstanding products that stood out creatively both in design and/or business ingenuity.  I was so honored to be able to go behind the scenes as part of the Design Bloggers Tour and was really inspired not only by these products but by the stories each company shared with us. Read on to see why.
Wexel Art Display
Necessity is the Mother of Invention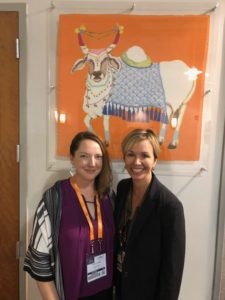 First time exhibitors at High Point Market, Morgan Doherty and Natasha McRee, co-owners of Wexel Art Display, have a very unique story of how they launched.  Natasha had a career in branding.  Morgan was an artist that also worked in art framing.  Eight years ago, Natasha connected with Morgan on Craigslist to paint a mural for her sons' room and when she was looking for kids art frames she couldn't find one that flexed with their ever changing artwork. She and Morgan collaborated on an idea that would launch Wexel, which means change in German. The Floating Art Frame uses magnets to hold art in an acrylic frame that you can switch out.  Tour their innovative product line, click below.
Change your art as often as you change your mind. Seriously. Visiting Wexel Art Frames High Point Market | The World's Home for Home Furnishings Esteem Media #HPMKT #DesignBloggersTour Jana Platina Phipps w Natasha Mcree and Morgan Doherty

Posted by Trim Queen on Saturday, October 14, 2017
Wexel Art frames offer a contemporary way to showcase art, photos and keepsakes and the ability to change them easily and often, without the expense of traditional framing.
Phylum Design
#DunkerDoes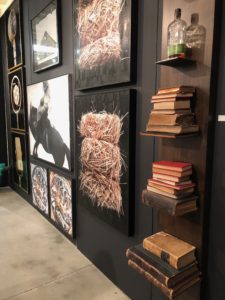 When you meet Chris Dunker of Phylum Design you hang on to every word he says, each chosen with care and specificity.  This decisiveness also comes across in his artwork. An outdoorsman based in Utah, Dunker is an artist and also has an imaging/video production company that could explain his acute attention to detail.  Viewing his work, one could see him as a scientist or explorer as his work shows an expertise, curiosity and love of many themes as nature, engineering and history.  In the various ways he creates his work — photography, encaustic painting, printing on canvas, use of objet, light art — he manipulates processes that uniquely manifest his artistic vision.  Click to tour>>
Dunker's light art. I love his #DunkerDoes hashtag because everything Dunker touches is artful.
Younger Furniture
Clean & Modern Tells a Story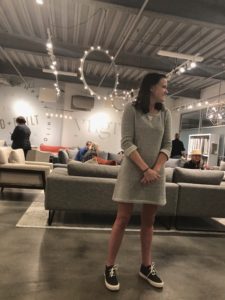 As you enter Younger Furniture it is clear you are entering a more contemporary upholstery line with a mid century inspired design focus.  What you don't know is that the soft spoken woman in sneakers, Meredith Younger Spell, took over the reins of the business as President from her father, with a passion to pursue excellence.  Younger prides itself on the best quality upholstery for the price, achieved by keeping their client list manageable and streamlining their production practices. There are no apologies here if you can't hit the minimums, just business smarts. They have a VERY loyal customer base. Meredith, a mother of young sons, is especially attuned to the wear and tear on pieces and promotes family friendly fabrics utilizing Crypton Home Fabric on many of the pieces, "easy to live with  – no stuffy sofas here, and no fussy, hard-to-care-for fabrics either."  What I found most surprising is Younger's attention to sourcing local materials, listen in on our convo and meet Meredith >>
What's Unique about Younger Furniture

Meredith Younger President and Owner of Younger Furniture sources most materials locally within 15 miles of the HP factory. That's incredible. Loving the clean modern lines of this collection. High Point Market | The World's Home for Home Furnishings Esteem Media #HPMKT #TQxHP #DesignBloggersTour

Posted by Trim Queen on Monday, October 16, 2017
Duralee with Crypton Home
Lonni Paul's Livable Glamor
Inspired by high fashion, California designer Lonni Paul collaborated with Duralee to create a performance collection of Crypton Home fabrics with a high end feel.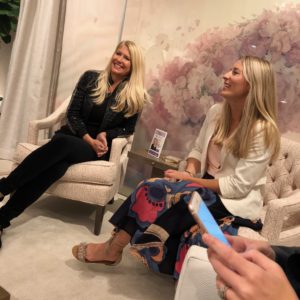 Although the fabrics will launch in a soft palette including blues and greys, it is the blush color that is Lonni's favorite, she shares, "Blush is close to my heart. I have an 11 year old daughter and she's a princess girl…"  These beautiful Crypton fabrics made an impressive statement covering every piece in the showroom. Our tour sunk into the meticulously upholstered pieces and couldn't stop petting the luxurious fabrics with a soft hand, living up to Lonni's idea of "Livable Glamor".  These are definitely pieces you would want to live with indoors to stand up to the wear and tear of everyday living.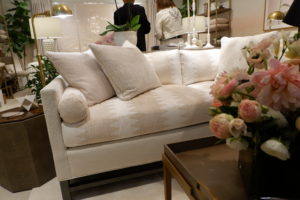 Duralee debuted 136 new pieces of furniture this Fall, highlighting the craftsmanship of their North Carolina factory they acquired in 2005. 136 new pieces!!!  They showcased channel, diamond and button tufting alongside accent furniture finished in a luxurious gold and accessorized with crystal. In fact, Duralee is the only fabric distributor that also builds their own furniture with bragging rights "Made in the USA".  Lonni and Jo talk about the process of building this collection >>>
#SneakPeek Inspired by high end FASHION ? Lonni Paul's Collection w Duralee Crypton Fabric High Point Market | The World's Home for Home Furnishings Esteem Media #DesignBloggersTour #HPMKT #TQxHP

Posted by Trim Queen on Sunday, October 15, 2017
Lloyd Flanders
Woven for Life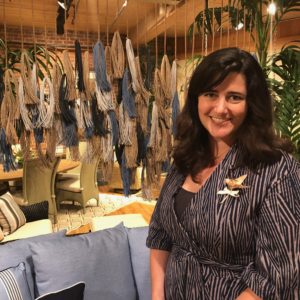 Another intelligent and insightful woman entering the family business is Jess Flanders, Marketing Manager of Lloyd Flanders.  Jess toured our group through the showroom and it was clear why the company is top in category. The Lloyd Loom technology, invented in 1917, is a process of weaving the natural fiber of cellulose into a wicker fabric. The technology developed making it durable by a continuous strand and finishing so that it will not burr, crack, or peel, resulting in a consistently smooth weave, standing up to the demands of weather. Enter the factory to see how it's made HERE.
I spoke with Dudley Flanders, President, during a party to celebrate his father Donald Flanders Sr. being inducted into the American Home Furnishings Hall of Fame.  It is particularly significant because Flanders is the first from the Casual Market, meaning indoor/outdoor, to receive this honor. Here you can see the Lloyd Loom product  in the many colors and meet Dudley.
One of a kind woven for life casual furniture at Lloyd Flanders High Point Market | The World's Home for Home Furnishings Esteem Media Jana Platina Phipps w Dudley Flanders celebrating Don Flanders induction into the Furniture Hall of Fame. #HPMKT #DesignBloggersTour

Posted by Trim Queen on Saturday, October 14, 2017
Bend
We Dream – We Bend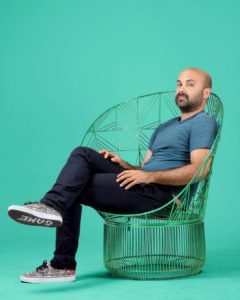 Also in the casual lifestyle category is the West Coast gem Bend Goods of Los Angeles, a "High Point Virgin" or first timer.  Entrepreneur Gaurav Nanda,  a Vehicle Sculptor at General Motors, was influenced by his family trips to Palm Springs and was inspired to create a unique, modern collection of wire furnishing in 2010. He finally left his corporate job to pursue building his company, "We bend things to shape your life."  These sculptural pieces are hot-dipped galvanized iron and have a powder coated finish. Hugh Long, Marketing Director, gave me a tour of their showroom, WOW!!!  Don't miss the new modular artwork!
Helloo California Modern Design! Bend Goods

Helloo California Design Bend Goods first timers at High Point Market | The World's Home for Home Furnishings Esteem Media #HPMKT #BendGoods #DesignBloggersTour SMSBooth 7058

Posted by Trim Queen on Saturday, October 14, 2017
Bend uses Sunbrella fabrics in their upholstery, a perfect marriage for performance. Let's take a closer look why.
Sunbrella
Design + Performance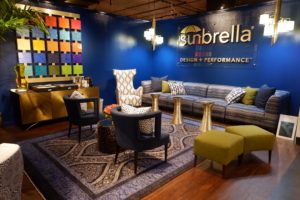 Sunbrella is the rockstar of performance fabrics with so much consumer notoriety, so meeting their team was super exciting! Their stunning showroom in Interhall  lived up to their high design reputation showcasing color, texture, pattern and creativity on every surface. The performance story was revealed through the art, upholstery and demos in the showroom, Harrison Hood, Indoor Sales Manager, gave me an exclusive tour >>
Sunbrella Fabric showcase at High Point Market

Outdoor comes indoor. Visiting Sunbrella at High Point Market | The World's Home for Home Furnishings Esteem Media #HPMKT #DesignBloggersTour Jana Platina Phipps meets with Harrison Hood

Posted by Trim Queen on Saturday, October 14, 2017
Leah Williams pours the wine to illustrate the performance of Sunbrella. Not only does it bead off liquid, it is UV and fade resistant, mold and mildew resistant and bleach cleanable.
The Sunbrella fiber has color and technology at its core, it is not an applied "finished" so it can be bleached and will not fade.
Scott Living At Coaster Fine Furniture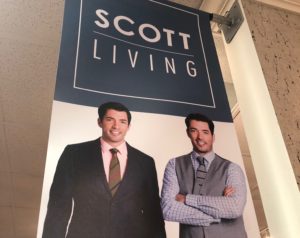 The High Point Theater was at max capacity with a line around the block, with buyers and fans eager to see the beloved HGTV Property Brothers onstage.  You can view there keynote HERE. This is a testament to the charismatic, hardworking duo, Drew and Jonathan Scott, who also launched furniture at Coaster Fine Furniture.  We didn't get the chance to meet them on the tour, however visiting Coaster we got to experience the high style they are bringing to the masses. As they build their Scott Living Home brand and products, they are curating their collections of furniture, rugs, and fabrics to elevate the design taste of the consumer. Bravo brothers!
I hope you take away some new insights and inspiration from my Design Bloggers Tour coverage. Let me know in the comments below something you learned or that intrigued you.  Keep a lookout for news about a webinar I'll be hosting January 18th on Trend Talk 2018 – Insights from the Design Bloggers Tour with favorite design sources from fellow bloggers, can you believe there were 40 blogs that covered the tour?  Personally, I'd enjoy a highlight reel!  As for my time at Fall market #FringeFriends, that's a wrap!
***This is a partially sponsored post however all observations and opinions are my own.