Spring High Point Market was a biggie for me, sporting more hats than usual — tour guide, journalist, and maker. With the help of TeamTQ, I led a one-day exclusive Insider's Tour to an incredible group of professionals covering 16 showrooms and market events. Yes, we covered a lot of ground, exhausting BUT exhilarating!  Not only were we wowed by our host showrooms, bestowed with attention, information, inspiration (and gifts), we were also united by camaraderie making fast friends that only this kind of trade show/bootcamp fosters.
"The Trim Queen HPMKT tour was jam-packed with vendors both new and tried and true. It was exceptionally organized and kept us intrigued and entertained the entire day." – Virginia Toledo
Here's a speed tour of our day >>
Meet the TQxHPMKT Insiders: Anne DeCocco & Meagan Fesperman of DeCocco Design, designer Vincenza Dimuro, Jaclyn Isaac of Downtown Decorators, Carole Marcotte of Form and Function Raleigh, Beth of Beth Simon Interiors, Justine of Justine Sterling Design, Virginia Toledo of Toledo Geller, and Mary Leonard TQ intern extraordinaire via Withit and recent grad from NC State.
A BIG THANK YOU to High Point Market and Esteem Media for sponsoring this program. Thank you to the showrooms and design world celebs that hosted us:  Trisha Yearwood, Chapter Three, Madcap Cottage, Jane Dagmi of Designers Today, Selamat, Wildcat Territory, Norwalk Furniture, Wesley Hall, Mill Village Collective, Jiti Home, Nalesso Interiors, Deco Tours, Erica Gimson Design, Zaar Design Center, Dunes & Duchess, Eleanor Rigby Leather, House of Cindy, Cotton & Quill, Gina Julian Art,  Jill Seale Design Studio, High Point Antique & Design Center, Ladonna Antiques, Amy Flurry-Recipe for Press, and Red Egg.
Trend Alert:  It's All About the Base
I never quite know what will stand out as "trending" until I'm at day 3 of market.  As my eye travels from showroom to showroom, suddenly certain fabrications come into crisp focus. I call this first trend "All About the Base". Whether embellishing a neutral or technicolor textile, trimmings like grosgrain ribbon, tape banding and fringe every-which-way (tasseled, looped, in leather or feathers) added pattern or outlined form.  From linen to velvet, these plain base cloths got the designer up-do of #TrimAlchemy, turning something ordinary into extraordinary using trimmings. These were the standouts, and go ahead, sing along "it's all about the base, 'bout that base…"
TASSEL that – FRINGE this
 #TasselTuesday and #FabFringeFriday, it's a thing!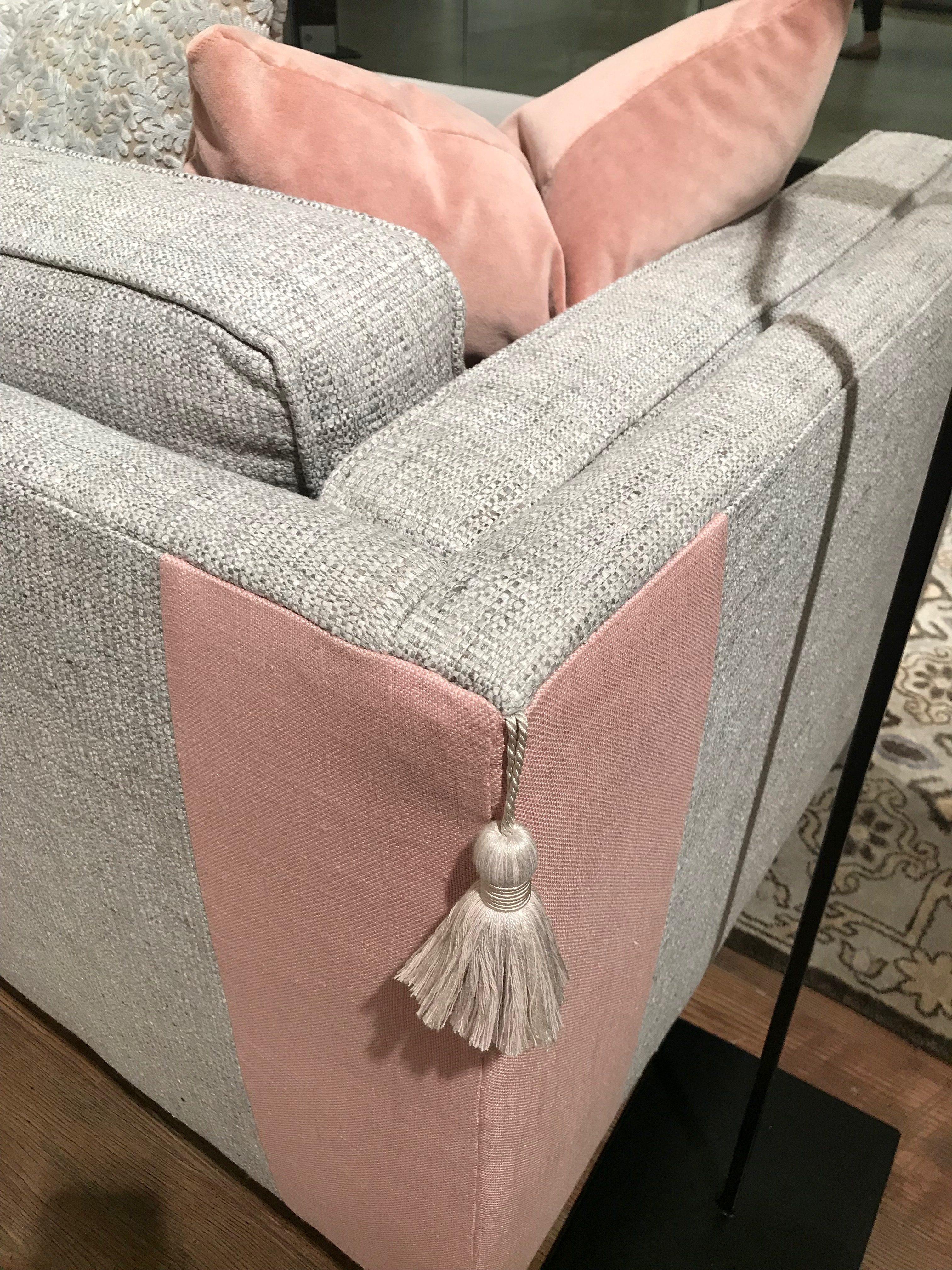 From fashion to decor, these two creative embellishments populate, to the max, my Instagram feed on their respective days. If you don't follow yet, here's your chance >>
#TasselTuesday and #FabFringeFriday
The way designers are playing with fibers, color and mashing up pattern, often bridging with these embellishments, is inspiring. Decor manufacturers, along with interior designers, are leading this trend.
This color blocked beauty by Norwalk Furniture works both the BASE and TASSELING trend. Designer detailing at it's finest.
Here are additional fringe and tassel #trimspotting at High Point Market>>
The Point – Fashion Snoops hosts Innovation Square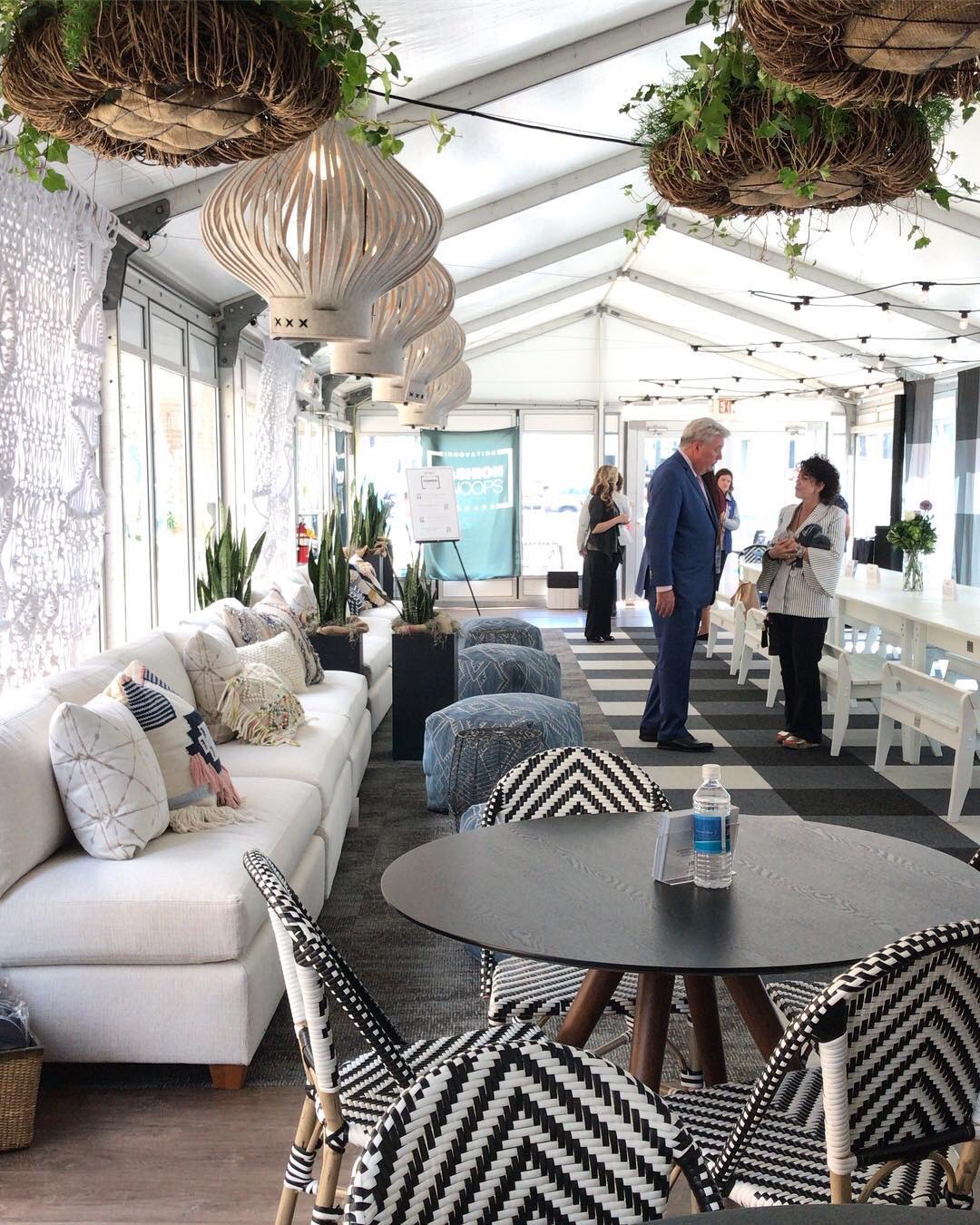 The Point was new this year, a temporary building outfitted by Barbour Spangle Design. It was a chic space for book signings, meet ups, seminars and demos.  Fashion Snoops hosted Innovation Square, a daily forum of activations meant to inspire and educate talents at market.  Jaye Anna Mize, VP of Home Interiors at Fashion Snoops, kicked off the education with a fascinating talk on AR/VR, demonstrating the latest technology in retail buying with augmented and virtual reality.
The following day, exhibitor and textile artist Aviva Stanoff gave a demo of fabric painting. Her creative energy was infectious as she engaged the audience, shown here with President of Nowalk Furniture Caroline Hipple.  This would fuel the third activation of Norwalk's upholsterers in action.
We watched in real time as these master craftsmen created the Rondo sofa with Aviva's fabric art. They had to match the seams of the painting and the curves of the sofa made the upholstery very detailed and difficult. It is truly a masterpiece.
Trim Activation
I was next up to embellish the sofa and I was a bit nervous — I wanted to add to the artistic beauty of the piece and not distract from it.  I brought tons of Classical Elements trims, because I wasn't sure what I would use as it would depend on the layout of the fabric on the frame to keep the integrity of the style.
 I warmed up the crowd with some pompom and tassel-making tutoring, everyone had their own style which I love.
Christian Reyes captured this video of creative chaos. I didn't even know he was filming, thanks Christian!
As more people gathered, I bounced off some ideas to the designers then made a design plan.  This was all in real time so we had to hustle.
After some pinning, hand sewing and some hot glue (for speed), with help from Kristen and Camille from Fashion Snoops, we finished the RONDO with seconds to spare. Geez, I felt like we were on CHOPPED! I'm pleased how it turned out and even more thrilled that I got to be a part of dissecting the artful process of furniture design.  The Rondo will be on display at the upcoming ITA Showtime textile market in June.
If you are a designer and have never been to High Point Market, I hope you will join me next time. As you can see, from connecting with new product to people, each market propels my business forward. Thanks for reading #FringeFriends.  I appreciate all your sharing, feedback and support, smarts, humor and creativity.  I have some big news brewing about a passion project which I will share next month. Until then, keep #trimspotting!