I am a contributing writer to WF Vision Magazine and my latest article is on the backside embellishment happening in furniture, my favorite design trend from the most recent High Point Market. Click to get "The Back Story" in full.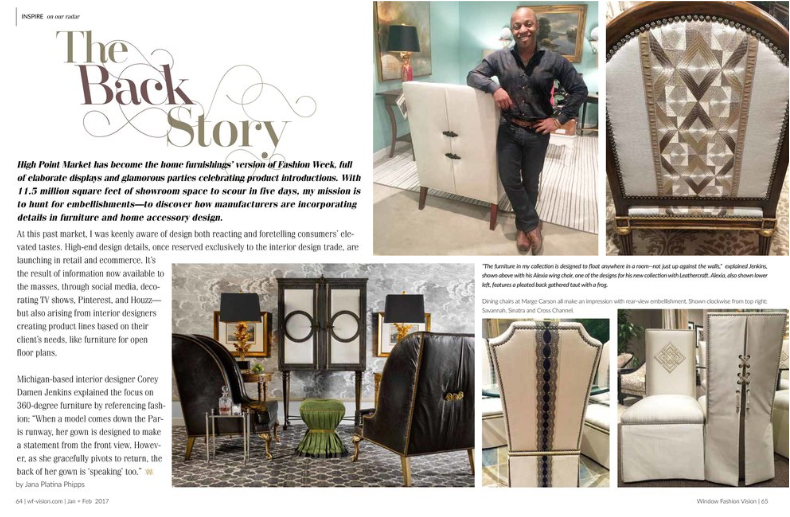 "The Back Story" features the Corey Damen Jenkins collection for Leathercraft and dining chairs by Marge Carson.
Backsides that got my attention, are the Perle Angle Sofa and Dali Chair by Nathan Anthony, Alexa Hampton's Grant Chair for Hickory Chair, Madam X Chair from Ambella Home, the Lockhard Chair from Design Master and the Interlude Chair from Wesley Hall's Peter Jacob Collection.
More design details of note come from the Bunakara collection by acclaimed Portuguese designer Joana Aranha.  Artisanal couture details such as sidearms wrapped in fabric, slipcovers fastened with gold buttons, finish with a signature beaded flower at the ankle of a color-dipped leg are all details that may go unnoticed until closer inspection.
Another standout was the presentation of  Bruce Andrews Design at the Bienenstock Furniture Library which is  a fitting venue given that the designer calls upon his Scottish heritage for design inspiration.  The posterior details of his pieces are emblematic of the craftsmanship employed, traditionally handcrafted in North Carolina with modern details.
As more mid-century style comes to High Point, this transitional piece caught my attention. From Stanley Furniture, Director of Upholstery Lynn Wright shares the design team's inspiration. "The Cadena Conversation Chair was informed by both the heyday era of the Hotel Havana Riviera and an original chair design from our very own Su Casa collection, which dates back to the 1960's."
With North Carolina's long history of furniture making, companies are able to use their own archives for design reference which has been a long standing practice in textile design.
This "back story" didn't stop with the furnishings on the showroom floor.
I love the story behind Beth's jacket she wore at the VanCollier showroom.
"My Calvin Klein blue jean jacket from High School c. 1983 was once embellished with 80's New Wave band buttons.
When I was experimenting with bleach on linen and cotton fabrics in the design studio c. 1999, at one point, goofing off, I grabbed for my high school jacket.
Years later, we revisited the jacket and created the vanCollier's Evan Mirror 'influenced by Greek key design, with a hint of Art Deco style'." – Beth van Dorp Collier
The Embellishment Trend ranged from modern bohemian to updated traditional.
Suede and leather mixed with brass and wood make a contemporary design statement.
Baker created an exotic entrance to their showroom, inspired by glamorous Shanghai. They launched an eponymous new fabric program which included elements of brass and acrylic findings used in contemporary passementerie.
Interior designer Michelle Workman created a beautiful trimmings collection called "The Queens Conquest" with Pyar and Co. Using artisanal fabrications incorporating ribbons, sequins and embroidery techniques, these trims nod to tradition with both elegance and modernity.
The tailored look was anchored by graphic tapes, grosgrain ribbon and embroidered borders.
Passementerie was also represented with a transitional flair.
Edging embellishments POP on bedding.
And as usual, I'm #trimspotting not only product, but people too, the MOST stylish at High Point Market.
Navigating High Point Market is formidable but exhilarating! By experiencing design launches and new fabrications, I begin to analyze how the market interprets the changing needs, wants and style trends of the consume.
High Point thrives alongside the design community, here's right Back Atcha High Point!
Some after hours fun with Mindy Laven, Jeanne Chung, Cindy Ciskowski, Ruth Olbrych at the annual Zaar Good Karma Party at the Zaar Design Center